Updated Jul 12, 2021 -

World
Israel offers COVID-19 vaccine booster shot as Delta variant spreads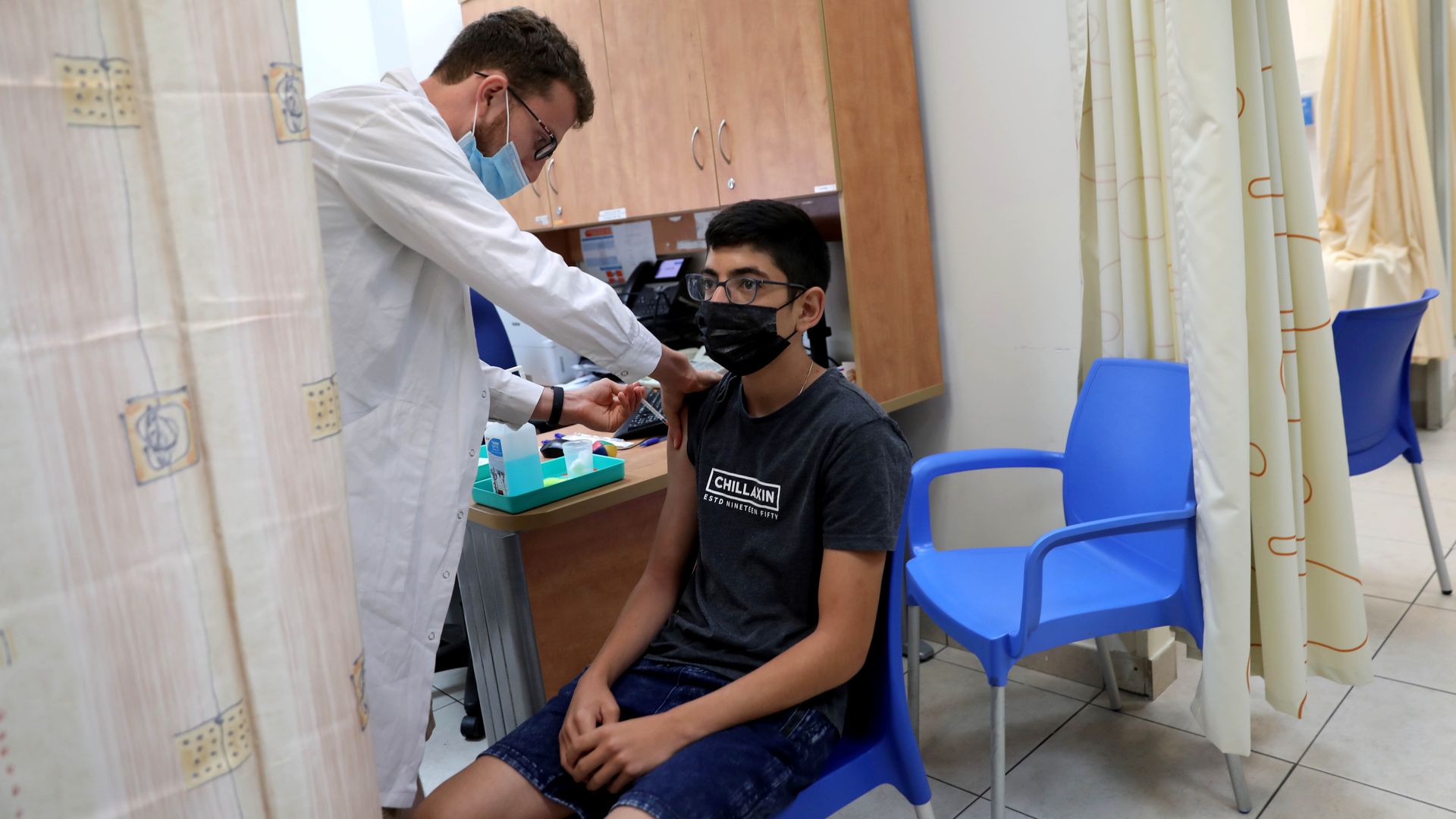 Israel on Monday will begin offering a third dose of Pfizer and BioNTech's coronavirus vaccine as a booster shot for people with weakened immune systems, according to the Times of Israel.
Why it matters: It's one of the first countries to offer booster shots to bolster protection against the rapidly spreading Delta variant. The Israeli Health Ministry is still determining whether an extra shot should be offered to the general public.
Despite a world-leading vaccine rollout, new coronavirus cases have surged in Israel over the past month in part because of the highly contagious Delta variant.
Israel's Health Ministry announced last week that the effectiveness of the Pfizer vaccine had dropped to 64% against all COVID-19 infections, down from 95% in May.
What they're saying: World Health Organization Director-General Tedros Adhanom Ghebreyesus on Monday criticized the notion of administering booster doses in high-income countries when many low-income countries are struggling with gaining access to first doses.
"We're making conscious choices right now not to protect those in most need," Tedros said. "Currently, data shows us that vaccination offers long-lasting immunity against severe and deadly COVID-19. The priority now must be to vaccinate those who have received no doses and protection."
"Instead of Moderna and Pfizer prioritizing the supply of vaccine as boosters to countries whose populations have relatively high coverage, we need them to go all out to channel supply to COVAX, the Africa Vaccine Acquisition Task Team and low- and middle-income countries which have very low vaccine coverage," he continued.
The big picture: Pfizer and BioNTech announced last week that they will seek authorization to offer an updated booster shot in the United States and European countries.
Pfizer also released the results of a study on booster shots, finding that a third dose was 5–10 times more effective at neutralizing the virus than two doses because of "an observed decline in efficacy against symptomatic disease over time."
Go deeper ... Study: Delta coronavirus variant evades antibodies through mutations
Correction: This story has been updated to remove references to Israel being the first country to offer a third booster shot. Turkey and several other countries offered boosters after Chinese-made vaccines provided weak protection against COVID.
Go deeper