Heat wave engulfs the West as Death Valley hits 130 degrees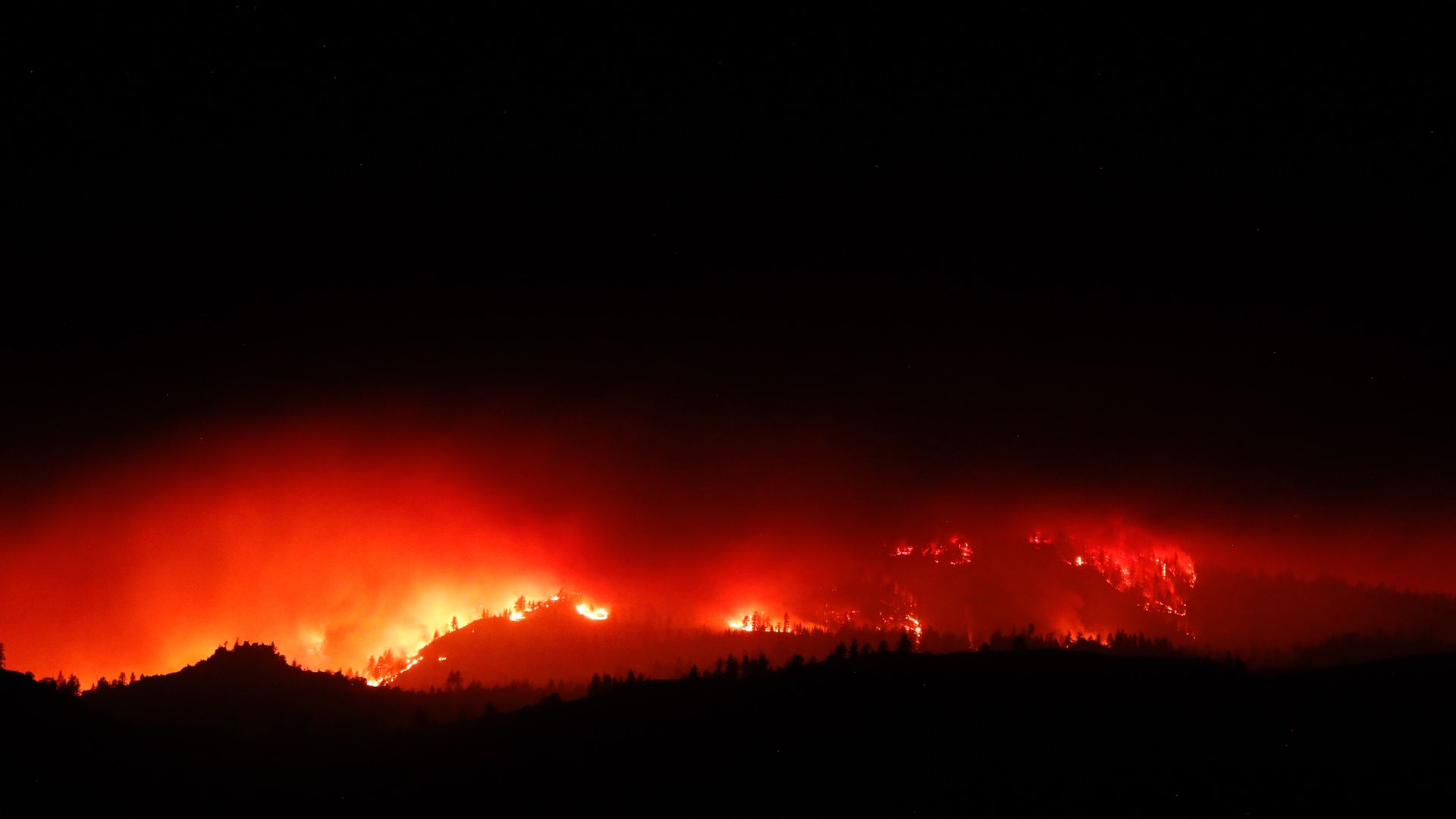 About 30 million people are under excessive heat warnings or advisories as a heat wave sweeps the Western United States, bringing more record-high temperatures on Sunday, according to the National Weather Service.
Why it matters: The heat wave comes after some regions in the Pacific Northwest saw temperature records shattered last month, with the same "heat dome" weather pattern that is engulfing the West now. Human-caused climate change has exacerbated the frequency, severity and intensity of these extreme heat events.
State of play: California's Death Valley saw a high temperature of 130°F on Friday, and could reach such highs again on Sunday. Those temperatures could set a record, if verified, since scientists have disputed a 134°F reading from 1913.
Palm Springs, California, saw a record high of 120°F Sunday, beating the previous record of 118°F it reached Saturday, Los Angeles Times reports.
The heat has contributed to wildfires that have led to evacuation orders in several states, including California, Oregon, Idaho, and British Columbia.
The Bootleg fire in Oregon was threatening transmission lines that supply California with power, after doubling in size to 120 square miles on Saturday. The power lines in question, known as Path 66, provides California with about 4800 Megawatts of electricity.
Stovepipe Wells, California, near Death Valley, had an overnight minimum temperature of 107.7°F Sunday morning. This is the highest overnight low ever recorded in North America, and the highest globally during the month of July.
A huge wildfire burning in California's Plumas National Forrest, part of the duo of fires dubbed the Beckwourth Complex fires, doubled in size between Friday and Saturday, and even generated its own lightening, according to the L.A. Times. As of Saturday was only 8% contained.
Las Vegas tied its all-time record high of 117°F on Saturday afternoon.
What to watch: Utah tied their state heat record yesterday, and Vegas could break theirs today after tying it on Saturday. More importantly, the fires burning in California and Oregon and Washington will flare up again.
The bottom line: Global warming caused mainly by the burning of fossil fuels is intensifying the ongoing heat wave, and playing a role in the region's drought and wildfires, studies show. This weekend's extreme heat comes shortly after a more severe and deadly event killed hundreds in the Pacific Northwest and British Columbia.
A study by an international team of climate researchers concluded that heat wave would have been "virtually impossible" without human-caused climate change."
Go deeper: Northwest "heat dome" signals global warming's march
Go deeper