Sha'Carri Richardson tests positive for marijuana, will miss 100-meter race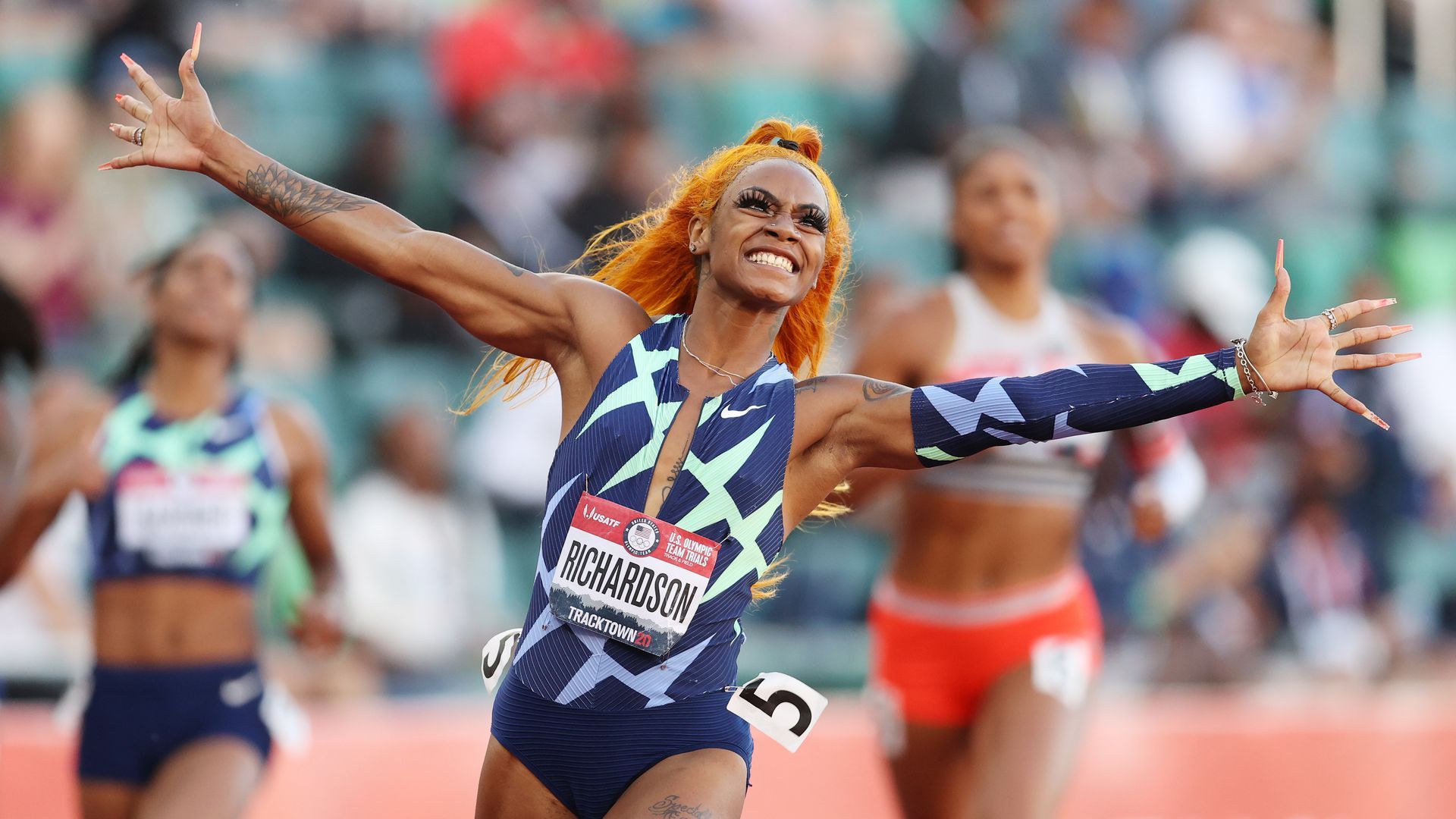 Sprinter Sha'Carri Richardson, who was poised to be one of the faces of Team USA in Tokyo, will be unable to compete in the 100-meter race at the Olympics after testing positive for marijuana and accepting a one-month suspension, the U.S. Anti-Doping Agency (USADA) announced Friday.
Why it matters: The Texan, who is the second-fastest woman in the 100 meters this year (10.72 seconds), was aiming to become the first American woman to win a gold in the event since Gail Devers in 1999.
Richardson could return in time to race in the women's 4x100-meter relay in Tokyo on Aug. 6, since her suspension ends July 27. The decision would be up to USA Track & Field, which has not disclosed its plans for the relay.
Richardson, 21, won the 100 meters at the U.S. track and field trials two weeks ago, but her positive test invalidates her result.
What they're saying: "I know what I did, I know what I'm supposed to do, what I'm allowed not to do, and I still made that decision," Richardson said in an interview with NBC's "Today Show" Friday morning.
Richardson said she had been dealing with her mother's death, as well as the pressure of participating in the trials, which led her to a state of "emotional panic."
"Don't judge me, because I am human. ... I just happen to run a little faster," she added.
"The rules are clear, but this is heartbreaking on many levels," said USADA CEO Travis Tygart.
White House press secretary Jen Psaki called Richardson an "inspiring woman" during a press conference Friday, though the White House did not call on the USADA to reverse its suspension.
"This was an independent decision made by the U. S. Anti-Doping Agency and not a decision that would be made by the U.S. government, as is appropriate, and we will certainly leave them the space and room to make their decisions about anti-doping policies that need to be implemented," Psaki said.
Of note: Adult recreational use of marijuana is legal in 18 states and the District of Columbia. That includes Oregon, which is where Richardson tested positive.
The four major U.S. sports leagues have softened their stances in recent years, reducing restrictions and punishments.
The World Anti-Doping Agency classifies cannabis as a "substance of abuse," and it currently carries a four-year ban — unless an athlete can prove their ingestion of the substance was unrelated to sports performance.
Go deeper: Major sports leagues are easing up on marijuana
Editor's note: This story has been corrected to reflect that Sha'Carri Richardson would have possibly run in the 4x100-meter relay, not the 4x400-meter relay as previously stated.
Go deeper