Exxon lobbyists' unfiltered climate remarks caught on video by Greenpeace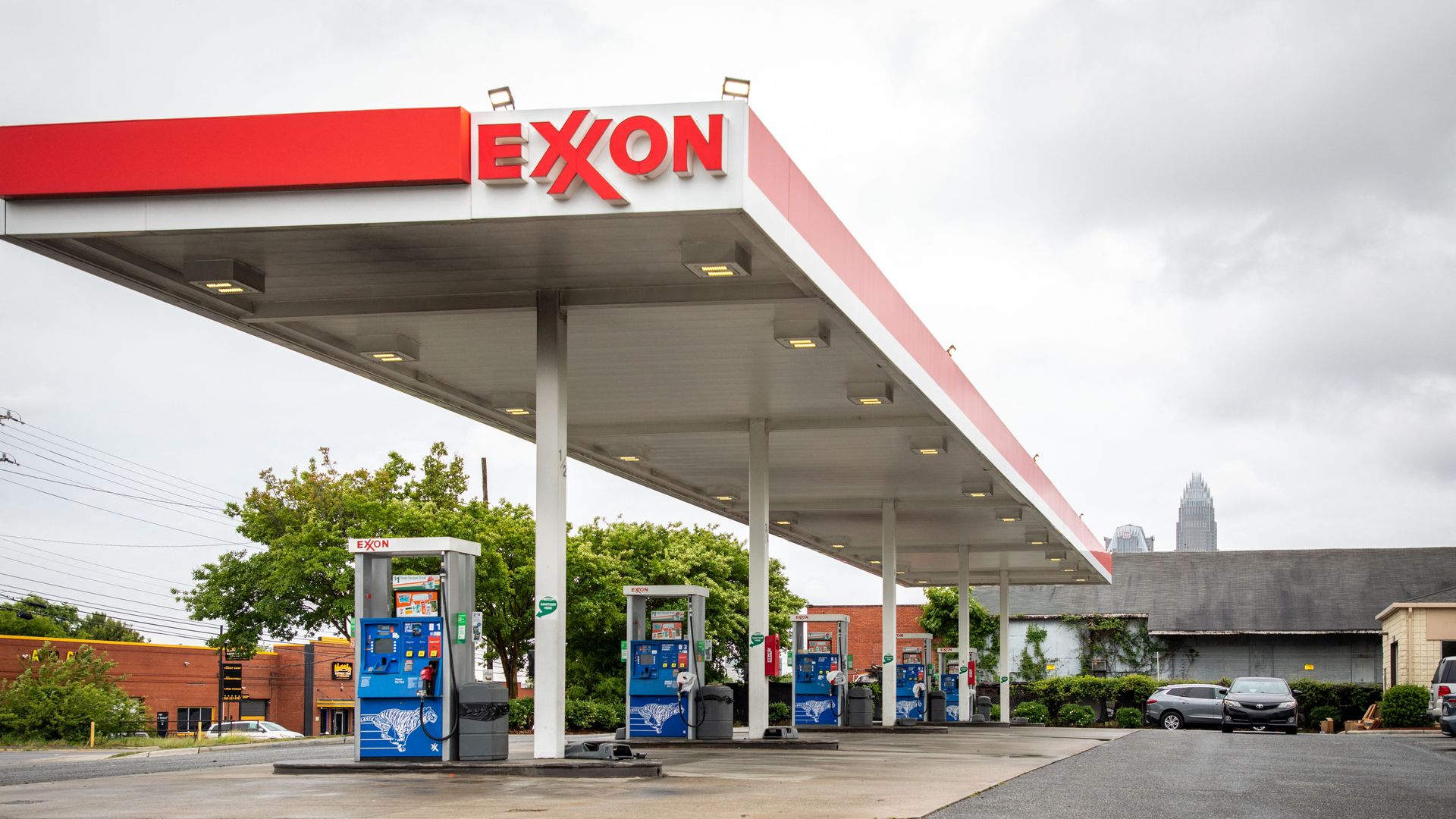 An Exxon government affairs official compared lobbying to catching lawmakers like fish and acknowledged that the company's carbon tax support is mainly for show, unlikely to produce results in a video captured by a Greenpeace UK activist posing as a corporate recruiter.
Why it matters: The comments Greenpeace published Wednesday — while offered under false pretenses — provide an unfiltered look at two Exxon lobbyists' views. They also prompted a remarkable public apology from Exxon CEO Darren Woods, who insisted they don't reflect Exxon's positions.
But it's nonetheless a fresh problem for the oil giant already under pressure to act more aggressively on climate change.
It also poses risks for the White House, which is working to keep a bipartisan infrastructure package intact while also satisfying progressives who want more aggressive action on climate change.
Driving the news: In the videos, aired by the British broadcaster Channel 4, senior director of federal relations Keith McCoy told the Greenpeace activist who recorded the discussion that backing a carbon tax gives Exxon a "talking point," but that it's "not going to happen."
"[N]obody is going to, to propose a tax on all Americans...and the cynical side of me says yeah we kind of know that, but it gives us a talking point that we can say well what is ExxonMobil for, well we're for a carbon tax," he said.
McCoy says Exxon wants to work with lawmakers to push for a tax, noting: "Put forth a bill and we'll show you that we'll support that bill, we'll help you work on that bill," but adds: "Nobody wants to do that because it's not political expedient to put forth a tax for people, it just isn't."
Elsewhere, he discusses efforts to "reel them in" — referring to members of Congress — in ways that benefit both the company and the lawmakers.
McCoy refers to Exxon's interactions with senators, including Joe Manchin (D) and Shelley Moore Capito (R), both from West Virginia, to try to influence ongoing infrastructure talks. He also mentions targeting other lawmakers for meetings, including Democratic Sens. Jon Tester (Mont.), Maggie Hassan (N.H.), Scott Kelly (Ariz.) and Chris Coons (Del.).
Per a transcript provided by Greenpeace UK, McCoy also cites his ease of access to Cedric Richmond, director of the White House office of public engagement, and Gina McCarthy, Biden's top climate adviser.
In a separate interview with the Greenpeace activist who posed as a recruiter, former Exxon lobbyist Dan Easley discussed various Trump-era policy "wins" on trade, permits and the corporate tax reduction "probably worth billions to Exxon."
Of note: McCoy also addresses the company's history of funding organizations that work to portray climate science as unsettled.
"Did we aggressively fight against some of the science? Yes. Did we hide our science? Absolutely not," McCoy said. "Did we join some of these shadow groups to work against some of the early efforts? Yes, that's true."
What they're saying: Woods' statement said the two lobbyists were not involved in developing Exxon's policy positions discussed in the wide-ranging interviews.
"Comments made by the individuals in no way represent the company's position on a variety of issues, including climate policy and our firm commitment that carbon pricing is important to addressing climate change," he said.
But Woods added, "We condemn the statements and are deeply apologetic for them, including comments regarding interactions with elected officials."
"We were shocked by these interviews and stand by our commitments to working on finding solutions to climate change," he said.
McCoy apologized in a statement on LinkedIn. "I am deeply embarrassed by my comments and that I allowed myself to fall for Greenpeace's deception. My statements clearly do not represent ExxonMobil's positions on important public policy issues."
What we're watching: The fallout from the Greenpeace operation on Exxon's image and climate policy, and any repercussions for the White House. The comments are already attracting criticism.
"Today's tape only proves our knowledge that the industry's disinformation campaign is alive and well," said Democratic Rep. Ro Khanna in a statement.
"They lie about climate science and their products' role in the climate crisis. They lie about their commitment to climate solutions. And they lie to protect their bottom line, with no regard for the catastrophic damage their products continue to cause to our planet and everyone on it," said Richard Wiles, executive director of the Center for Climate Integrity.
Catch up fast: Exxon has for years supported a carbon tax. They're a member of the Climate Leadership Council, a coalition of companies and environmental groups that backs a tax that would see the revenues returned to the public.
"We believe ExxonMobil's commitment to addressing climate change is genuine," said Alex Flint, head of the Alliance for Market Solutions, another pro-tax group that's supported by Exxon.
Go deeper