Revealed: How Robinhood harmed millions of its customers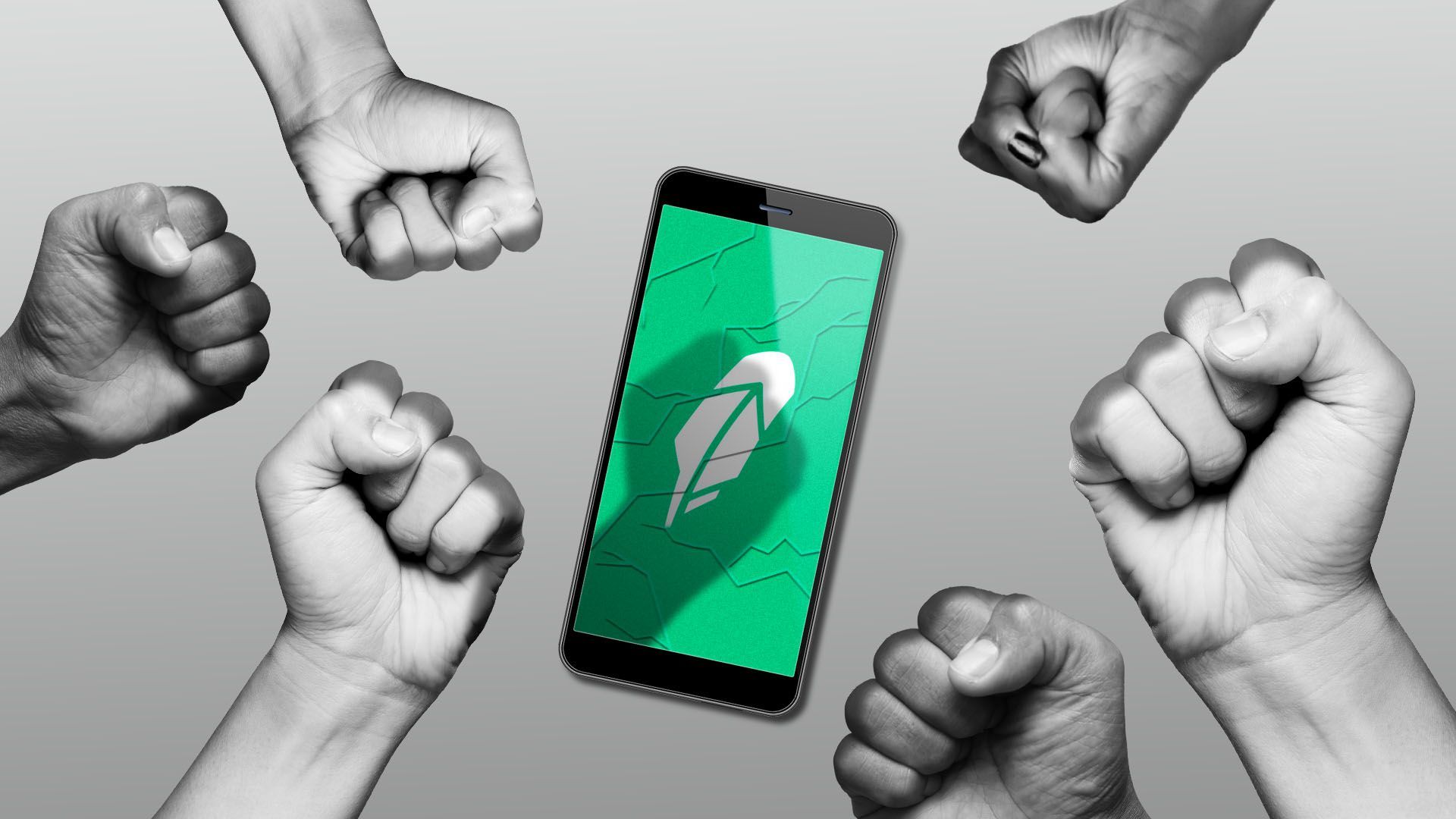 Robinhood lied to its customers for years, costing them millions of dollars and breaking numerous regulatory rules, according to a blockbuster disciplinary action revealed on Tuesday by the Financial Industry Regulatory Authority, the brokerage's chief regulator.
Why it matters: Robinhood burst onto a relatively sleepy discount-brokerage scene by offering disruptive mobile-native free stock trading. Finra's complaint, coupled with a record $70 million in fines and restitution, reveals the degree to which Robinhood failed at core components of what a brokerage must be able to do.
What they're saying: To settle the investigation, Robinhood neither admitted nor denied the charges, but consented to the entry of Finra's findings.
"We are glad to put this matter behind us and look forward to continuing to focus on our customers and democratizing finance for all," says a corporate spokesperson. 
What they found: Robinhood inflicted "widespread and significant harm" on "millions of customers who received false or misleading information," per Finra.
Robinhood showed false cash balances to customers, sometimes showing negative balances that were twice the real balance. As recently as May 2021, the company was also showing inaccurate balances on accounts holding certain stocks to millions of its customers. Historical account-balance data was also false.
The statements made to customers about options trading were regularly false. For instance, the company falsely told Robinhood Instant customers that they couldn't trade on margin; it falsely told Robinhood Gold customers that they could disable margin trades; and it falsely told customers entering certain options trades that they couldn't lose more than they paid in premiums.
Robinhood's "option account approval bots" regularly approved red-flagged customers for options trading, even in situations when the company's own policies barred such approvals — like, for example, when the customers said they had a low risk tolerance.
Robinhood didn't inform Finra, as required, of tens of thousands of its customers' complaints.
Robinhood approved account-opening requests even when the customer's purported Social Security number belonged to a person who was deceased.
Robinhood outsourced the maintenance of its technology to its unregulated parent company, despite two warnings from Finra that the technology needed to be better supervised. The result was major outages that rendered customers incapable of accessing their accounts.
Robinhood sent false margin calls to 84,100 customers, causing more than 25,000 of them to sell stocks when they didn't need to and thereby lose money.
By the numbers: Robinhood's customers are not big-money players: The median account size is just $240, and there are 13 million accounts with no money in them at all.
The record fine and restitution is still just a tiny fraction of the more than $3 billion that the company raised from investors in a single week earlier this year.
What's next: Robinhood is one of the most hotly-anticipated IPOs of 2021, but the date of the offering keeps on getting pushed back.
Top of mind for prospective investors will be whether Robinhood has really outgrown the behavior detailed in the complaint, or whether it has retained that move-fast-and-break-things culture.
Go deeper