Exclusive: New platform launches to bring TV ads to console games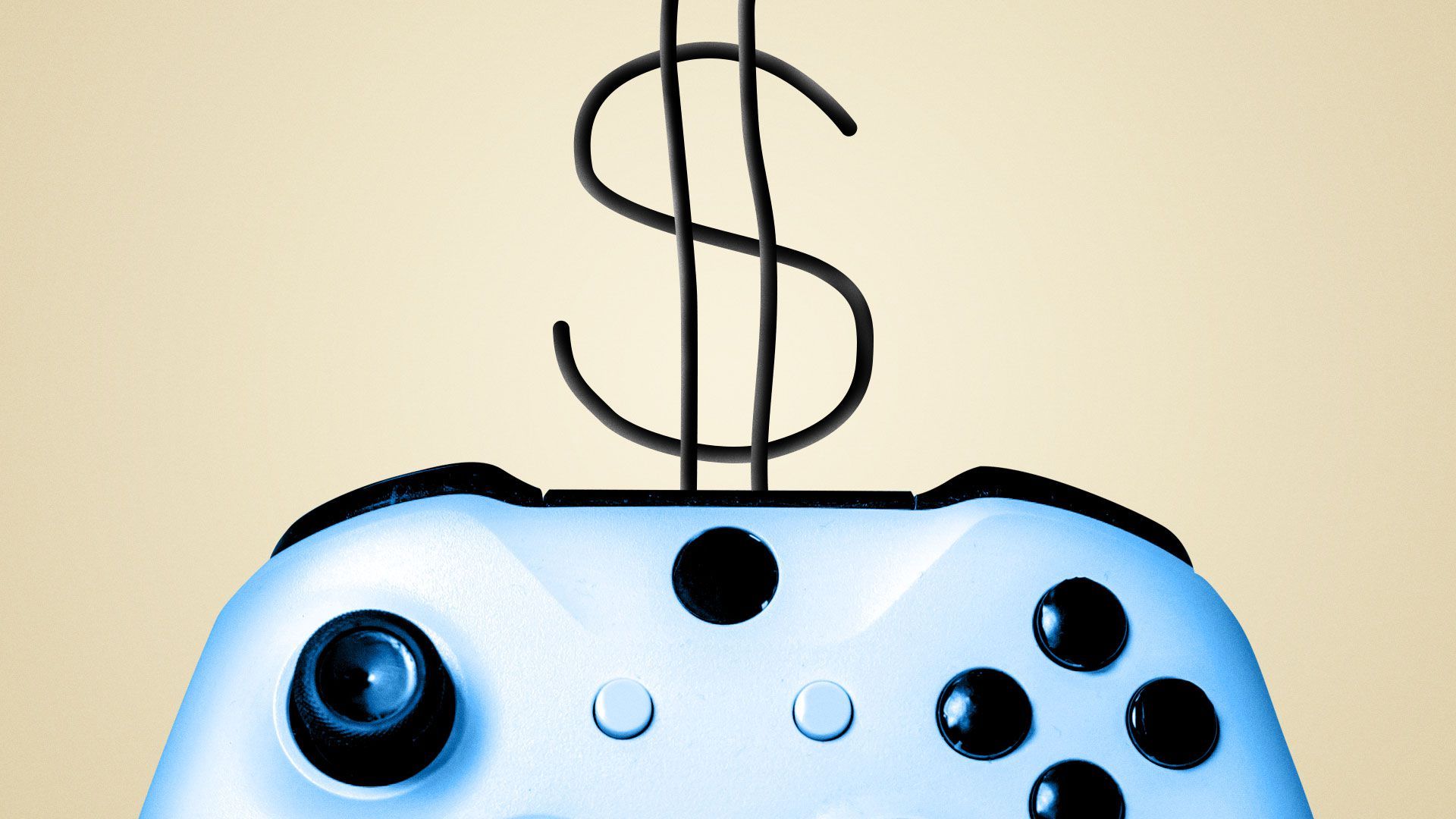 After months of testing, marketers are finally going to be able to start running video ads within console and PC games.
Why it matters: In-game advertising, a linchpin of mobile gaming, could be very lucrative for console and PC developers. But studios have been hesitant to adopt them, fearing that a clunky ad experience would mess with user engagement.
Driving the news: A first-of-its-kind in-game advertising platform called playerWON launches this week, allowing big-name marketers that are used to running splashy TV ads the ability to target younger demographics with similar types of spots that will run in video games.
The platform, which is owned and operated by Simulmedia, a TV ad tech company, will let users determine whether they want to watch a 15 or 30-second video ad in exchange for being able to unlock exclusive gaming perks.
Simulmedia has struck deals with some of the world's biggest gaming studios, including Electronic Arts (EA) and Tencent's Hi-Rez Studios, its EVP, Gaming and OTT Dave Madden told Axios.
How it works: Simulmedia, which has been testing console gaming ads for over a year, collects and vets ad spots from big brands that would typically run on TV.
Using Simulmedia's technology, developers can code those ads into their games. They then can decide which rewards to provide to gamers in exchange for them to agree to watch an ad.
Through its ad server, Simulmedia is able to see whether an ad is completed. It then sends a notification that you can release rewards to the player. Rewards can vary from in-game currency to skins (costumes) for gaming avatars.
In its research, Simulmedia has found that players are willing to watch up to 10 ads per day in order to unlock free perks. The company is able to calculate how much video inventory it needs to provide gaming companies by multiplying a games daily active user (DAU) count by 10.
Be smart: "The acceleration of Free-to-play (F2P) games across Console and PC, like Fortnite, Apex Legends, Call of Duty Warzone and Roblox, means that audiences and play time have seen explosive growth, yet the vast majority of players, over 90%, never spend money F2P games," Madden said.
The big picture: Marketers need a way to reach younger gaming audiences ages 18-34 that are mostly cord-cutters. In-game ads are cheaper and more efficient than brand integrations, which is what advertisers have working with to-date.
Because that audience is so highly sought-after, streamers are able to charge a premium for digital TV ads that target younger consumers. In-game ads, which are controlled by the gamer, are much cheaper, per Madden.
Data from one of Simulmedia's pilot campaigns with Smite, a F2P multiplayer battle arena game from Tencent's Hi-Rez Studios, shows that players were much more likely (22%) to play a game and spend money within the game (11%), if they watched in-game ads that gave them access to more gaming perks.
By the numbers: A 2020 analysis from Morgan Stanley finds that that reward-based console advertising could reach $2 billion even if only 45% of gamers opt-in
Ads that run twice per hour would have an average cost per thousand (CPM) of roughly $20 — which is dramatically cheaper than what most marketers would pay for to run ads on TV or even via some streaming services.
What's next: Madden said the goal is to contiune building out a network of advertisers and games that they can connect through its platform, growing the nascent in-console ad market.
It plans to launch in-game ads in roughly a dozen more games by the year's end.
Go deeper