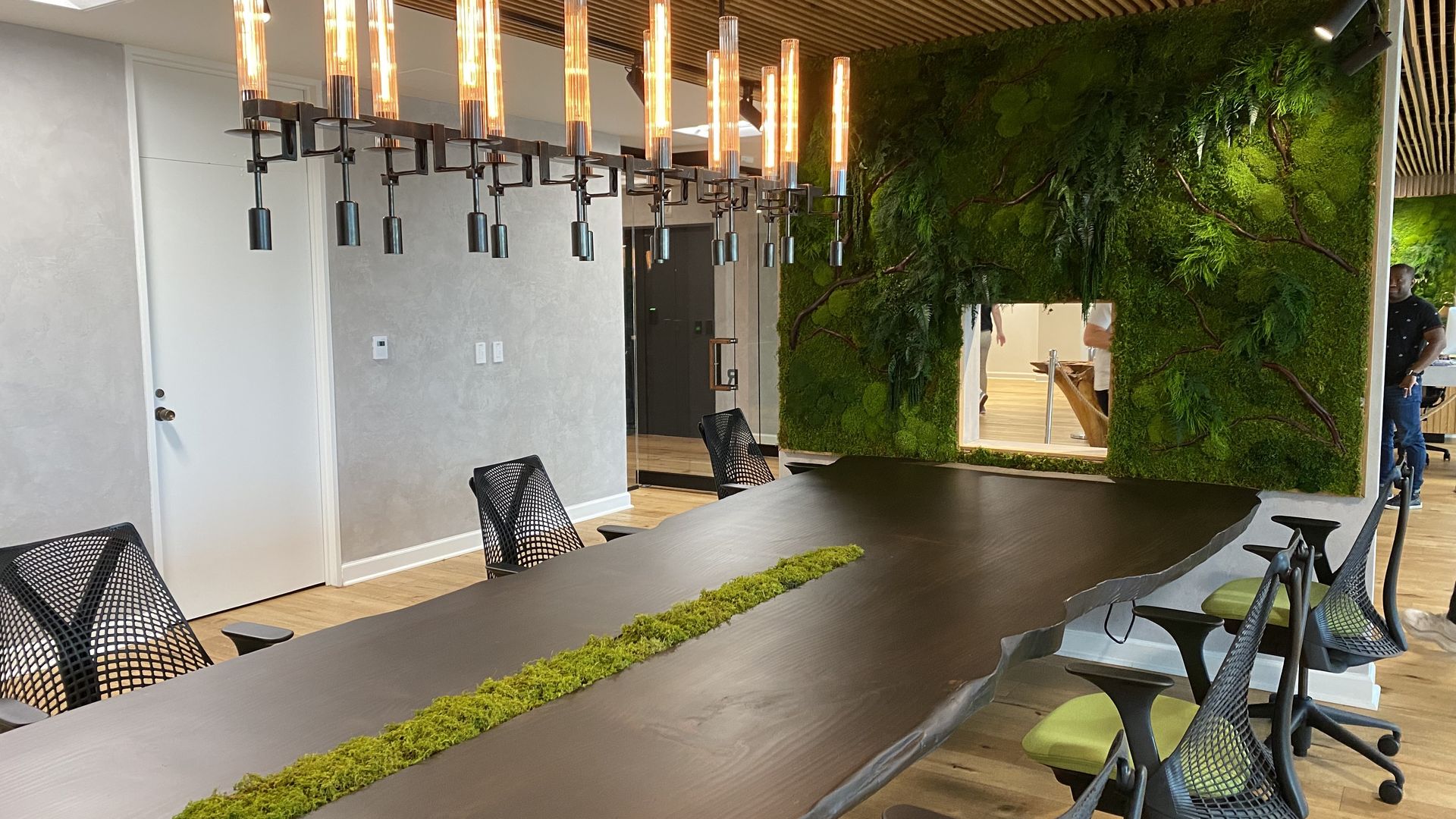 CLEARWATER, Florida — A co-working space called The Ring is taking the healthy workplace concept up a notch.
Why it matters: As people return to work after the pandemic, some office spaces are betting that workers would prefer to spend their days in health-conscious spaces.
What they're saying: "Our goal is to be the world's healthiest co-working space," says Christopher Murphy, community manager at The Ring, which occupies two floors of an 11-floor building in downtown Clearwater.
The co-working space is aiming to get a WELL Certification, a relatively new standard that certifies buildings for prioritizing occupants' well-being through core areas such as air, water, light, nourishment and fitness.
Details: Conference rooms and elevator banks all have plants — living or preserved moss and hanging ferns — to filter the air. Murray claims the air quality is higher than what you'd find in most hospitals.
To keep the air fresh in individual offices, occupants must use trash cans and printers in common areas. A specialized ventilation system immediately whisks away the air in the communal "printing room" when a print job is done, removing harmful chemicals from the air.
Rooms are equipped with special lighting designed to reinforce occupants' circadian rhythms. Natural light pours in through large windows. Cork walls absorb excess sound.
Aromatherapy is optional, and a napping pod is a popular feature.
How it works: Think of the WELL Certification as an extension of the LEED Certification for environmentally sustainable buildings.
While LEED is a set of standards supporting the buildings and spaces within them, WELL is a set of standards supporting the overall health and well-being of the people who use the spaces.
Although the two sets of standards were developed by different organizations, credentials for both programs are governed by the Green Building Certification Inc.
The big picture: Focusing on employees' health is not new, but COVID-19 has placed more emphasis on it.
This is especially true as companies reevaluate the type and size of office spaces they'll need in a hybrid-work structure, said Cynthia Townsend, one of the few registered interior designers who has a WELL accreditation in the Tampa Bay area.
"Organizations see a return on their investments through increased employee engagement and productivity," said Townsend, who is not affiliated with The Ring.
Bottom line: To convince white-collar workers to choose an office over their home, companies will need to entice them with increased wellness amenities in whatever spaces workers will gather.
While the improvements, like a brand new ventilation system, can be pricey, designers say it can pay dividends in giving workers one more reason to be in a collaborative environment with colleagues.
Go deeper