Mark Warner emerges as moderates' dealmaker-in-chief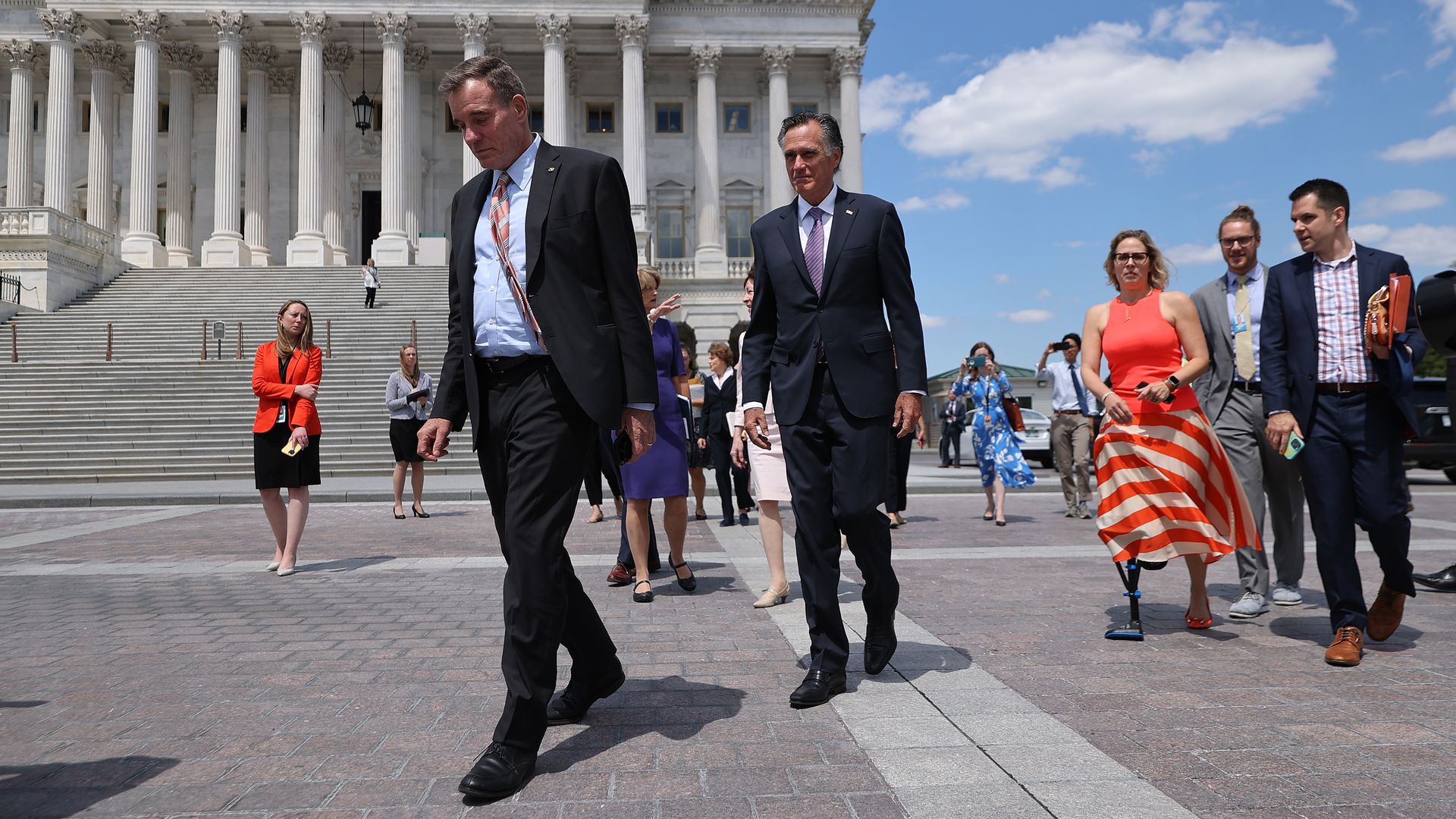 As Senate Majority Leader Chuck Schumer (D-N.Y.) and White House Chief of Staff Ron Klain navigate the legislative minefield of the next few months, they'll often turn to a moderate Democrat who gets far less ink than Sens. Joe Manchin (D-W.Va.) or Kyrsten Sinema (D-Ariz.).
The big picture: Sen. Mark Warner (D-Va.) has become a pivotal player in the multi-trillion-dollar negotiations that will shape the Democrats' electoral prospects, Joe Biden's presidency and the future of the country.
Warner was an effective negotiator in the group of 10 Republican and Democratic senators who compromised last week on a roughly trillion-dollar infrastructure deal blessed by the president.
And now he'll be the most powerful moderating force on the Senate Budget Committee.
That panel is led by Sen. Bernie Sanders (I-Vt.) and is expected to be the arena in which Democrats battle over their next dream: a multi-trillion-dollar deal on social programs paid for with an overhaul of the tax code.
Behind the scenes: Centrist Democrats and Republicans involved in the negotiations tell Axios that Warner is well-positioned for this dealmaking role.
Besides his committee seat, he's played a key role in previous bipartisan deals, including the COVID-19 relief package passed in December.
A Republican source in the room for the recent infrastructure negotiations said Warner's private-sector background — he's a wealthy former tech investor — has positioned him well to speak the GOP language on numbers and financing.
The source said Warner also lightened the mood in stuffy Capitol Hill hideaway offices by bringing along expensive bottles of wine.
White House legislative affairs director Louisa Terrell said the president was grateful Warner effectively argued against one proposed solution: raising the gas tax.
Warner also helped Democrats win the argument to use dynamic scoring to estimate the budget impact of the infrastructure package.
Last Tuesday, the group was fighting about whether to factor expected economic benefits into their costs.
Warner showed up the next day with a paper, co-written by one of the GOP's favored economists, Douglas Holtz-Eakin, arguing the case for dynamic scoring. The method made it into the deal.
Between the lines: Sanders wants to spend $6 trillion on a vast expansion of the social safety net. Many Senate Democrats see that number as exorbitant.
Several sources told Axios they'll rely on Warner as their proxy on the Budget Committee to pull Sanders back to a "Goldilocks" figure that would be tolerable both to progressives and centrists.
Legislative directors for moderate Democrats are already funneling information to his office.
Between the lines: Warner wouldn't say where he thought the sweet spot would be for these negotiations, but he did say Sanders' proposal involved too much spending with too little raised to pay for it.
"Bernie's got out, basically, a two-to-one (spending to pay-for ratio)," Warner told Axios. "I don't think I can go that high."
Go deeper