The future of weddings is hybrid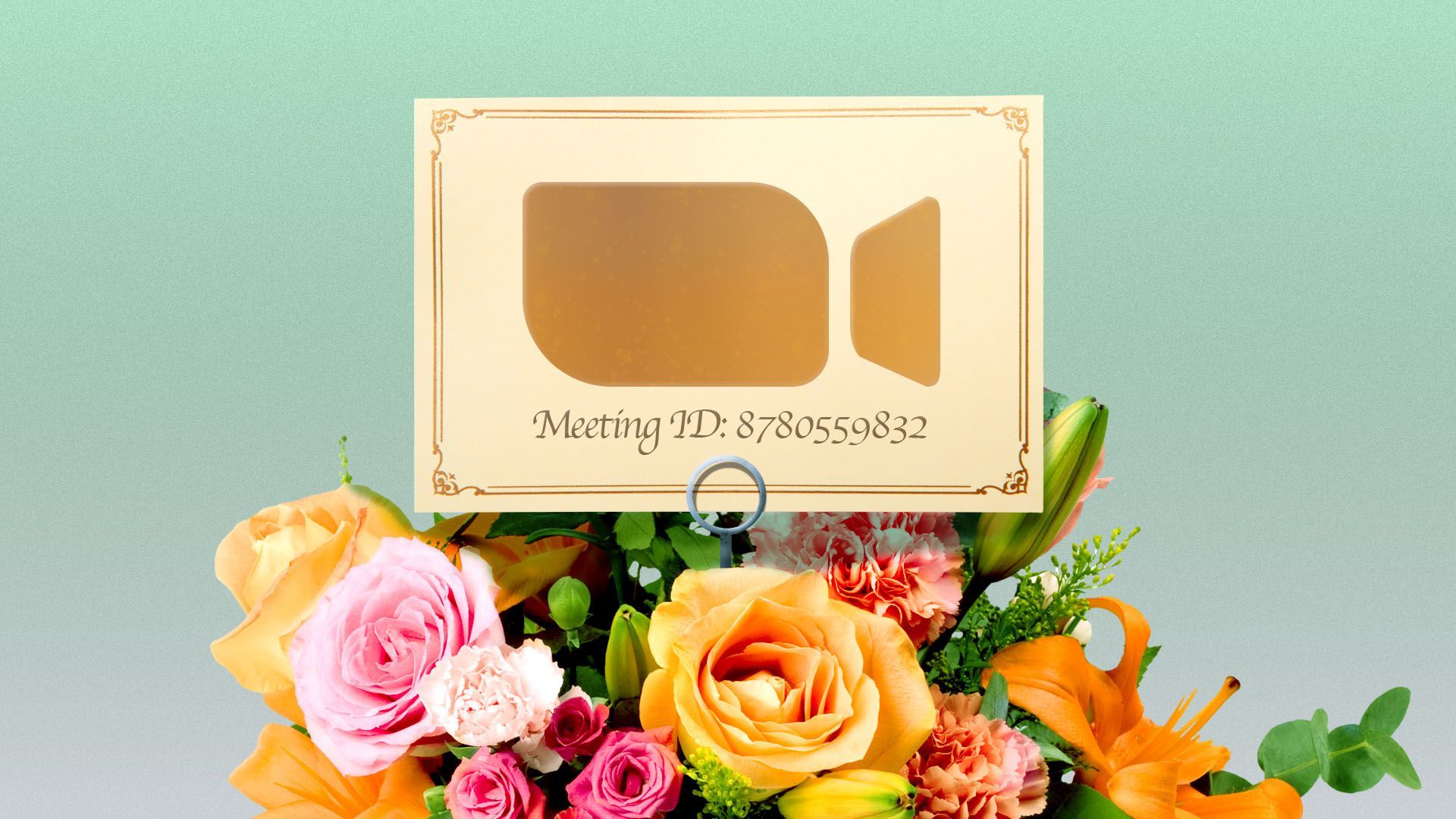 The post-pandemic obsession with hybrid events and classrooms and offices is coming to weddings too.
Why it matters: The average wedding in the U.S. costs about $30,000, and the biggest cost comes down to headcount. The pandemic ushered in a new way of celebrating the big day, with the nearest and dearest in attendance and the rest on Zoom — and that model will outlast the pandemic itself.
"The pandemic really gave a lot of people the excuse to have the wedding they wanted, not the big fancy wedding that others wanted for them," says Caroline Creidenberg, founder of the wedding planning company Wedfuly, which now offers virtual and hybrid events.
"You can spend that extra per plate money on a nice photographer and not leave out mom's book club friends that are maybe really important to mom but not so important to the couple."
The hybrid option has other perks too.
Crowne Plaza Chennai Adyar Park, a hotel in India, has started offering a hybrid wedding package to accommodate the growing number of international couples who want to include guests from all over the world.
"It's so much cheaper" from the guest's perspective too, Creidenberg says. "You don't have to book a hotel or buy a dress."
"When you do a huge wedding, you're trying to see everyone and talk to everyone, and you don't get to enjoy the moment," says Leah Michalos, who married her wife, Alison Beler, in a hybrid New Orleans wedding May 15 with about 20 guests in person and another 200 or so on Zoom.
Mask mandates were lifted in New Orleans by then, and Michalos and Beler could have had the big wedding they'd originally planned. "But in the end, this was perfect, and it was just what we needed," Michalos says. "It was just really nice to actually spend time with everyone that was there."
To make the Zoom portion of the event special, the couple sent out white handkerchiefs in the invitations that were used, both live and over video, during traditional Greek and New Orleans dances at the wedding.
It's not just the wedding day itself. There are other parts of the planning process that went virtual during the pandemic and will stay that way to some extent, the Wall Street Journal reports.
Creative Cake Design by Tammy Hodge in Wilmington, North Carolina, has a virtual cake tasting option through which they overnight the cake squares to you and you critique them over a video call.
David's Bridal lets you invite up to 100 friends and family members to virtually watch you pick a dress.
Go deeper