Progressives draw infrastructure red lines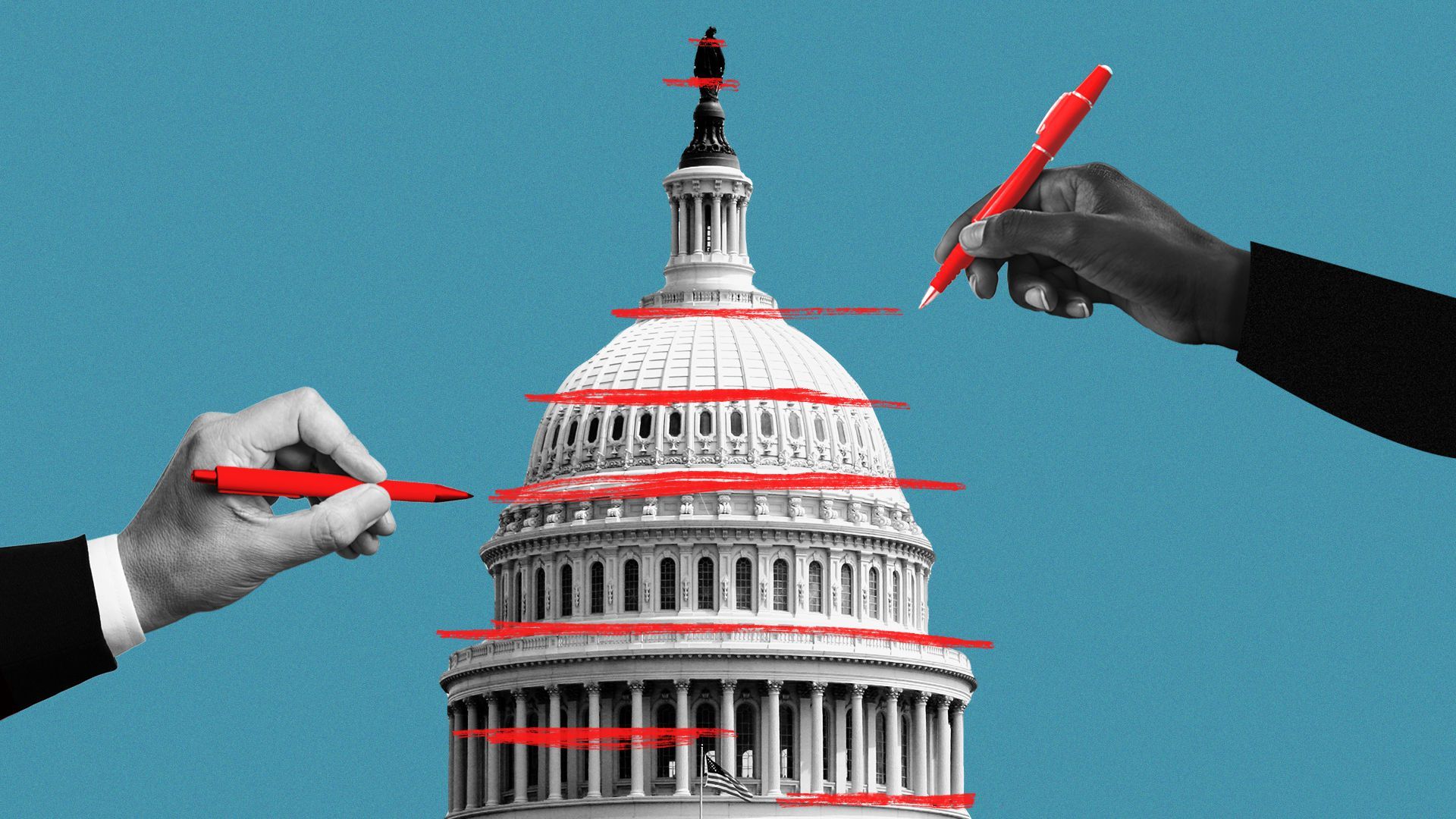 As the White House moves closer to endorsing the G20's bipartisan infrastructure deal, progressive Democrats are making clear they won't get on board without a guarantee.
Why it matters: Left-leaning Democrats want a commitment the Senate will also act on a reconciliation bill — and some are insisting they vote on one first. They fear getting left behind as lawmakers from both parties increasingly sign on to the G20 framework.
Members of Congress who favor bold climate and child care action see the partisan reconciliation process — and its reduced, 51-vote requirement to pass legislation — as the best means for achieving those aims.
Between the lines: Progressive Democrats are exerting as much pressure as they can before President Biden takes an official position on the G20 bill.
The general view among many lawmakers and aides is that most Democrats will be "good soldiers" — as one Senate Democratic aide put it — and get on board if the president endorses the deal.
But some progressives are saying they won't give their support without conditions.
What they're saying: "There's only one deal to be made here, not two separate deals," Sen. Elizabeth Warren (D-Mass.) told Axios.
"And that deal may have a bipartisan portion that covers some subset of what needs to be done on infrastructure, but we've got to have an agreement on the whole package, and that means we need every Democrat committed to moving through reconciliation."
Sen. Bernie Sanders (I-Vt.) said: "It's going to be either both or nothing. There will not be a bipartisan bill unless there's a major reconciliation bill."
Sanders said he doesn't think Senate Majority Leader Chuck Schumer (D-N.Y.) would put a bipartisan bill on the floor without guaranteeing he'll also offer a reconciliation bill.
"Most progressives believe that the Senate ... needs to pass the reconciliation bill before the House votes for the bipartisan bill, and we can vote on them both together," Rep. Ro Khanna (D-Calif.) told Axios' Andrew Freedman.
What we're hearing: Schumer's team knows these lawmakers need assurances to move forward, and that they will ultimately have to give them some. They don't know yet in what form.
Remember: Schumer is up for re-election in 2022 and could face a challenge from a more progressive candidate — such as Rep. Alexandria Ocasio-Cortez (D-N.Y.).
What isn't getting enough attention: How the House ultimately factors into this.
It'll be incredibly difficult for Speaker Nancy Pelosi (D-Calif.) to wrangle her chamber's progressives on a standalone bill not addressing the more ambitious climate and family provisions.
And House Democrats have only a five-seat majority — leaving Pelosi little wiggle room.
Be smart: "In my view, 60 to 70 House members won't support it if it doesn't have climate in it, unless they pass the reconciliation simultaneously," Khanna told Axios.
"It's not personal," Khanna said. "It's institutional; we simply can't trust that the Senate will deliver on a reconciliation, and to take the word of the institution."
Go deeper