Top White House officials heading to Senate for infrastructure talks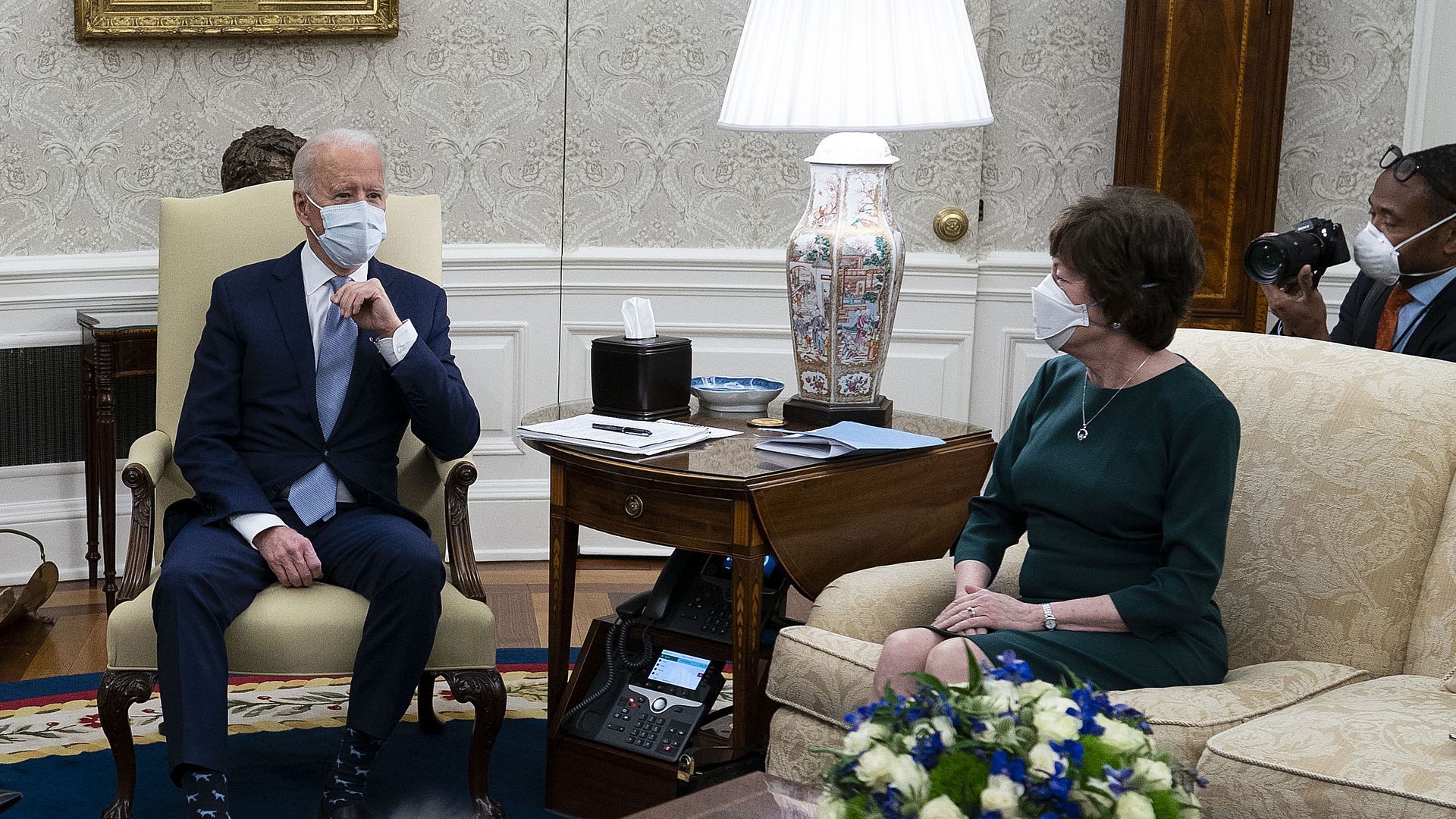 White House officials are heading to Capitol Hill Tuesday for a briefing on the status and details of the $1.2 trillion bipartisan infrastructure proposal — another sign that President Biden is serious about finding a compromise with Republican senators.
Driving the news: Biden's core negotiating team — including Louisa Terrell, the White House's legislative affairs director, Steve Ricchetti, counselor to the president and Brian Deese, director of the National Economic Council — are scheduled to meet with senators, according to a person familiar with the matter.
Sen. Rob Portman (R-Ohio) indicated Monday evening that he and the so-called "Group of 20" were in contact with the White House about a variety of meetings and would try to advance the talks before the Senate leaves at the end of the week for their July 4 recess.
White House officials have indicated that Biden is encouraged by the talks, but stress that how to pay for the package remains a key sticking point.
If Tuesday's meeting goes well, Biden is inclined to meet with the senators to try and advance the talks. He hosted Sens. Joe Manchin (D-W.Va.) and Kyrsten Sinema (D-Ariz.) separately at the White House on Monday.
The big picture: Senate negotiators for the bipartisan infrastructure bill are trying to create momentum for a "too-big-to-fail" package by adding an equal number of Democratic and Republican co-sponsors.
The president told Manchin and Sinema on Monday that "he was encouraged by what has taken shape but that he still has questions about the policy, as well as the means for financing the bipartisan group's proposal," according to a White House official.
Sen. Susan Collins (R-Maine) said, "We are making significant progress but it's not over until it's over."
The other side: Progressives remain leery and are aiming for much more spending, potentially in multiple packages.
"Make no mistake: I'm not voting for some bipartisan deal until I see every other part of the infrastructure package, and know that, in total, we have what we need," Sen. Elizabeth Warren (D-Mass.) told Axios.
"We're not going to have an infrastructure package that, when the train leaves the station, child care is left on the platform, along with clean energy" and other priorities.
Go deeper