Corporate retreats are now a must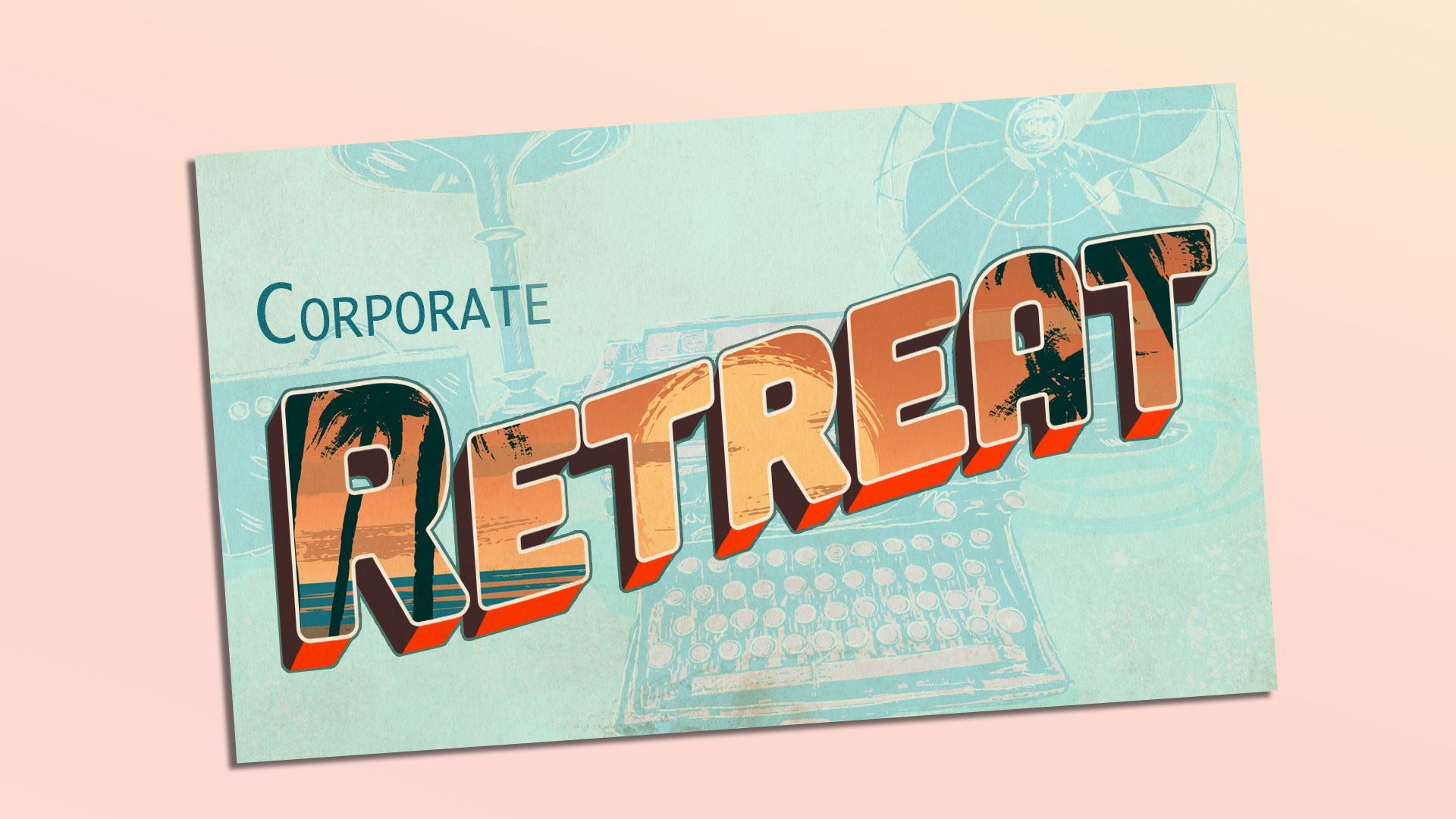 With more firms adopting remote or hybrid work practices, company-wide retreats are going from boondoggles to a necessity.
Why it matters: The pandemic showed that most white-collar employees can get their work done outside of an office, but a company's culture will wither without occasional face-to-face time.
If the idea of a corporate retreat gives you flashbacks to the time Michael Scott on "The Office" tried to put on his own in the Pennsylvania woods — and ended up nearly choking on poisonous mushrooms — you're not alone.
"Retreats have often been perceived as junkets that just let people blow off steam and have fun," says Edward Sullivan, CEO of the executive coaching company Velocity Group.
But in the age of hybrid work, "retreats have gone from 'nice to have' to 'must have,'" he adds. "They're critical to the culture-building at a company because it's the time when we come together and create that connective issue as a team."
What they're saying: At a Wall Street Journal conference last month, Salesforce CEO Mark Benioff — whose company already puts on the annual Dreamforce, one of the world's biggest corporate conferences — mused about the possibility of buying a large ranch to serve as a permanent retreat for employees to be inculcated in the company's culture.
That idea is "very different from what we were thinking a year ago before this pandemic began," he said.
The big picture: It can be easy to dismiss retreats as a waste of time that could be better spent working, or doing almost anything else.
But the chief challenge of a hybrid workplace isn't the work itself, but everything that goes around the work that can be difficult to create remotely: connection, comradeship, and culture.
That's especially true for the millions of people hired during the pandemic, says Kerry Goyette, founder and president of Aperio Consulting Group. "After over a year of working from home and not having these tiny little social interactions, people are starting to feel a crisis of belonging."
Between the lines: That might sound like a good reason to bring workers back to the office. But multiple surveys has shown that employees value flexibility in work arrangements. And a briefer period of concentrated interaction can be just as effective at building ties as spending day after day together in an office.
"If companies can get together even for a half-day retreat or a weekend upstate, those moments of physical colocation are like rocket fuel to the process of creating trust and a sense of belonging," says Goyette.
The catch: A more distributed workforce presents new logistical challenges to bringing everyone together at one place in one time.
But new companies like Troop and NextRetreat have emerged in recent years to streamline the process of designing and booking corporate offsites, down to keeping abreast of COVID-19 restrictions and tracking carbon emissions.
The corporate travel company TripActions is expected to launch a new product called Teams that will serve as a central hub for company retreat organizers.
It's a great time to own a retreat center in upstate New York or Sonoma.
— Edward Sullivan, Velocity Group
The bottom line: While we can't guarantee they'll be fun — and let's be honest, they probably shouldn't be too fun — corporate retreats are a necessity for the foreseeable future.
Go deeper