DOJ drops criminal probe, civil lawsuit against John Bolton over Trump book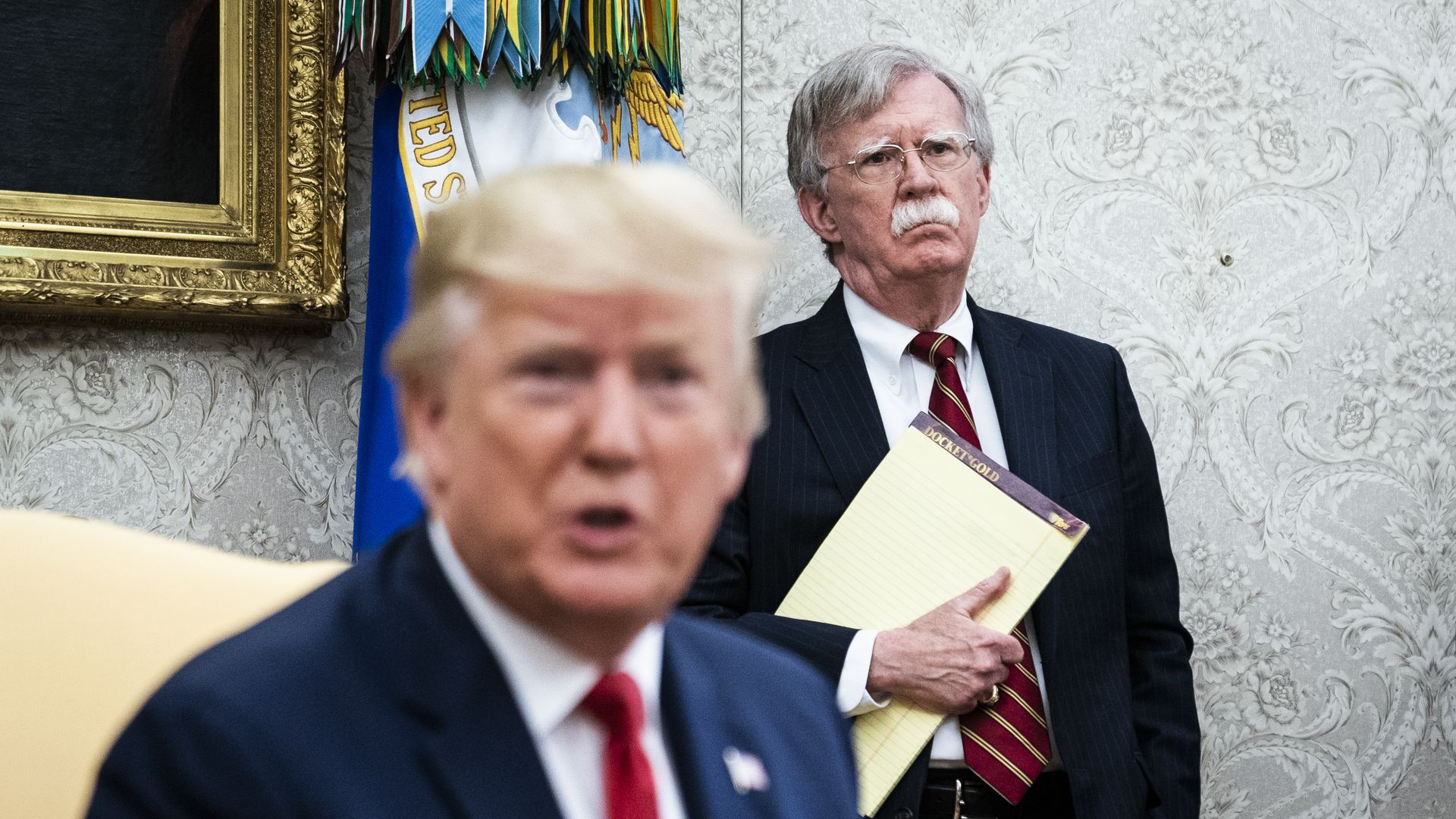 The Justice Department has closed its criminal investigation into whether President Trump's former national security adviser John Bolton disclosed classified information with his tell-all memoir, "The Room Where it Happened," according to a source with direct knowledge.
Why it matters: The move comes a year after the Trump administration tried to silence Bolton by suing him in federal court, claiming he breached his contract by failing to complete a pre-publication review for classified information. Prosecutors indicated they had reached a settlement with Bolton to drop the lawsuit in a filing on Wednesday.
What they're saying: "This is a complete vindication," Bolton told Axios in a phone interview on Wednesday. "They're just giving up."
Background: Bolton, a prolific note-taker, tore into the former president in his memoir and accused him of attempting to leverage U.S. foreign policy to help him win re-election — including by withholding military aid to Ukraine to pressure its government into investigating his political rivals.
Bolton continues to claim that the White House's efforts to stop the book from being published were due to concerns over what he might reveal about former President Trump.
Trump dismissed the book as "pure fiction," while also arguing Bolton should be criminally prosecuted for disclosing classified information. The former president pushed aides and the Justice Department to block the book from being published, drawing allegations of political interference.
Driving the news: The DOJ filing makes clear "the parties stipulate to dismissal of this action with prejudice" — meaning the case can never be brought again.
The decision to drop the case means the DOJ is abandoning efforts to seize Bolton's $2 million advance and any future proceeds from his book.
Between the lines: National security lawyer Bradley Moss told Axios that Bolton "rolled the dice and got luckier than he could have possibly dreamed," noting that "by all accounts, the law was on the government's side."
"President Trump and his allies have no one to blame for this debacle but themselves," Moss added. "If not for apparent political interference in the prepublication review process, it's more than likely the current DOJ leadership would have let the civil lawsuit and criminal probe continue."
"Now, Mr. Bolton keeps the money from his book advance and avoids criminal liability."
Timing: The move comes in the wake of new revelations about the Trump-era Department of Justice's seizure of records belonging to journalists and at least two prominent Democratic lawmakers
The story sparked immediate backlash among members of Congress, and renewed criticism over the politicization of the DOJ under Trump.
Go deeper