Scoop: Democratic senators urge Blinken to press Israel on Gaza reconstruction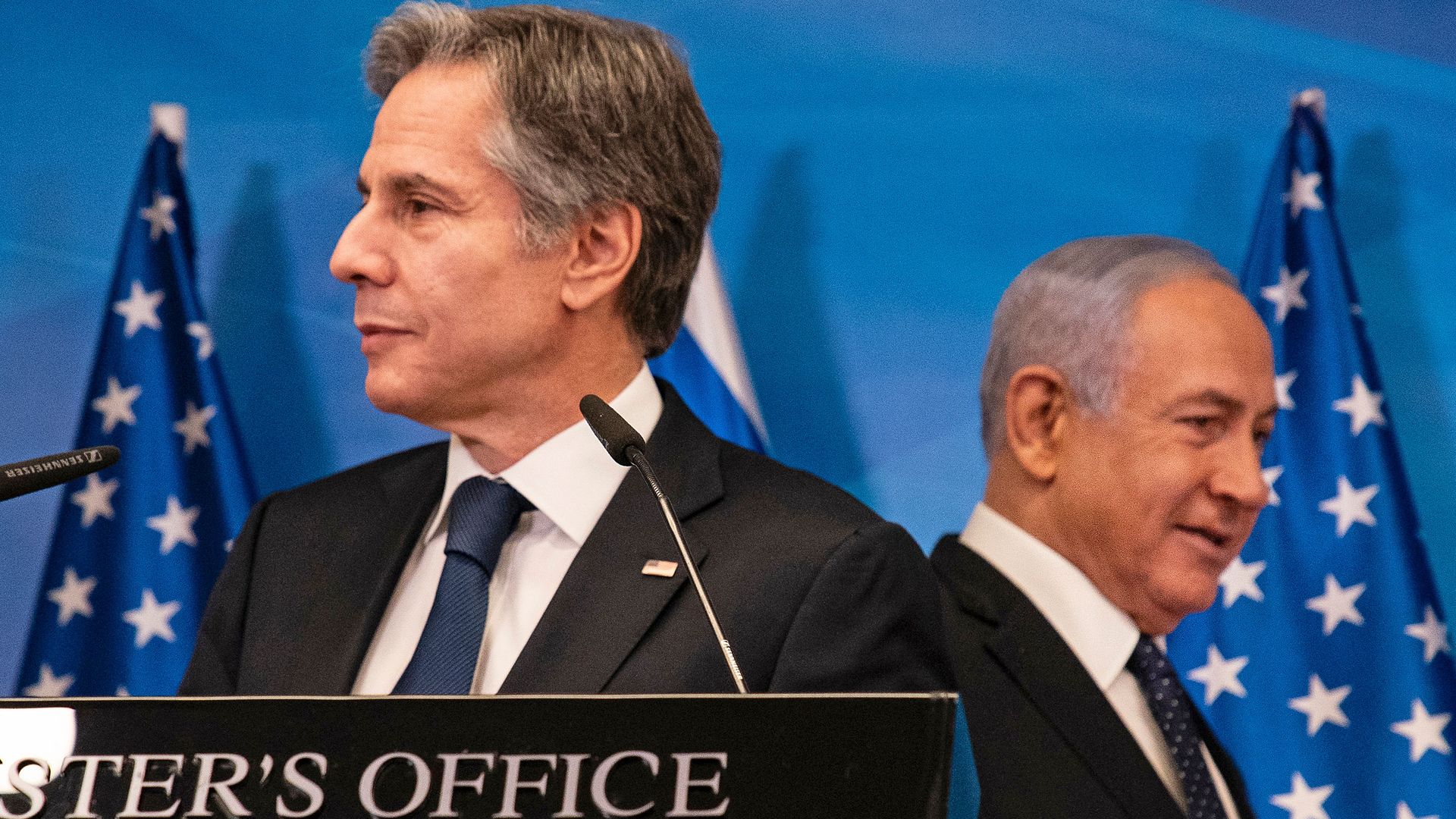 Seventeen Democratic senators have written to Secretary of State Tony Blinken urging him to press Israel to allow materials needed for reconstruction and humanitarian aid into the Gaza Strip. The effort is led by Chris Van Hollen (D-Md.).
Why it matters: The U.S., Egypt, Qatar and others have committed to rebuilding Gaza — where many homes, health care facilities and schools were destroyed and crucial water infrastructure was damaged in the fighting — as well as providing humanitarian aid. But Israel is threatening to hold up that process.
Israel has told the U.S. and Egypt that it won't allow the reconstruction to begin unless progress is made on securing the release of Israeli citizens and the bodies of Israeli soldiers held by Hamas.
Israel and Egypt control the border crossings with the Gaza Strip and restrict the movement of people and goods. Israel has imposed a maritime blockade on Gaza for more than a decade.
What they're saying: In a letter shared with Axios, the senators wrote that the Biden administration should insist on the reopening of two border crossings "so that critical humanitarian personnel can enter and that fuel and building materials can be brought in to address the growing needs of the civilian population."
The senators called on Blinken to ask Israel to lift restrictions on the movement of Palestinians for medical treatment or to visit relatives. Very few Palestinians have received such permits in recent years.
They also called for U.S. funding to humanitarian efforts in Gaza to be restored to pre-Trump levels and urged the administration to appoint an ambassador to Israel, consul general in Jerusalem to coordinate with the Palestinians, and USAID chief of mission.
"In order for this ceasefire to be durable and avoid a renewal of the cycle of violence, it is critical that we improve the dire conditions in Gaza that only contribute to despair and further fuel extremism," the senators stressed.
Between the lines: Van Hollen and his fellow signatories didn't try to get any Republicans to sign onto the letter in light of the negative statements several Senate Republicans had made on U.S. aid to the Palestinians in the West Bank and Gaza, according to a Senate staffer familiar with the process.
Republican Sens. Lindsey Graham (R-S.C.), Cruz (R-Texas) and Bill Hagerty (R-Tenn.) visited Israel this week but didn't visit the Palestinian Authority or meet with any Palestinians. Graham used his trip to call for more military aid to Israel.
What's next: Blinken told me in an interview last week that the reconstruction process must move forward and not be conditioned on the return of the Israeli soldiers and citizens held by Hamas.
Egyptian intelligence chief Abbas Kamel visited Israel this week and conveyed the same message.
Full letter below:
Go deeper