Scoop: White House considering fast-track family deportations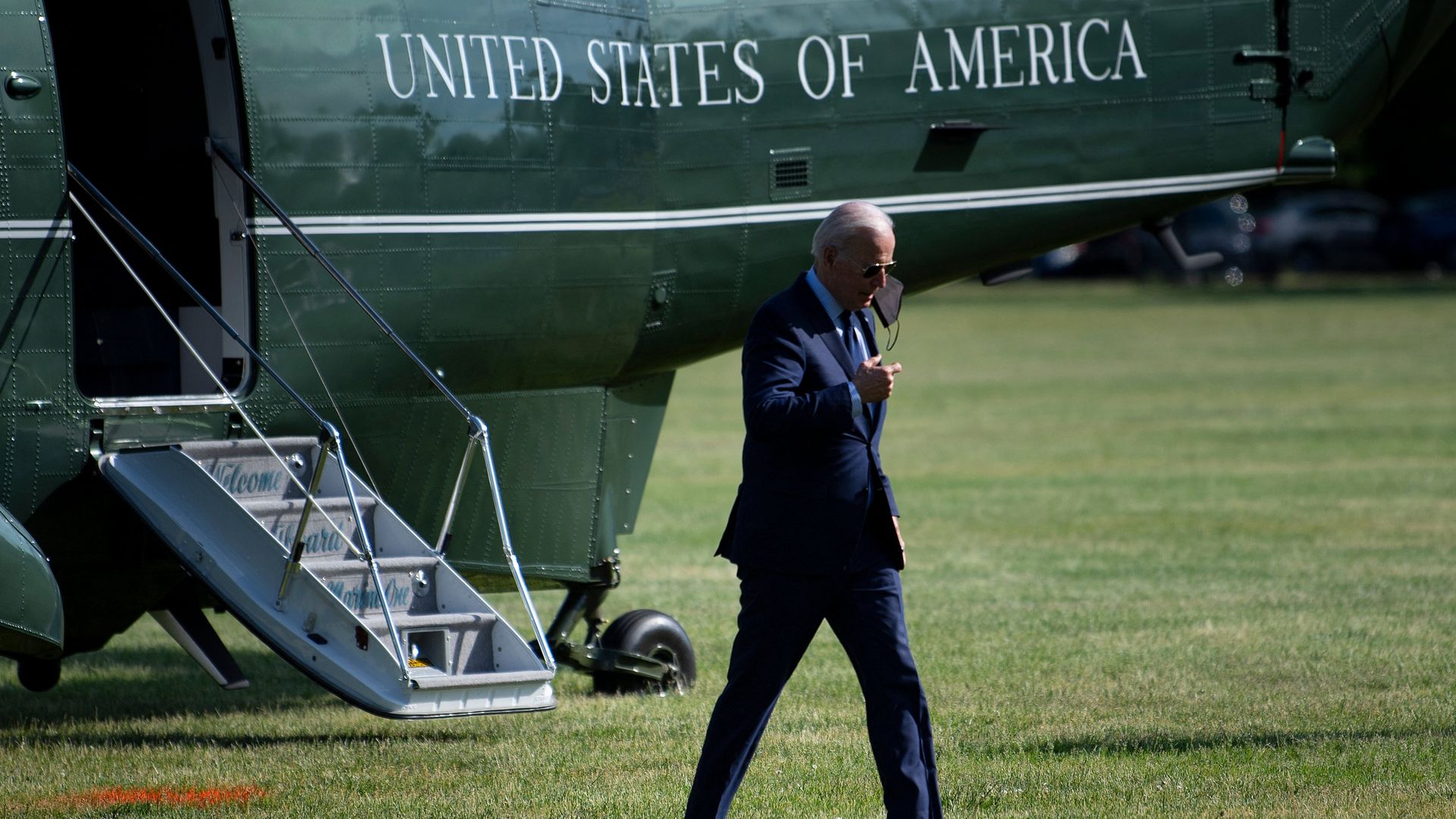 President Biden is considering the return of an immigration policy that allows the U.S. government to more quickly deport families who illegally cross the border from Mexico, people familiar with the internal discussions tell Axios' Stef Kight.
Why it matters: Resuming the practice of so-called expedited removals for families could be a divisive move among some Democrats. It would shift the administration toward a more deterrence-based approach, used to different degrees by the past four presidents and embraced especially by the Trump administration.
Driving the news: A review of the expedited removal process by the Department of Homeland Security is due this week, in keeping with an executive order signed by Biden in February.
Biden has been briefed on using expedited removal for families and asked for follow-up information, according to one person familiar with the details.
The process would apply to families who can't be returned to Mexico under a Trump-era public health order known as Title 42.
The latest: Some advisers are recommending the tool as a way to deter prospective undocumented border crossers.
A White House official told Axios that "no final determinations have been made."
"A variety of options are always under review and under consideration to build a fair and orderly immigration system," the official said.
How it works: Expedited removal, a tool created in 1996, makes it easier to deport some migrants without going through a full, lengthy court process.
Migrants are held in detention unless and until they prove they have a credible fear of returning to their home country. Most asylum seekers pass this initial questioning, which kicks off the asylum process, according to DHS data.
However, a source familiar with White House thinking said officials aren't looking into detaining families.
Between the lines: If implemented, the move would likely face backlash from progressive immigration groups who have raised concerns about asylum seekers' due process.
The administration has primarily focused on "root causes" of migration in Central America, getting kids out of border patrol stations and rolling back some of former president Trump's policies.
By the numbers: More than 17,500 migrant family members were kicked back to Mexico last month under the coronavirus-related public health order called Title 42, which Biden has come under scrutiny for continuing to use.
More than 30,000 family members encountered by border agents were allowed into the U.S.
Most families crossing into the Rio Grande Valley sector in South Texas are quickly released. About 25,000 migrants have been released into the area in recent months without an official notice to appear in court, Rep. Henry Cuellar (D-Texas) told Axios.
Biden has been told that expedited removal would be used primarily for families crossing into this sector, according to part of an internal document viewed by Axios. The neighboring Mexican state of Tamaulipas has refused to take in many families under Title 42.
What we're hearing: The White House held a call last month with various immigration advocacy and legal groups, which included the topic of expedited removal.
Axios spoke with two people on the call who described it as an information-gathering session, where advocates largely presented their concerns about expedited removal to White House officials.
Reality check: Federal court decisions from 2015 and 2016 require all migrant kids to be released from detention after no more than 20 days — even if they're with their parents.
It makes expedited removal logistically difficult for families, as credible fear screenings and deportation proceedings can only be done so quickly.
Go deeper