11 days, 8 calls and a ceasefire: Inside Biden's response to the Gaza crisis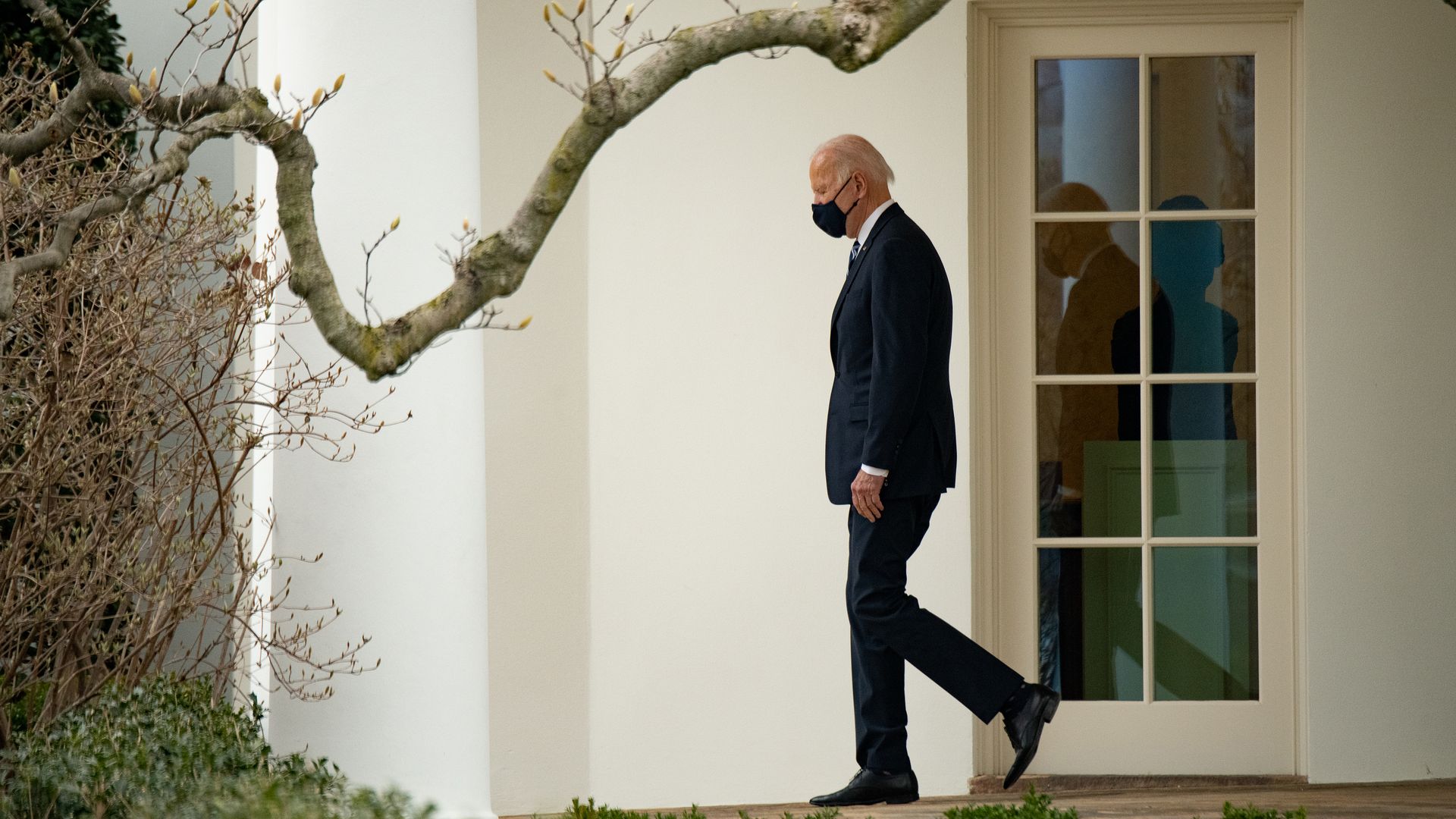 Before 11 days of fighting in the Gaza Strip ended in a ceasefire, President Biden held six phone calls with Israeli Prime Minister Benjamin Netanyahu, one with Egyptian President Abdel Fattah al-Sisi and one with Palestinian President Mahmoud Abbas.
Behind the scenes: To get the inside story of those phone calls, President Biden's strategy, and the path to a ceasefire, Axios spoke to three U.S. and Israeli sources who were deeply involved in the diplomacy. They requested anonymity to speak freely.
Before the storm
The warnings began in late April.
Officials and experts in Washington cautioned the White House that the postponement of the Palestinian parliamentary elections, combined with the protests over the looming expulsions of Palestinian families from the Sheikh Jarrah neighborhood in East Jerusalem, could foreshadow a new crisis.
At first, the White House didn't take the warnings particularly seriously. The Israeli-Palestinian conflict remained a low priority.
Then came the confrontations between Israeli police and Palestinian protesters at the al-Aqsa Mosque compound, or Temple Mount, one of the holiest sites for both Muslims and Jews, which would culminate in a police raid on May 10 in which hundreds of Palestinians and several police officers were injured.
The day prior, with tensions escalating fast, National Security Adviser Jake Sullivan had called his Israeli counterpart, Meir Ben-Shabbat, while Deputy Secretary of State Wendy Sherman spoke to the director general of the Israeli foreign ministry, Alon Ushpiz.
The Biden administration had three immediate demands of Israel: stop the evictions in Sheikh Jarrah, lower tensions on the Temple Mount and cancel the annual Jerusalem Day flag parade, during which Israeli nationalists celebrate the unification of Jerusalem under Israeli control.
While Israeli officials briefed reporters at the time that Ben-Shabbat had rejected Sullivan's requests, viewing them as rewards for terrorists, Netanyahu in fact complied on May 10.
He asked the Supreme Court to postpone its verdict on the evictions, banned visits by Jews to the Temple Mount and rerouted the flag parade so it wouldn't pass through the Muslim quarter of Jerusalem's Old City.
But it was already too late. As a deadline from Hamas to remove all Israeli security forces from the al-Aqsa Mosque compound and Sheikh Jarrah expired, the militant group fired seven missiles on Jerusalem.
The game has changed
Netanyahu's aides called the White House with a clear message: the game had changed and Israel would now undertake a military operation in Gaza.
The first instinct of officials in the White House was to take a very active role, as previous administrations had done. But President Biden and his top advisers settled on a different approach.
One factor was the bad memories many of Biden's senior advisers had from the 2014 war in Gaza, which included an Israeli ground invasion and left almost 2,500 Palestinians dead, many of them civilians, along with 69 Israeli soldiers and five Israeli civilians.
One lesson they took from 2o14 was that Obama's public posture centered international attention on the U.S. and made Israel very defensive, undermining efforts toward a ceasefire.
Biden told his top advisers that this time around, the U.S. would deal with the crisis through intense but quiet diplomacy with Israel and Egypt.
Biden followed a dual strategy: backing Israel in public and while urging Netanyahu in private to end the operation as soon as possible and minimize civilian casualties.
The U.S. would not publicly call for a ceasefire or engage with the issue at the UN Security Council, Biden told his team.
A turning point
In the first few days of the operation, international condemnation was growing along with the civilian death toll in Gaza, but even in private, Biden's message focused on U.S. support for Israel.
But after Israel bombed a building in Gaza that housed the offices of the AP and other media outlets, Biden — under growing domestic pressure to push for a ceasefire — placed a second call to Netanyahu, this time with a focus on de-escalation.
Biden also called Abbas, urging him to send Palestinian security forces to act as a buffer between Israeli soldiers and Palestinian protesters to ensure the Gaza crisis didn't spread into the occupied West Bank. Abbas committed to do so.
During that weekend, the White House realized that Egypt was the only effective mediator that could facilitate a mutual ceasefire. Between Sunday and Monday, U.S. officials started to see signs that such a ceasefire was possible.
Egypt had reached a secret understanding with Hamas to stop firing on Tel Aviv. The unannounced lull lasted 18 hours — proving to the White House that Egypt could deliver Hamas.
This new development informed Biden's decision to call Netanyahu on Monday and, for the first time, issue a public statement backing a ceasefire.
The ceasefire push
The Israelis quickly pushed back, with Netanyahu and Defense Minister Benny Gantz both insisting to their U.S. interlocutors that they had to continue the operation and further degrade Hamas' military capabilities.
But the top officers in the Israel Defense Forces (IDF) started signaling to their U.S. counterparts on Wednesday that the operation had achieved its primary objectives.
By Wednesday morning, the White House assessment was that a ceasefire could be achieved within days, and Biden decided to call Netanyahu for a fourth time to push a bit harder.
The atmosphere wasn't combative — with Biden taking the same "I don't agree with you but I love you" approach that has characterized their relationship over three decades — but Biden was more firm in the fourth call than in the previous three.
Netanyahu continued to insist that he needed several more days, but Biden — who knew the IDF had achieved its primary objectives — warned Netanyahu that continued fighting could spiral out of control.
As a source familiar with the call puts it, Biden told Netanyahu: "You can't control the events. The Egyptians have a good proposal. I think it is time to finish."
In private, Netanyahu told Biden he only needed 24 more hours.
In public, he released a video in Hebrew stressing that there would be no time limit on the operation, seeming to defy Biden's pressure. The White House decided to let it go, knowing Netanyahu was playing to his political base.
The final day
On Thursday morning in the U.S., Biden placed his first call as president to Sisi.
Biden asked for and received a guarantee that if Israel agreed to a ceasefire, Egypt could ensure that Hamas stopped firing rockets.
That message was communicated to Netanyahu shortly before he convened a Security Cabinet meeting. In it, the Cabinet voted to approve the ceasefire.
Netanyahu called Biden to update him and offer one warning: if Hamas used the remaining 2.5 hours to fire a barrage of missiles, Israel would retaliate with full force, and the ceasefire could collapse.
That set the stage for a dramatic two hours, with Biden's aides continuously on the phone with Israeli and Egyptian officials.
An hour before the ceasefire began, Netanyahu again called Biden and said he'd received assurances from the Egyptians that Hamas would not fire a last-minute barrage.
Only then did he make a televised statement from the White House, praising Netanyahu for backing the ceasefire and claiming the window was now open for progress between the Israelis and Palestinians.
The bottom line: Just 24 hours elapsed between Biden's urging of Netanyahu to accept a ceasefire and Israel's vote to do so.
Critics of Biden's approach — including many fellow Democrats— argue that he should have applied greater pressure earlier into a conflict in which at least 248 Palestinians were killed.
U.S. officials, meanwhile, argue that Biden used his political capital and reputation as a friend of Israel to both avoid a public confrontation with Netanyahu and help deliver a ceasefire relatively quickly.
Go deeper