Israeli airstrike levels high-rise building that housed media offices in Gaza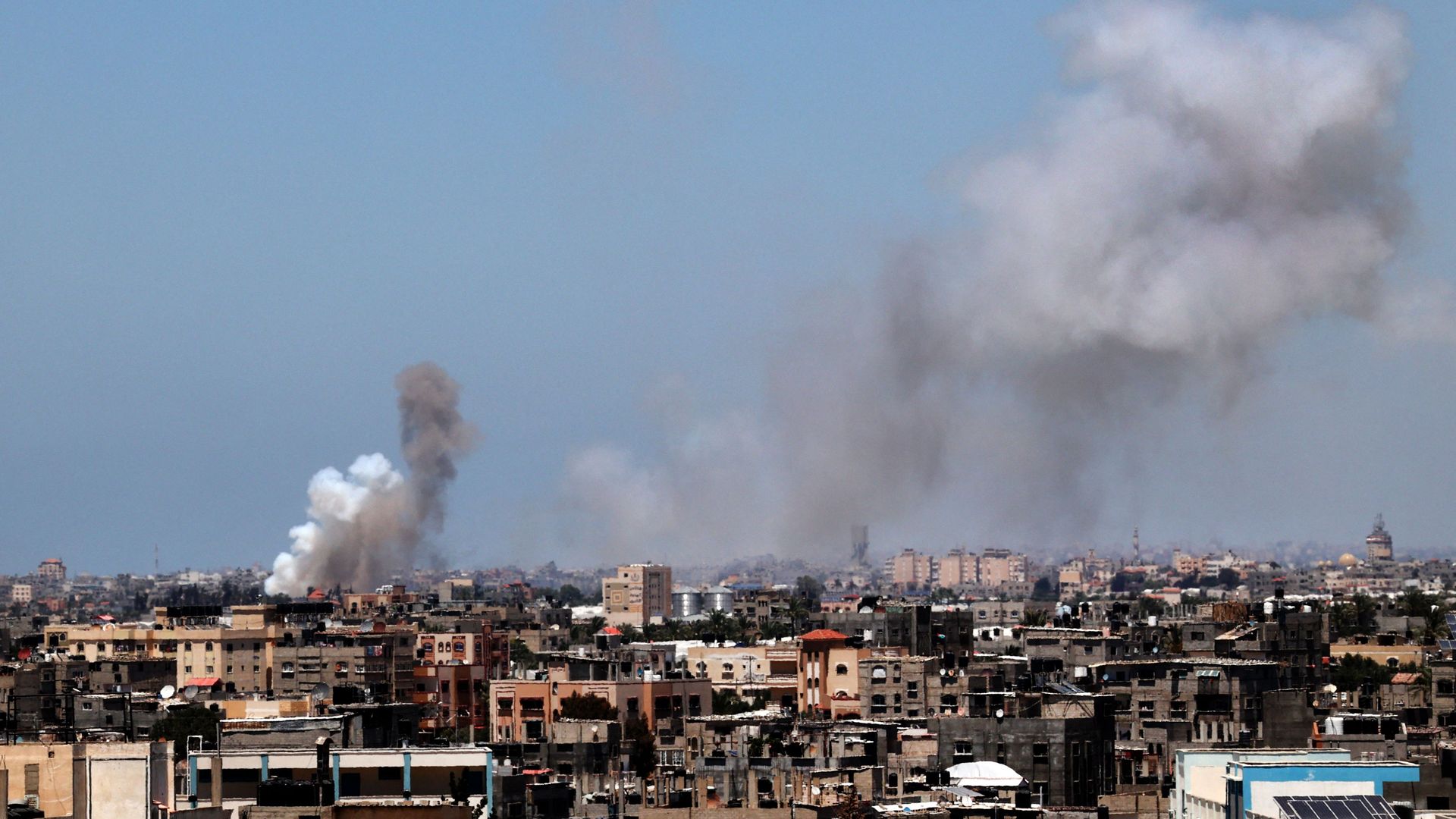 An Israeli airstrike on Saturday flattened a high-rise building housing media offices for Al Jazeera, the AP and others in the Gaza Strip.
Driving the news: The attack came nearly an hour after the Israeli military warned the building's owner that it was going to bombed and asked for it to be evacuated.
The Israeli military said it bombed the building, which it claimed houses Hamas military facilities, in retaliation for the rocket attack on Tel Aviv earlier Saturday that killed at least one Israeli civilian. Hamas said it fired more than 40 rockets.
A correspondent for Al Jazeera said, "I have been working here for 11 years. I have been covering many events from this building, we have lived personal professional experiences now everything, in two seconds, just vanished."
"We are shocked and horrified that the Israeli military would target and destroy the building housing AP's bureau and other news organizations in Gaza," AP president and CEO Gary Pruitt said in a statement on Saturday. "This is an incredibly disturbing development ... We narrowly avoided a terrible loss of life."
The state of play: On Friday night, an Israeli airstrike targeted a house in the Shati refugee camp in northern Gaza. Palestinian sources said the strike hit the house while two families were there to celebrate Eid, the end to the Muslim holy month of Ramadan. At least eight children and two women were killed.
Gaza health officials said Saturday that 140 Palestinians have been killed in Gaza since the beginning of this latest conflict, including 60 women and children.
Hamas meanwhile continued firing rockets toward southern Israel, mainly on the city of Beer Sheba. At least nine people, including two children, have been killed in Israel since Monday.
Large protests took place Friday across the occupied West Bank, where Israeli forces killed at least 11 Palestinians, including one man the Israeli military said attempted to attack soldiers.
In Israel, the unrest between Jews and Arabs also continued. On Friday night, a molotov cocktail was thrown at a house owned by Arabs in Jaffa. A 12-year-old boy was seriously wounded. The family claimed Jewish extremists were behind the attack, but Israeli police later concluded that it was thrown by an Arab.
The big picture: Ahead of a meeting with U.S. envoy Hady Amr, who arrived in the region on Friday, the Palestinian Authority criticized the U.S. position on the Gaza crisis and called the Biden administration to intervene.
"The silence by the Biden administration about what Israel is doing and the claim it is self defense led to massacres in Gaza and the West Bank. We ask the U.S. to take action because it is the only party in the world who can stop Israeli aggression," President Abbas's spokesman Nabil Abu Rudeineh said in a statement on Friday.
President Biden pledged to have a more balanced policy on the Israeli-Palestinian conflict than the Trump administration. For now, the Biden administration has supported the Israeli operation in Gaza, pushing back on pressure from progressive Democrats and criticism from U.S. media.
What's next: Israeli security officials said a successful strike on Hamas' tunnel system on Thursday could signal a possible shift by the Israeli government toward ending the operation.
U.S. envoy Hady Amr will meet on Sunday with Israeli officials to discuss the de-escalation efforts.
Editor's note: This story has been updated with more recent information about the molotov cocktail incident in Jaffa.
Go deeper...
Go deeper