Exclusive: White House pushing vaccine eligibility with media blitz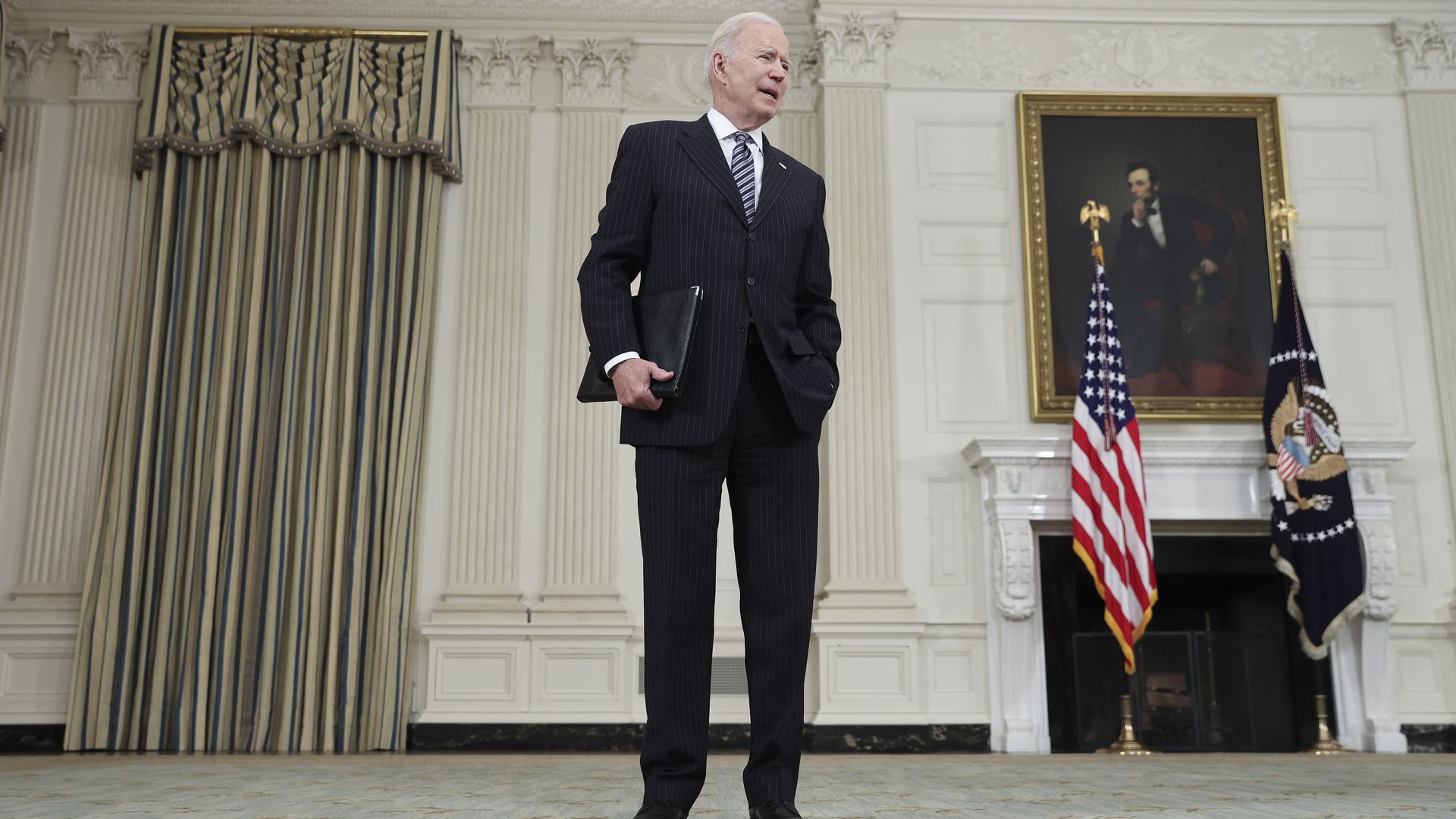 The White House is launching a targeted media blitz Monday to promote President Biden's new deadline for states to make all U.S. residents 16 and older eligible for the COVID-19 vaccine, an administration official tells Axios.
Why it matters: Half of American adults have received their first vaccine dose, but vaccine hesitancy among the remaining population risks the country achieving herd immunity.
The problem is a special concern after the U.S. Food and Drug Administration paused delivery of the Johnson & Johnson one-shot vaccine amid concerns about blood clots.
The White House originally said it wanted states to open eligibility to all adults by May 1. It later revised the date to April 19.
The administration is narrowing in on specific constituencies who may experience higher rates of hesitancy, including Latino and Black communities as well as conservatives.
To reach those groups, officials will do interviews with Telemundo, All Ag News and radio host Rickey Smiley, who has a wide following in the Black community.
It's also putting up members of the administration, including Anthony Fauci, Health and Human Services Secretary Xavier Becerra, Surgeon General Vivek Murthy and assistant HHS secretary Rachel Levine, for those targeted local and radio interviews.
The 80-year-old Fauci will target young people with Snapchat clips.
More details: The administration has partnered with Twitter and Facebook to send push notifications informing users of their vaccine eligibility.
The White House has acknowledged it may not be the most effective voice in promoting the vaccine to certain parts of the population. In that vein, 6,000 community partners, including churches and doctors, will receive a social media toolkit by email to use in the effort to spread the word.
Nationally, the White House will put up doctors for television interviews.
Biden will film a direct-to-camera public service announcement disseminated on digital platforms.
Vice President Kamala Harris also will take part in social media publicity, along with doing an interview in the Carolina Peacemaker, an African American community weekly newspaper in Greensboro, N.C.
The big picture: The J&J pause has raised concerns about elevated vaccine hesitancy not only in the United States but elsewhere in the world where it's tough to deliver a two-shot regimen.
Administration officials say the pause will not significantly affect the president's goal of hitting 200 million shots during the first 100 days of his administration, because there's ample supply of the Pfizer and Moderna vaccines.
The president announced last week the United States had already administered 150 million doses during his first 75 days in office.
Go deeper