Updated Apr 15, 2021 -

World
U.S. imposes sweeping sanctions targeting Russian economy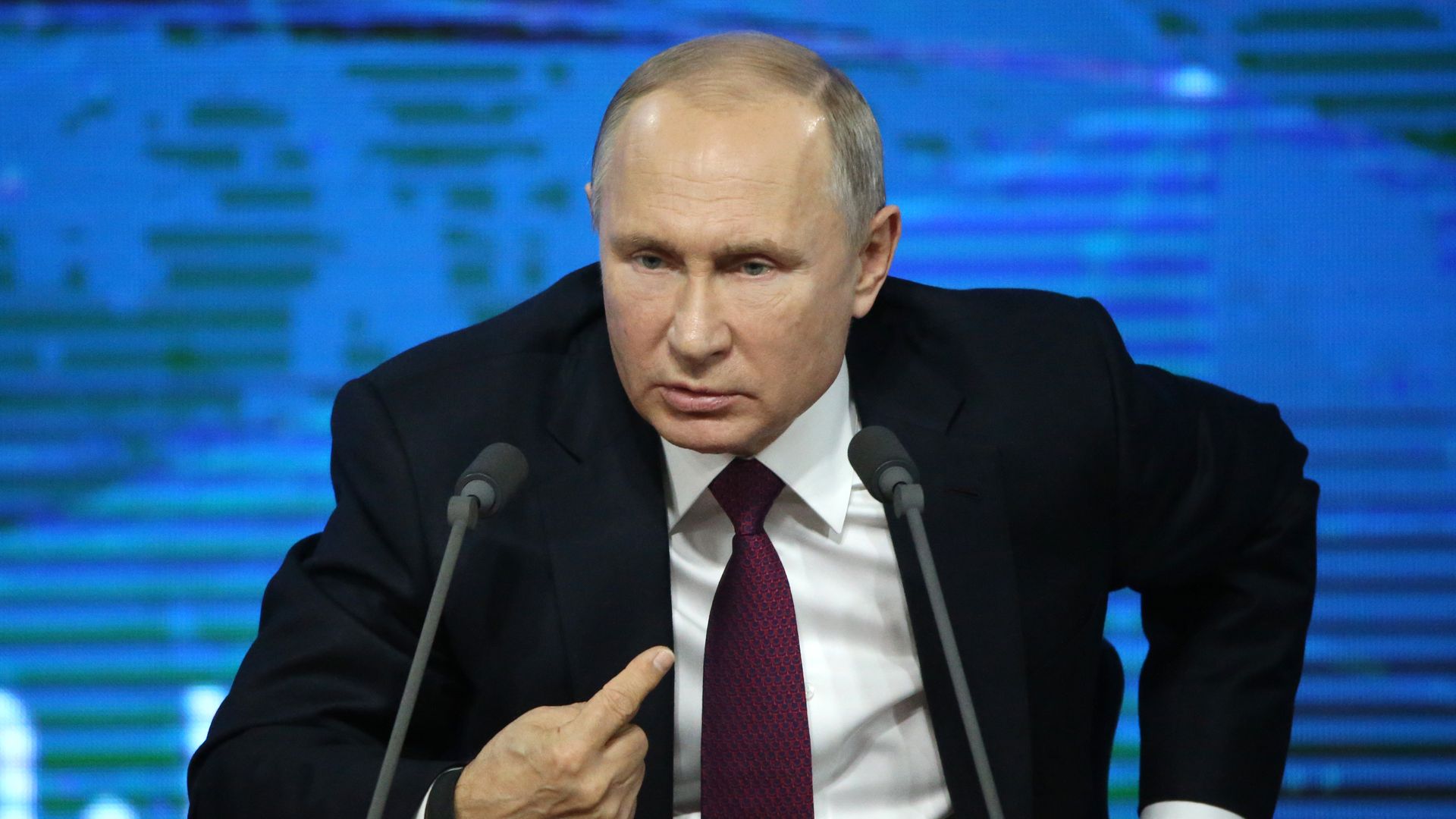 The Biden administration announced it will sanction dozens of Russian officials and entities, expel 10 diplomats from the U.S., and set new restrictions on buying Russian sovereign debt in response to the massive SolarWinds hack of federal agencies and interference in the 2020 election.
Why it matters: The sweeping acts of retaliation are aimed at imposing heavy economic costs on Russia, after years of sanctions that have failed to deter an increasingly aggressive and authoritarian President Vladimir Putin.
Details: The administration formally accused Russia's Foreign Intelligence Service (SVR) of carrying out the SolarWinds hack, which Microsoft President Brad Smith has called "the largest and most sophisticated attack the world has ever seen." The intelligence community said it has "high confidence" in the assessment.
The package of sanctions will bar U.S. banks from buying Russian government bonds directly from the the country's central bank, sovereign wealth fund and ministry of finance beginning June 14, complicating Russia's ability to raise money in international capital markets.
A senior administration official told reporters the move would create a "broader chilling effect" that will weaken the ruble and have negative implications for inflation and economic growth.
Six Russian technology companies will be sanctioned for providing support for Russian intelligence's cyber activities, while 32 entities and individuals will be designated for their role in the Kremlin's election interference campaign.
Ten Russian officials will also be expelled from the U.S. A senior administration official said their activities in the U.S. had been "inconsistent" with their diplomatic status, in a signal that they were suspected spies.
Another senior administration official noted that the U.S. was taking additional steps which would "remain unseen."
In partnership with the European Union, the United Kingdom, Australia, and Canada, the U.S. will also sanction eight individuals and entities for their role in Russia's ongoing occupation of Crimea.
Thursday's sanctions will not be tied to allegations that Russia paid Afghan militants to attack U.S. troops. A senior administration official said U.S. intelligence had only "low to moderate confidence" that Russia had made such payments because of the "challenging operating environment" in Afghanistan.
The administration said that "given the sensitivity of the matter," it would be "handled through diplomatic, military and intelligence channels."
What he's saying: "We cannot allow a foreign power to interfere in our democratic process with impunity," President Biden said later Thursday.
"If Russia continues to interfere with our democracy. I'm prepared to take further actions to respond. It is my responsibility as president of the United States to do so."
The big picture: On his second day in office, Biden ordered the intelligence community to conduct a review into Russia's "reckless and adversarial actions" spanning four areas: election interference, the SolarWinds hack, the poisoning and jailing of opposition leader Alexei Navalny, and reports of Russian bounties on U.S. troops in Afghanistan.
The U.S. sanctioned seven senior Russian officials in March after assessing "with high confidence" that Federal Security Service (FSB) officers poisoned Navalny using the nerve agent Novichok.
Two weeks later, U.S. intelligence released a report assessing that Putin authorized election influence operations aimed at denigrating Biden's candidacy.
Driving the news: The announcement comes two days after Biden held a phone call with Putin and proposed a summit "in a third country in the coming months."
Biden also warned Putin against further "cyber intrusions and election interference" and raised concerns over Russia's massing of forces on the border with eastern Ukraine, which CIA Director William Burns said Wednesday is now large enough for a "limited military incursion."
A senior administration official said it was unclear whether Putin would accept Biden's summit proposal, but that it was "vital" for the two to meet in the coming months "to find a stable and predictable way forward."
"We have no desire to be in an escalatory cycle with Russia," the official said, while adding that the U.S. reserved the right to respond to any Russian reaction to Thursday's moves.
The other side: "We condemn any sanction aspirations. We believe they are illegal. In any case, the principle of reciprocity applies in this case. Reciprocity will meet our interests in the best possible way," Kremlin spokesman Dmitry Peskov said Thursday.
U.S. Ambassador to Moscow John Sullivan was summoned to the Russian foreign ministry, spokeswoman Maria Zakharova said at a briefing Thursday.
Worth noting: Despite the fact that the U.S. is itself highly active in cyber espionage, a senior administration official said it was appropriate to respond to the SolarWinds attack because of its "broad scope and scale," the possibility that networks could be degraded "in the blink of an eye," and because the burden fell largely on the private sector.
Editor's note: This story has been updated with Biden's comments on Thursday.
Go deeper