Scoop: Congress pushes for manufacturing czar at Biden White House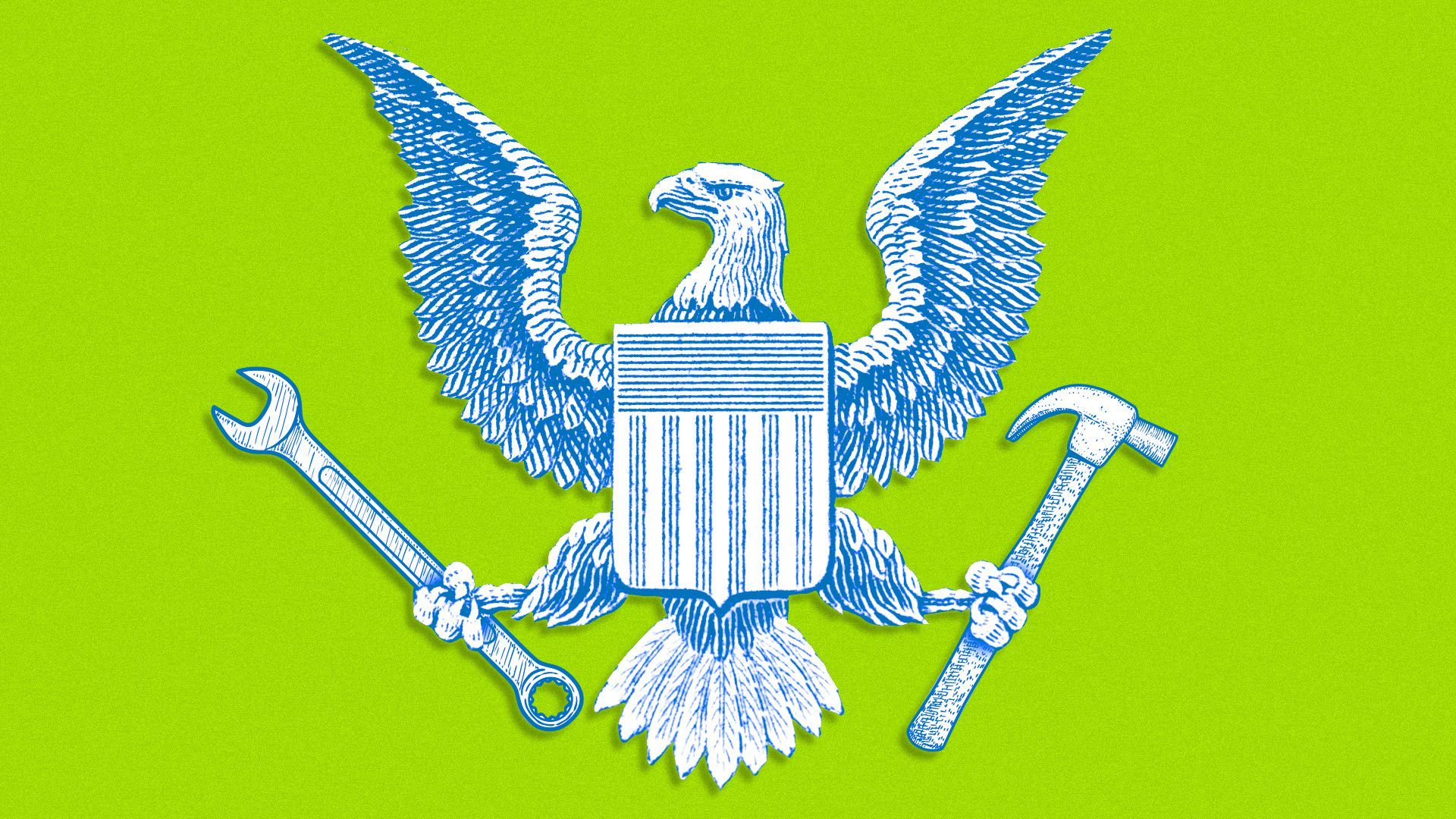 Senators in both parties plan to push the White House to create a "chief manufacturing officer" who would report directly to President Biden, mirroring representation now enjoyed by science and technology, Axios has learned.
The idea has endorsements from a whole host of trade groups, representing both industry and labor.
Why it matters: Every modern White House talks about its desire to elevate manufacturing, particularly as America's economy has become more services-oriented.
The goal of this bill is to put more meat on the rhetorical bones, including coordination with Congress on lessons learned from the pandemic.
Driving the news: A bipartisan group of federal legislators today will introduce a 43-page bill to create the Office of Manufacturing and Industrial Innovation Policy (OMII).
This would be the manufacturing equivalent to the Office of Science and Technology Policy, which works alongside (but not under) the National Economic Council.
It would initially have five direct employees, although expectations would be to build out the office.
Bill sponsors include Sens. Amy Klobuchar (D-Minn), Roger Wicker (R-Miss.), Chris Coons (D-Del.) and Rob Portman (R-Ohio). Plus Reps. Marcy Kaptur (D-Ohio) and Brian Fitzpatrick (R-Pa.).
It also has endorsements from a whole host of trade groups, representing both industry and labor.
By the numbers: U.S. manufacturing has increased in each of the past nine months, with February's PMI hitting its highest mark since August 2018. March manufacturing data will be released this Thursday.
U.S. manufacturing employment also has been rebounding from its pandemic lows, but is still over half a million jobs shy of where it was in February 2020.
The bottom line: This bill has bipartisan, bicameral support. But, as we've learned so many times before, its fate may be determined not by its merits or sponsorships, but by what larger piece of legislation it gets tied to.
Go deeper