H&M faces boycott calls in China for Xinjiang cotton policy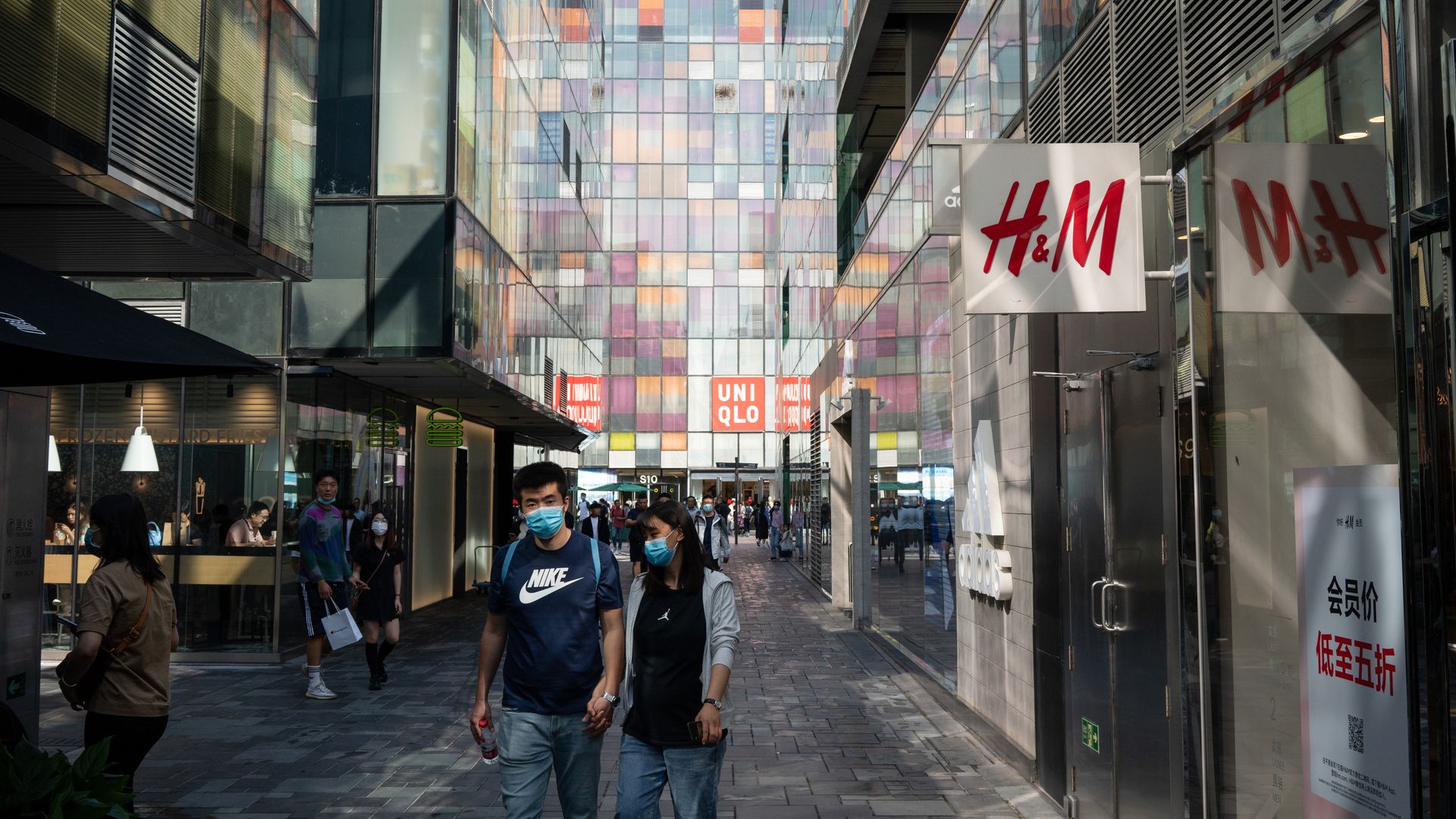 Retail chain H&M is facing a potential boycott in China for refusing to use cotton from Xinjiang over concerns about the human rights abuse of Uyghur Muslims in the region.
Driving the news: Influential groups with ties to the ruling Chinese Communist Party on Wednesday led an outcry on Weibo, China's version of Twitter, over a statement on the retail giant's website that states it's "deeply concerned" by abuse reports, per Bloomberg. Nike was also attacked on the site for expressing similar concerns, the New York Times notes.
Why it matters: China vowed retaliatory sanctions after the U.S. and other nations imposed sanctions this week against the country's ruling Communist Party for what they've determined is the genocide of Uyghurs and other minority groups in Xinjiang.
Now influential groups on Weibo are calling on the government to take action against Western clothing manufacturers.
What's happening: The Communist Youth League, a powerful Chinese Communist Party group, said in one post: "Want to make money in China while spreading false rumors and boycotting Xinjiang cotton? Wishful thinking."
The group echoed a post by China's army that H&M's policy was "ignorant and arrogant," the NYT notes.
State broadcaster CCTV in a statement accused H&M of miscalculating by trying to "play a righteous hero" and that the company "will definitely pay a heavy price for its wrong action."
"By Wednesday evening, at least three major Chinese e-commerce platforms — Pinduoduo, Jingdong and Tmall — had removed H&M from search results and withdrawn its products from sale," the Times reports.
Meanwhile, two Chinese celebrities who represented H&M announced they're severing ties with the clothing store over its stance as they are against "attempts to smear China," which denies the rights abuse allegations, per Bloomberg.
What they're saying: H&M and Nike didn't immediately respond to Axios' request for comment.
But H&M China said a post on Weibo that the retailer didn't "represent any political position," that it "respects Chinese consumers" and is "committed to long-term investment and development in China.:
Go deeper