Scoop: Inside Biden's private chat with historians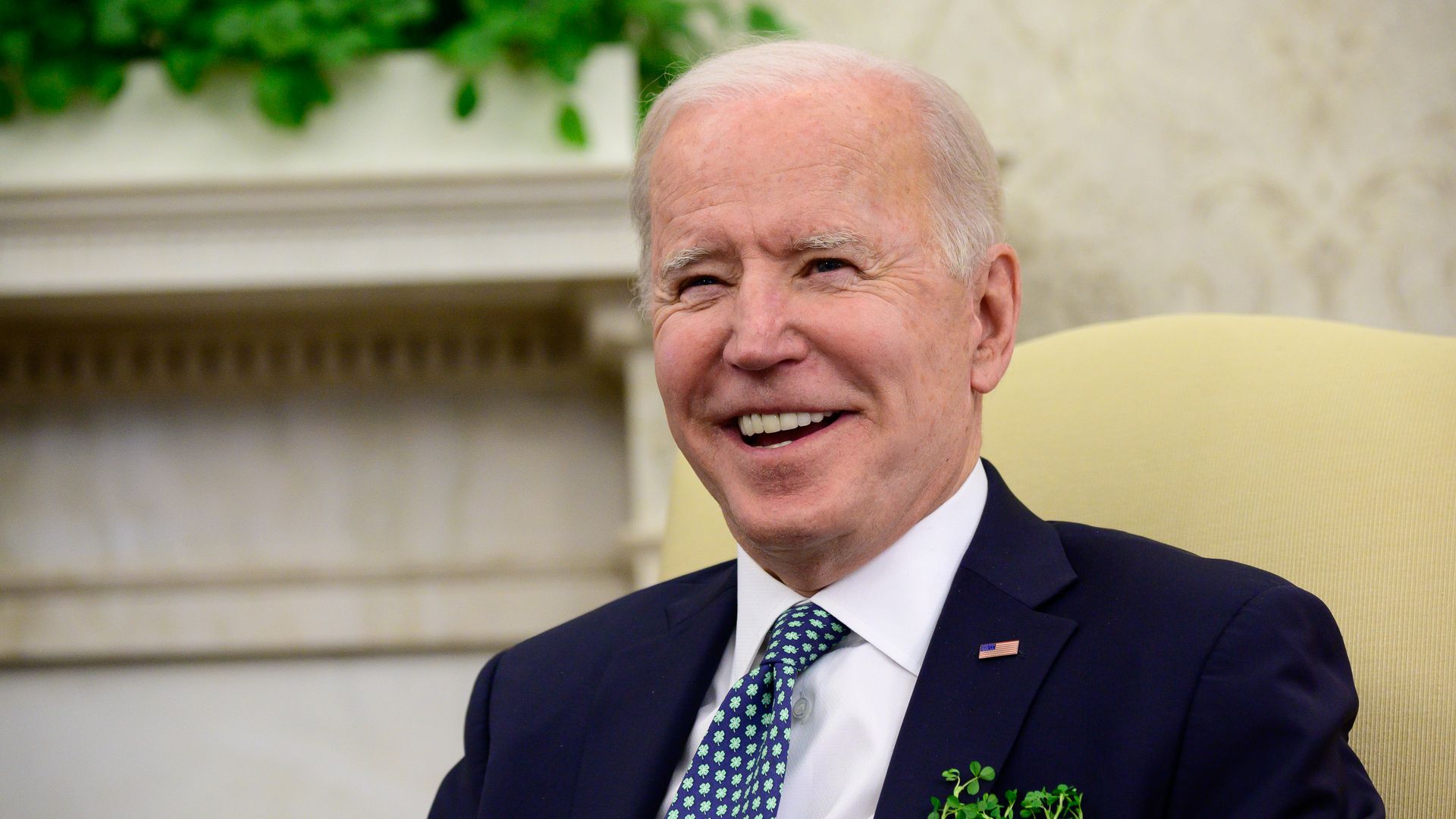 Hosting historians around a long table in the East Room earlier this month, President Biden took notes in a black book as they discussed some of his most admired predecessors. Then he said to Doris Kearns Goodwin: "I'm no FDR, but … "
Why it matters: He'd like to be. The March 2 session, which the White House kept under wraps, reflects Biden's determination to be one of the most consequential presidents.
The chatty, two-hour-plus meeting is a for-the-history-books marker of the think-big, go-big mentality that pervades his West Wing.
The big picture: Biden's presidency has already been transformative, and he has many more giant plans teed up that could make Biden's New Deal the biggest change to governance in our lifetimes.
Biden, who holds his first formal news conference today at 1:15 p.m. in the East Room, started his term with the $1.9 trillion COVID bill, with numerous measures tucked in to reduce inequality.
Vaccines are rolling out, positioning Biden to get ahead of the pandemic. Democrats in Congress are pushing the most sweeping changes in voting rights since the 1960s.
And he's preparing an infrastructure and green-energy plan that's bigger than the original tab for the Interstate highway system, to be followed by a domestic proposal (free community college, universal pre-K) that brings the pair of packages to $3 trillion, with possible pay-fors that would dramatically rebalance the tax system.
Behind the scenes: Attendees tell me that the afternoon session with historians was held in a White House that was ghostly quiet, because many fewer aides are working in Biden's COVID-era West Wing than are typical. To some of the guests, it felt like a snow day.
The session was organized by Jon Meacham, the presidential biographer and informal Biden adviser who has helped with big speeches from Nashville, and serves as POTUS' historical muse.
Besides Goodwin, participants included Michael Beschloss, author Michael Eric Dyson, Yale's Joanne Freeman, Princeton's Eddie Glaude Jr., Harvard's Annette Gordon-Reed and Walter Isaacson.
Instead of the stewards who had served many of the historians on past visits, a self-serve coffee urn was set out against one wall.
Everyone, including the president, wore masks.
As part of COVID protections, the presidential seal was stamped in gold on paper covers of the water glasses.
Biden made it clear to his guests that he knew the gravity of the multiple crises facing America. He knew a lot about Franklin D. Roosevelt, and peppered Goodwin with questions about the World War II leader.
Beyond the icons (Lincoln, LBJ), the conversation got as granular as the Jay Treaty of 1794.
They talked a lot about the elasticity of presidential power, and the limits of going bigger and faster than the public might anticipate or stomach.
Afterward, Biden told an aide: "I could have gone another two hours."
Go deeper: Biden prepared to chuck filibuster in historic push to re-engineer America, quickly
Go deeper