Scoop: Inside the GOP's plan to retake the House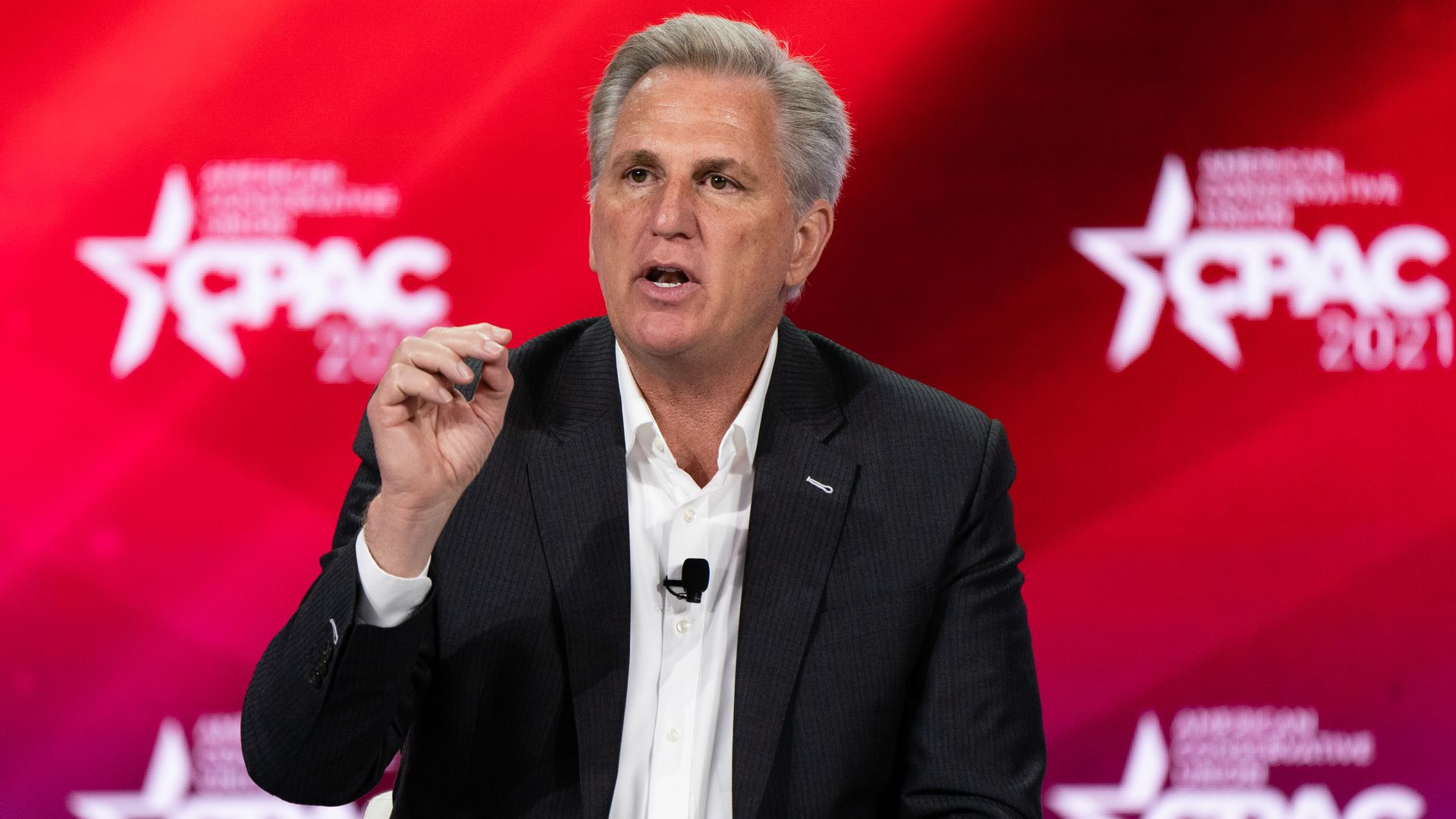 House Republicans will reclaim their majority in 2022 by offering candidates who are women, minorities or veterans, a memo obtained by Axios says.
Why it matters: The document, drafted by a super PAC blessed by House Minority Leader Kevin McCarthy, names top Democrats to target — Jared Golden of Maine, Matt Cartwright of Pennsylvania and Ron Kind of Wisconsin — and the type of Republican candidates to beat them.
The Congressional Leadership Fund spent $140 million during the 2020 cycle, helping Republicans defy the odds and come within five seats of winning the House. The group now plans to play a key role in shaping the 2022 contests.
The details: The memo, written by CLF President Dan Conston, singled out Golden, Cartwright and Kind because they live in Trump-friendly rural and working-class districts.
Conston recommends "star Navy SEAL" Derrick Van Orden seek a rematch with Kind but says the GOP needs to find new, "stronger recruits" to take on Golden and Cartwright.
The memo is blunt about candidate recruitment.
"In 2020, all 15 of the seats Republicans flipped were won by a woman, a minority or a veteran," Conston writes. "Continuing to recruit similar candidates is a foundational building block to the majority in 2022."
Between the lines: House Republican candidates performed substantially better than Donald Trump did in suburban districts. The suburbs don't need to be the GOP killing fields that they were under Trump.
Republicans will benefit in 2022 from "Democrats' overreach" on policies such as lengthy school closures, curtailment of fracking and pipeline cancellations, Conston writes.
The big picture: The memo sounds the alarm about insufficient Republican candidate fundraising, calling it the "single biggest threat to Republicans taking back the majority."
In competitive races, Democrats out-raised half of all Republican incumbents and all but three Republican challengers were out-raised, the memo states.
During the final stretch, Democratic candidates spent $88 million more on television than Republicans.
CLF has deep pockets, but super PACs pay far higher TV ad rates than campaigns. Conston emphasized that candidates will need to "stand on their own two feet" and boost their own digital fundraising, to get CLF support.
Be smart: Conston predicts redistricting will bring on "painful member-vs.-member primaries," but he expects redistricting to ultimately help Republicans pick up seats in Texas, Florida, Arizona, Georgia, North Carolina and Montana.
Go deeper