Capitol secured hours after mob breach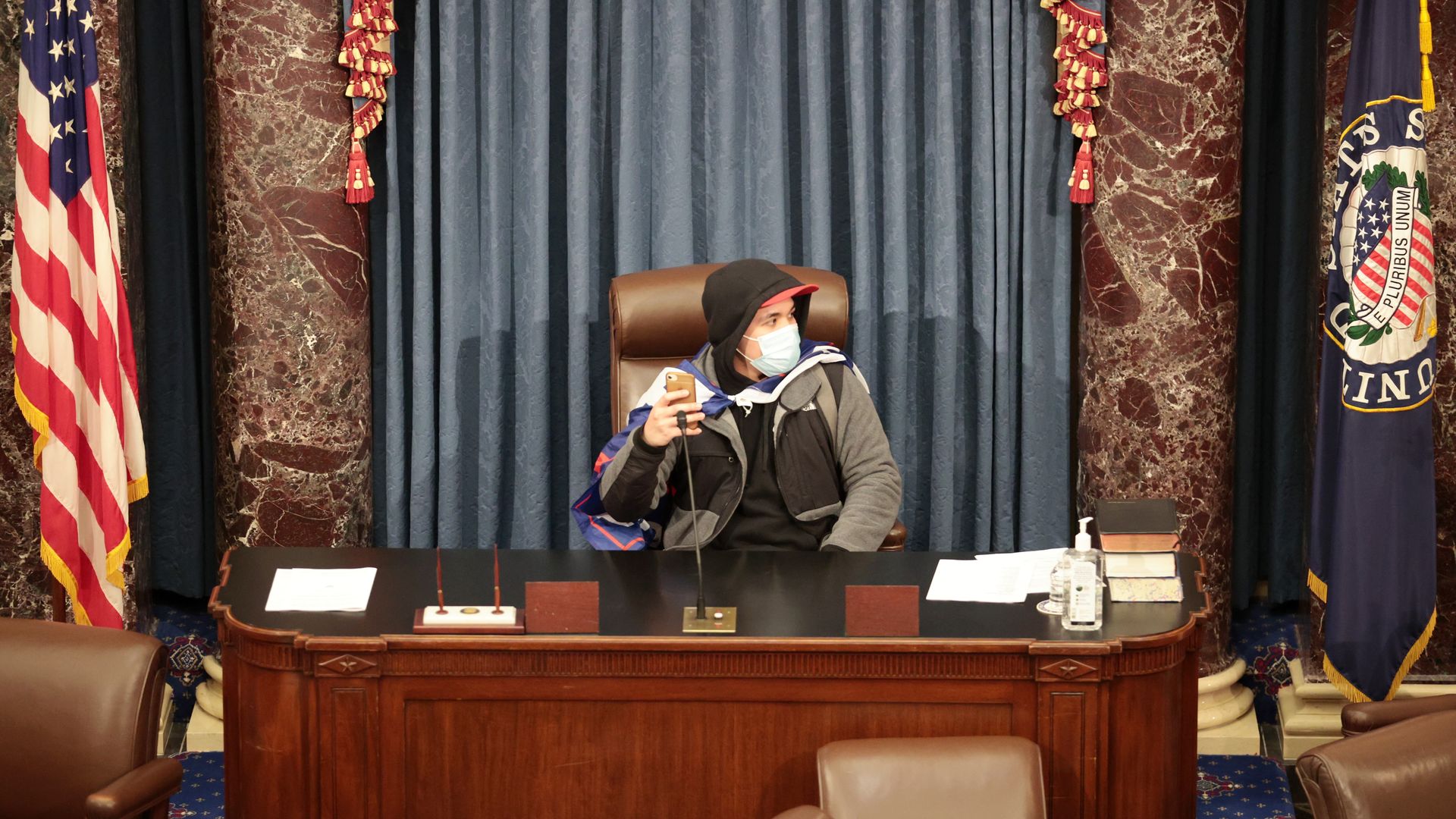 The U.S. Capitol was secured hours after a mob supporting President Trump violently breached the building, causing a lockdown and evacuation of lawmakers, staff and reporters.
Where it stands: The Senate and House have reconvened to finish certifying President-elect Joe Biden's win.
Earlier Wednesday, senators, House members and members of the media were evacuated to undisclosed locations following the incident, per Axios reporters on the ground. Vice President Mike Pence was evacuated from the Senate chamber around 2 p.m. and House Speaker Nancy Pelosi connected with her caucus from a secure location, Rep. Stacey Plaskett (D-V.I.) told C-SPAN.
Pelosi said in a statement after the rioters left the building that Congress will work through the night to finish certifying Biden's Electoral College victory after the breach prevented lawmakers from certifying the vote earlier Wednesday.
The big picture: D.C. Mayor Muriel Bowser issued a citywide curfew in response to the incident from 6 p.m. on Wednesday through 6 a.m. Thursday. The National Guard was activated, and the FBI deployed SWAT teams into the Capitol, following evacuations.
Bowser also said she was extending the public emergency she declared earlier Wednesday by 15 days in response to the violence.
DC police confirmed one woman who was shot by U.S. Capitol Police during the mob violence had died.
At least three others died in "medical emergencies" near the Capitol grounds, police said. It was unclear whether they were part of the group that stormed the Capitol building.
Several weapons — including long guns and hand guns — were recovered in the wake of the riot and at least 47 people were arrested for curfew-related violations, police said at a 10:3o p.m. ET press briefing with Bowser. Officials also said two pipe bombs were recovered, one outside the Democratic National Committee and one outside the Republican National Committee.
Virginia Gov. Ralph Northam (D) also ordered a curfew in the D.C. suburbs of Alexandria and Arlington County from 6 p.m. on Jan. 6 to 6 a.m. on Jan. 7. He said earlier Wednesday that he would send members of the Virginia National Guard in response to the incident, as well as 200 state troopers.
What we're hearing: Protesters walked through the Capitol Statuary Hall, which separates the House and Senate, filling into both sides with U.S. flags and MAGA flags.
Reporters were advised just after 2:30 p.m. to "be prepared to get down" in their chairs and relocate, Axios' Kadia Goba reports. She was in the chamber when members bolted the door and watched Capitol police draw their guns and point at the door.
At 2:31 p.m., everyone was evacuated from the floor.
A police officer stood in the center of the Cannon office building and shouted: "EVERYONE OUT, RIGHT NOW ... WE'RE EVACUATING," Axios' Alayna Treene reports. Police ushered everyone toward the Longworth House Office Building.
Reactions: Trump urged his supporters "to go home" in a video roughly two hours after the incident began, adding: "We love you. You're very special. ... I know how you feel. But go home, and go home in peace." He repeated false claims that the election was stolen from him, which was one of the driving causes of the "March for Trump" protest.
In a joint statement, Pelosi and Senate Minority Leader Chuck Schumer (D-N.Y.) had called on President Trump "to demand that all protestors leave the U.S. Capitol and Capitol Grounds immediately."
President-elect Joe Biden said the incident "borders on sedition" and called on Trump "to go on national television now to fulfill his oath and defend the Constitution and demand an end to this siege."
Go deeper: Inside the room as a pro-Trump mob stormed the U.S. Capitol
Go deeper