More Republicans denounce GOP plans to challenge election results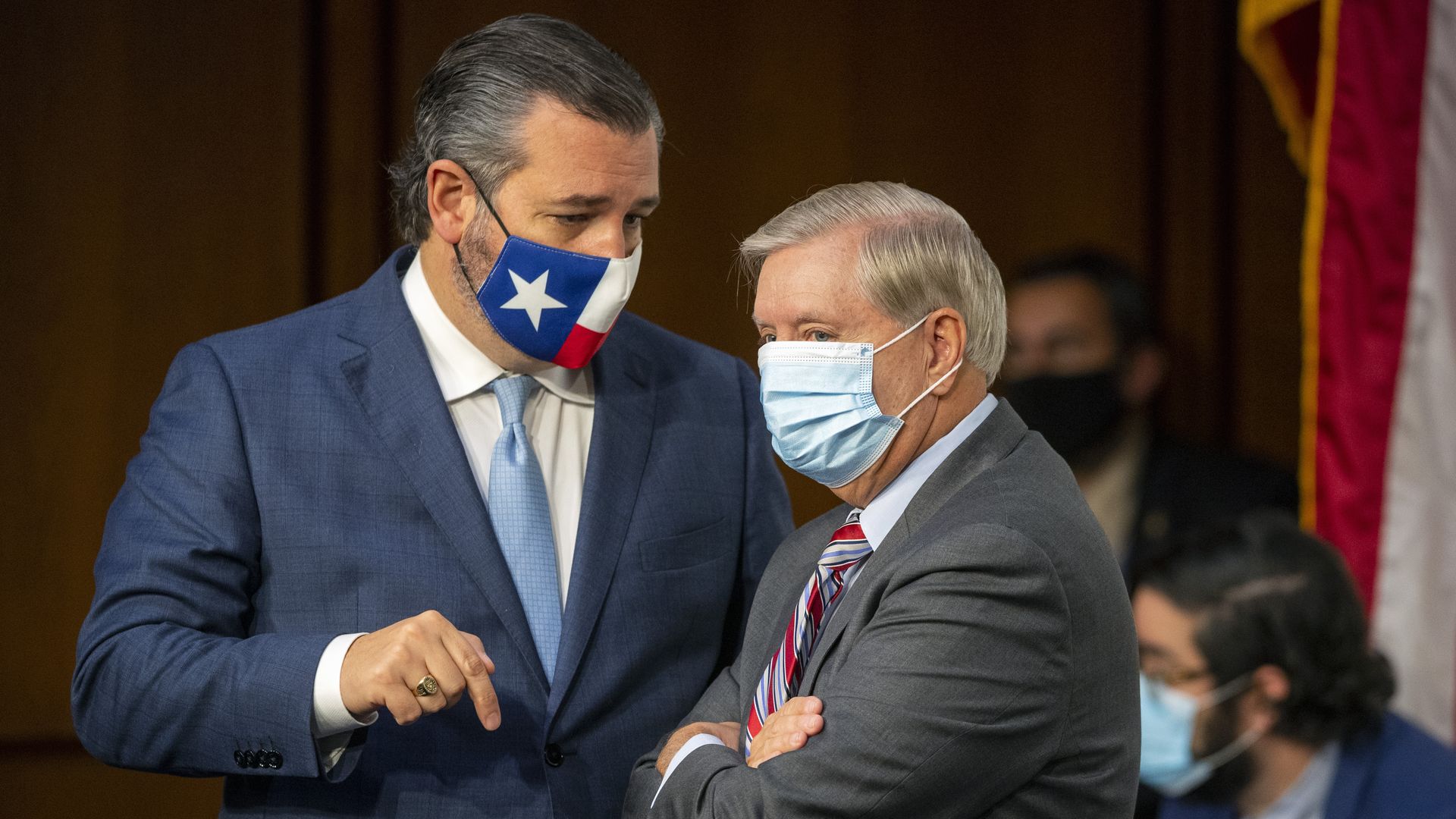 More than a dozen House and Senate Republicans over the weekend attacked plans by colleagues to object to certifying 2020 election results, calling the effort ineffective, dangerous or lacking in evidence.
Why it matters: Although nearly all lawsuits brought by President Trump, his allies and his legal team to challenge election results have been dismissed, a group of Republican senators led by Ted Cruz says they will oppose certifying Joe Biden's win.
Sen. Lindsey Graham (R-S.C.), who joined Cruz on cable news last month to support Trump's unsubstantiated claims of election fraud, rebuked the Texan's plan to hold an emergency audit of election results as "more of a political dodge than an effective remedy."
Graham said Cruz's plan "has zero chance of becoming reality" and is "not effectively fighting for President Trump," but added he would "listen closely" to the challenges.
He stressed Republicans need to give "clear and convincing evidence" that state and federal courts, as well as state legislators, failed to act on investigations into election fraud — although Attorney General Bill Barr said the Justice Department has not found any evidence of widespread voter fraud.
Sen. Tom Cotton (R-Ark.) warned opposing the certifying of votes could "establish unwise precedents" and "take away the power to choose the president from the people."
It could lead to Democrats achieving "their longstanding goal of eliminating the Electoral College" and Congress would "take another big step toward federalizing election law," Cotton added.
Sen. Ben Sasse (R-Neb.) said, "It's a very, very bad idea ... this is bad for the country and bad for the party."
Sen. Mitt Romney (R-Utah) denounced the proposed commission as an "egregious ploy" that "dangerously threatens our Democratic Republic," arguing the precedent would lead partisan lawmakers to "inevitably demand the same any time their candidate had lost."
GOP Conference Chair Liz Cheney (R-Wyo.) wrote to her Republican conference Sunday that "objections set an exceptionally dangerous precedent," NBC's Alex Moe first reported and Axios confirmed.
Cheney singled out Cruz's proposal for a commission as "even more problematic" and asked if Republicans backing the effort realized "they were in essence proposing to delay the inaugural," since the suggested audit would take months.
Maryland Gov. Larry Hogan (R) said the "scheme" trying to overturn the results "makes a mockery of our system and who we are as Americans.
Rep. Adam Kinzinger (R-Ill.) told CNN no lawmaker could object to the results with a "clean conscience."
Former House Speaker Paul Ryan (R-Wis.) said efforts to "sow doubt" on Biden's victory "strike at the foundation of our republic," and the "Trump campaign had ample opportunity to challenge election results."
Seven House Republicans released a statement against the plans to oppose certifying election results, arguing Congress has no authority to disqualify electors nor "to make value judgments in the abstract regarding any state's election laws."
"To take action otherwise — that is, to unconstitutionally insert Congress into the center of the presidential election process — would amount to stealing power from the people and the states."
Sens. Bill Cassidy (R.-La), Susan Collins (R-Maine), Romney and Lisa Murkowski (R-Alaska), said in bipartisan statement "further attempts to cast doubt on the legitimacy" of the election are "contrary to the clearly expressed will of the American people."
Cruz responded by urging lawmakers "to tone down the rhetoric," per Politico.
"This is already a volatile situation. It's like a tinder box and throwing lit matches into it and so I think the kind of hyperbole we're seeing, the kind of angry language."
Go deeper: Democrats react to Trump's Georgia call
Editor's note: This article has been updated with more lawmakers' comments.
Go deeper