Republicans condemn Trump's refusal to commit to peaceful transfer of power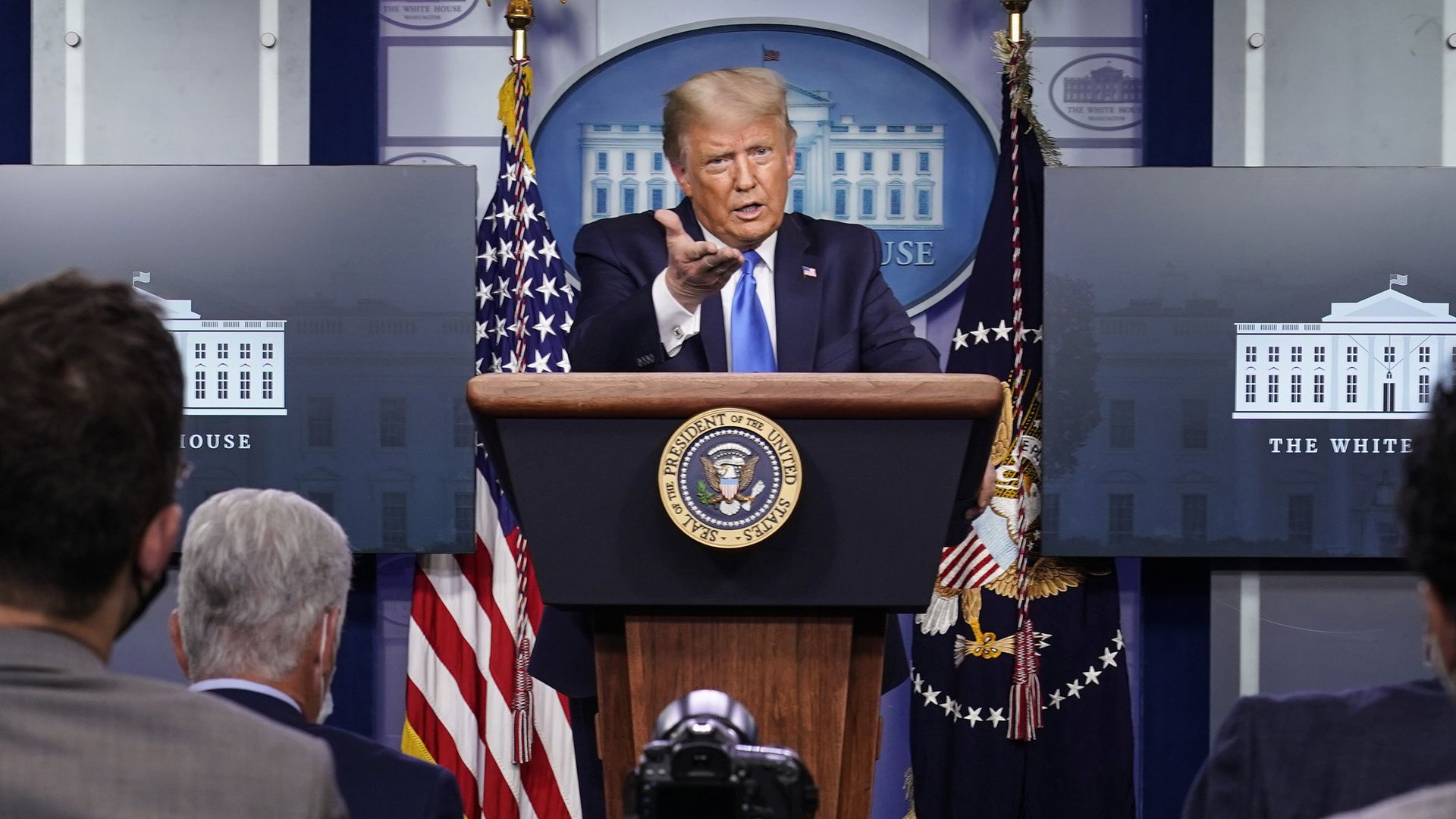 A number of prominent Republican lawmakers addressed President Trump's refusal on Wednesday to commit to a peaceful transfer of power if he loses November's presidential election.
Driving the news: Senate Majority Leader Mitch McConnell tweeted, "The winner of the November 3rd election will be inaugurated on January 20th. There will be an orderly transition just as there has been every four years since 1792."
Other prominent Republicans who spoke out against Trump's statement:
Senate Majority Whip John Thune (S.D.) agreed when asked by reporters whether he would stand up to the president if he attempted a power grab, saying: "Republicans believe in the rule of law, we believe in the Constitution, and that's what dictates what happens."
Sen. Mitt Romney (Utah): "Fundamental to democracy is the peaceful transition of power; without that, there is Belarus. Any suggestion that a president might not respect this Constitutional guarantee is both unthinkable and unacceptable."
Sen. Marco Rubio (Fla.): "As we have done for over two centuries we will have a legitimate & fair election It may take longer than usual to know the outcome, but it will be a valid one And at noon on Jan 20, 2021 we will peacefully swear in the President."
Sen. Rob Portman (Ohio): "Throughout America's history, the peaceful transition of power has been a hallmark of our democracy. This year, both candidates must commit to abiding by the results, no matter the outcome."
Rep. Liz Cheney (Wyo.), the House's No. 3 Republican: "The peaceful transfer of power is enshrined in our Constitution and fundamental to the survival of our Republic. America's leaders swear an oath to the Constitution. We will uphold that oath."
Sen. Susan Collins (Maine): "I don't know what his thinking was, but we have always had a controlled transition between administrations. And I'm certain that if there's a change in administrations, that we have the calmness as well. It's fundamental to our democracy," she said, after admitting she had concerns on Trump not committing to a peaceful transfer of power.
Rep. Steve Stivers (Ohio), the former chair of the National Republican Congressional Committee: "Nothing defines our Constitutional Republic more than the peaceful transition of power. I've taken an oath to support and defend the Constitution, and I will uphold that oath."
Rep. John Katko (N.Y.): "[T]he importance of the transition of power to our democracy is larger than any one President and any one election. I will not hesitate to fulfill my responsibility in upholding my oath to the Constitution and protecting our democracy."
The big picture: Trump has baselessly claimed that the only way he will lose the election is if it's "rigged," claiming — without evidence — that mail-in ballots will result in widespread fraud.
Trump also said he wants to quickly confirm a replacement for the late Supreme Court Justice Ruth Bader Ginsburg because he believes the the court may have to decide the result of the election.
The other side: Other Republicans also stepped in to dismiss the president's comments — or deflect them, occasionally by referencing Hillary Clinton's comments in August that Joe Biden "should not concede under any circumstances."
Sen. Chuck Grassley (Iowa), the Senate's most senior Republican, told reporters: "I would have the same concern when Hillary Clinton advised Biden not to concede the election."
Sen. Lindsey Graham (S.C.) told "Fox & Friends" that he "can assure" there will be a peaceful transition of power, adding that "if the Republicans lose we will accept that result" — without directly addressing Trump's statements.
Sen. Ben Sasse (Neb.), per Politico's Andrew Desiderio: "He says crazy stuff. We've always had a peaceful transition of power. It's not going to change."
Sen. Thom Tillis (N.C.), via CNN's Manu Raju: "[G]o ask every Democrat member and ask them if they stand with Hillary Clinton who says that Biden shouldn't accept the result under any circumstances if he doesn't win."
Go deeper