States order bars and restaurants to close due to coronavirus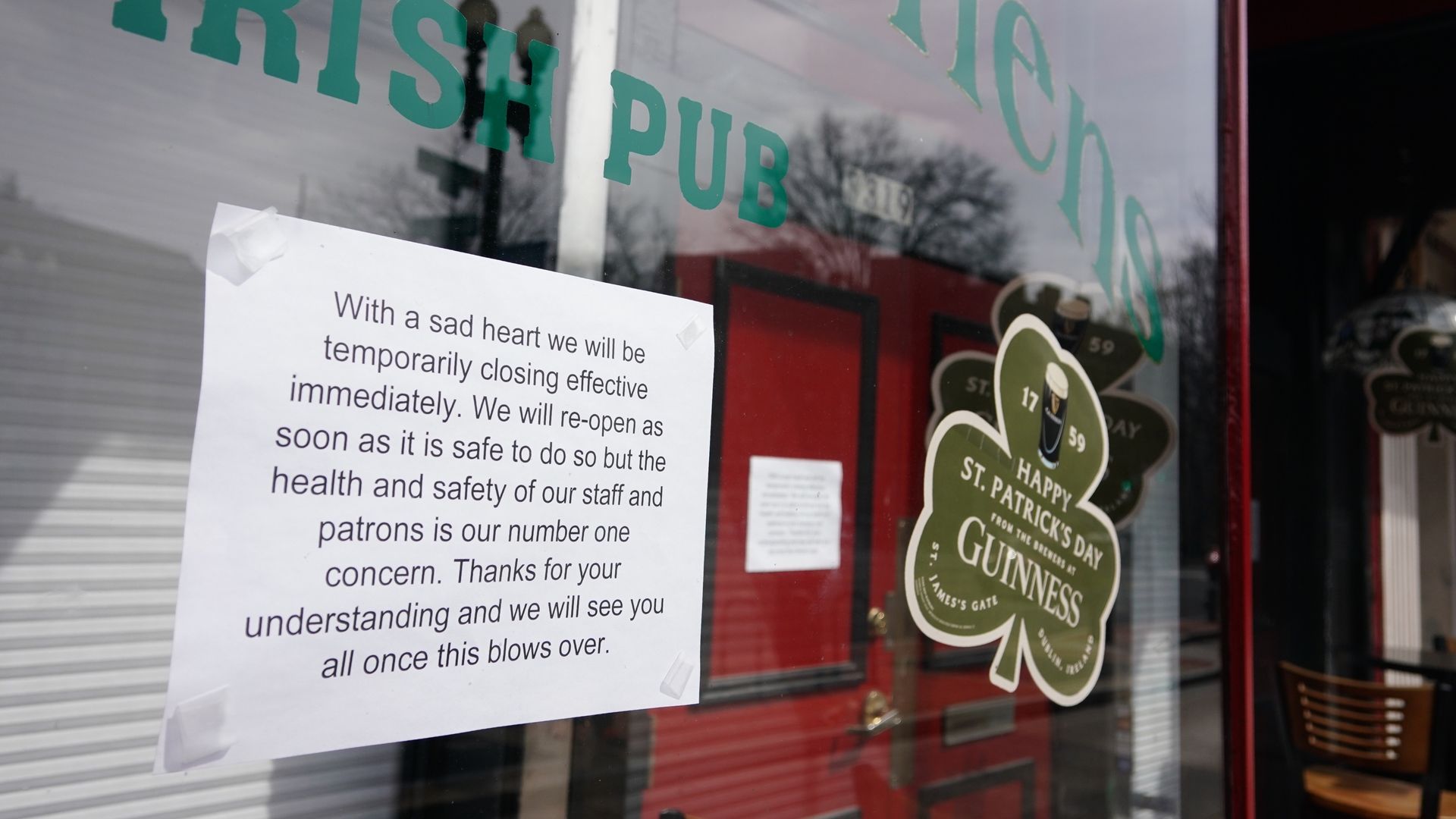 State governments are increasingly calling for the closure of bars and restaurants, a drastic step to enforce "social distancing" that follows similar measures in Europe, where the coronavirus outbreak has put tremendous strain on health resources.
Driving the news: Florida Gov. Ron DeSantis said he would issue an executive order at 5 pm Tuesday closing all bars and nightclubs for 30 days. Restaurant closures will be determined by municipality, but those that remain open must comply with CDC guidelines restricting gatherings to less than 10 people.
North Carolina Gov. Roy Cooper ordered all restaurants and bars in the state to close for dine-in customers on Tuesday and will be expanding unemployment insurance for workers impacted by the virus.
Pennsylvania Gov. Tom Wolf on Monday ordered the statewide shutdown of all non-essential businesses, including restaurants, which will be takeout only. Grocery stores and pharmacies will remain open.
New York Gov. Andrew Cuomo, Connecticut Gov. Ned Lamont and New Jersey Gov. Phil Murphy jointly announced Monday that the states will temporarily shut down movie theaters, gyms and casinos — and allow bars and restaurants to only offer takeout.
Ohio Gov. Mike DeWine announced Sunday afternoon that the state government will issue an order closing all bars and restaurants in Ohio beginning at 9pm ET.
Illinois Gov. J.B. Pritzker on Sunday ordered all bars and restaurants in his state to be closed from Monday evening through March 30.
Massachusetts Gov. Charlie Baker banned gatherings of over 25 people on Sunday and ordered restaurants to be takeout only from Tuesday through April 17.
California Gov. Gavin Newsom called on all bars, nightclubs and wineries in his state to be closed in an official guidance, adding: "We have the capacity to enforce if necessary." He also called for all Californians above the age of 65 and those with chronic conditions to self-isolate.
Washington announced Sunday the temporary shutdown of restaurants, bars and entertainment and recreational facilities statewide. Restaurants can continue take-out and delivery service.
Michigan Lt. Gov. Garlin Gilchrist announced Monday that the state would temporarily shut down "bars, restaurants and other establishments."
What they're saying:
"Establishments can stay open for carry-out and delivery. What we can't have is people congregating and seated. Every day we delay, more people will die. If we do not act and get some distance between people, our health care system in Ohio will not hold up. The loss won't only be those impacted by COVID19, but the danger is also to everyone else who needs hospital care for other issues."
— Ohio Gov. Mike DeWine
"I tried earlier this week to appeal to everyone's good judgment to stay home, to avoid bars, not to congregate in crowds. It's unfortunate that many people didn't take that seriously. The time for persuasion and public appeals is over. The time for action is here. This is not a joke. No one is immune to this, and you have an obligation to act in the best interests of all the people in this state."
— Illinois Gov. J.B. Pritzker
The big picture: Despite Ohio only reporting about 30 cases, DeWine has been among the leading governors in the country sounding the alarm about the threat of the coronavirus.
DeWine was the first governor in the country to close all schools statewide, and said on CNN earlier Sunday that he wouldn't be surprised if schools did not reopen again this academic year.
He added at his press conference Sunday afternoon that he eventually plans to close Ohio's daycare centers, and he urged parents to take their children out of daycare if possible.
What to watch: As was the case with school closures, expect more states to follow suit. Dr. Anthony Fauci, the government's top infectious disease expert, made a plea on the Sunday morning talk shows for young people to stop flooding bars and restaurants.
"I think we should be overly aggressive and get criticized for overreacting," he said. "I think Americans should be prepared that they are going to have to hunker down significantly more than we as a country are doing."
Editor's note: This article is being updated with new shutdowns.
Go deeper