McConnell changes rules for Senate impeachment trial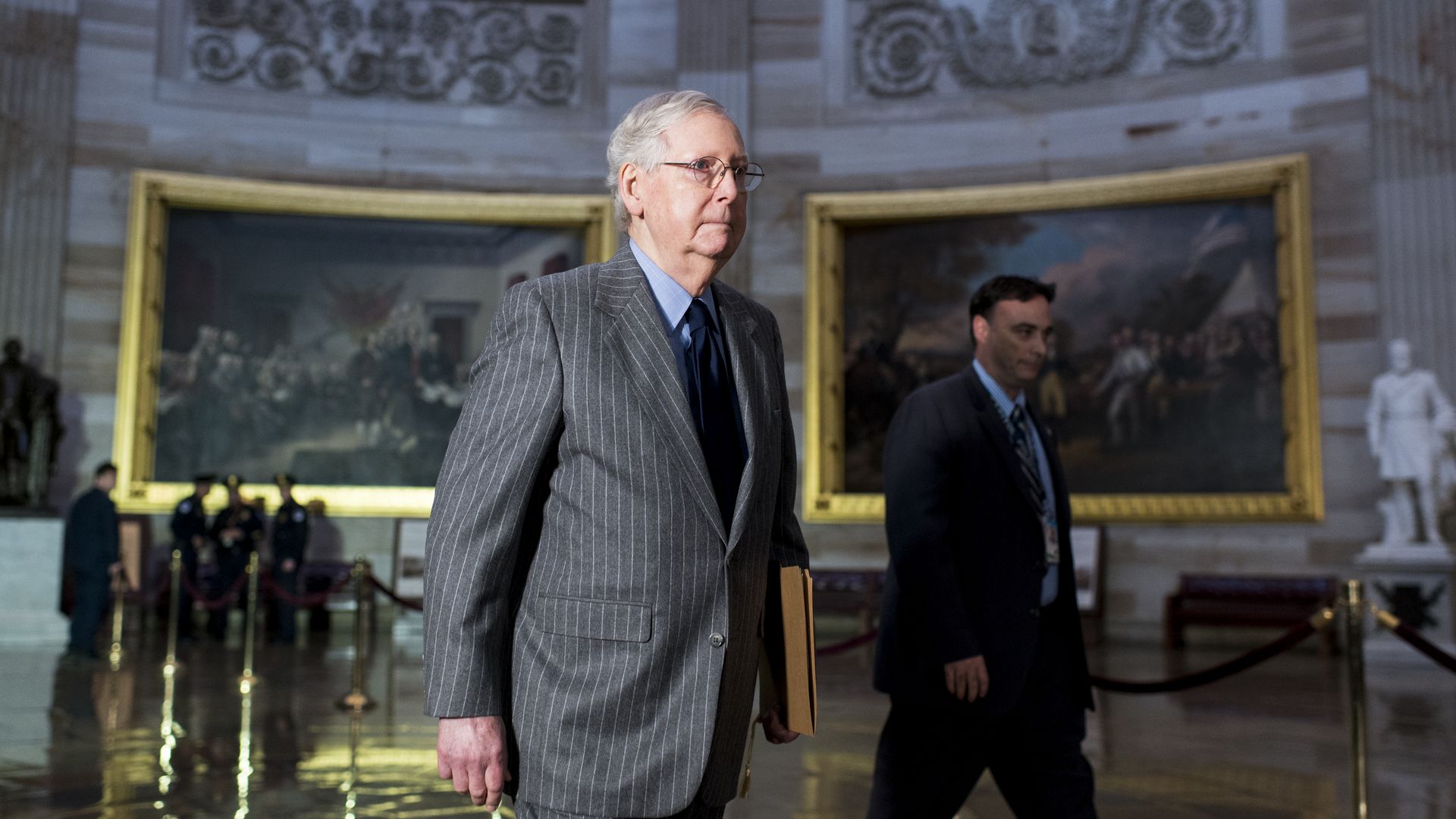 Senate Majority Leader Mitch McConnell revised the terms for President Trump's impeachment trial during Tuesday's proceedings, after his office released the organizing resolution on Monday.
What's new: The House record will be admitted as evidence, but each side retains the ability to raise motions regarding what can be added or struck as evidence, a McConnell spokesperson told Axios. House Democratic managers and Trump's defense team will be given up to 24 hours over three days to present their cases, instead of the two days in McConnell's original draft.
McConnell's first draft of the Senate's rules of engagement blocked new evidence unearthed in the House impeachment investigation from formally being presented in the trial without a separate vote.
That left room for Trump's lawyers to move immediately to dismiss the impeachment charges if they so chose, though such a vote would almost certainly fail.
The big picture: The resolution is designed for the trial to occur as quickly as possible.
What they're saying: "Materials in this record will be admitted into evidence subject to any hearsay, evidentiary, or other objections that the president may make after opening presentations," the new, hand-written edits on the trial terms read.
"Senator Collins and others raised concerns about the 24 hours of opening statements in two days and the admission of the House transcript in the record. Her position has been that the trial should follow the Clinton model as much as possible. She thinks these changes are a significant improvement," Collins spokesperson Annie Clark said in a statement on Tuesday.
"The public is understanding how unfair Senator McConnell's trial rules are and Republican Senators are beginning to tell him to change them. The real test will be if they pressure Senator McConnell to allow witnesses and documents," Senate Minority Leader Chuck Schumer said on Tuesday, following the changes.
The backstory: Schumer disparaged the first draft of the terms on Monday: "Under this resolution, Senator McConnell is saying he doesn't want to hear any of the existing evidence, and he doesn't want to hear any new evidence. It's a cover-up, and the American people will see it for exactly what it is."
Details: Senators will have 16 hours to submit their questions to Chief Justice John Roberts. After the Q&A period, the Senate will vote on whether to consider and debate witness subpoenas.
If the Senate votes no, no one will be permitted to call for new witnesses or documents, according to a Republican leadership aide.
If the Senate votes yes, both sides will have an opportunity to motion to subpoena witnesses, then senators will debate and vote on them.
The Senate will vote on whether to convict the president and remove him from office.
What's next: The resolution will be voted on Tuesday, after a flurry of amendments from Democrats that are expected to fail.
If passed, opening arguments begin Wednesday.
Read the latest version of the resolution:
Go deeper:
Editor's note: This story has been updated with more details.
Go deeper