Updated Jan 8, 2020 -

World
Trump says "all is well" after Iranian strikes on bases hosting U.S. troops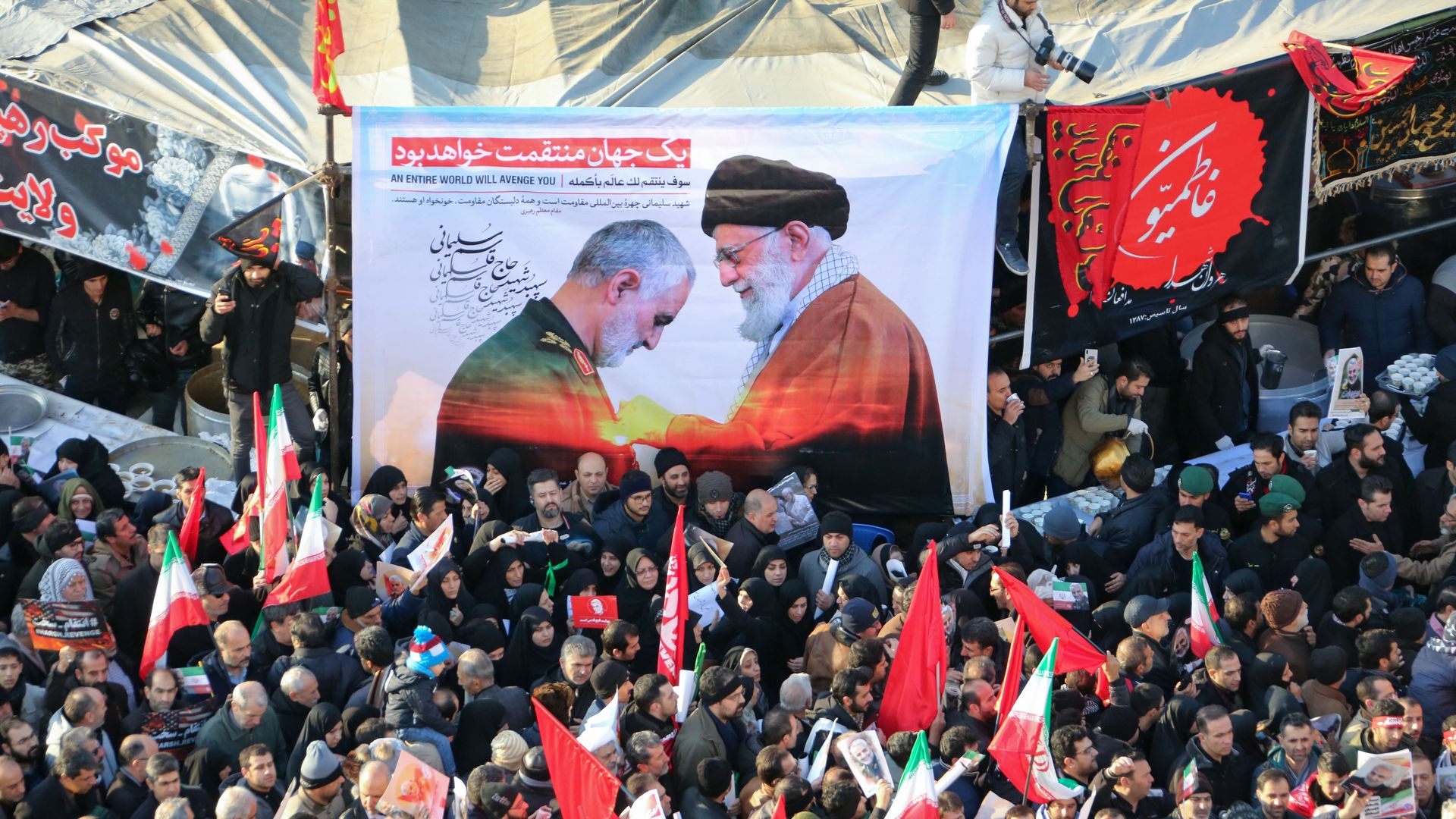 President Trump tweeted Tuesday night "all is well" following the Iranian strikes on two Iraqi bases where U.S. troops are stationed.
Why it matters: This is the closest the current U.S.-Iran standoff has come to war, with Iran retaliating directly against the U.S. for the killing of Gen. Qasem Soleimani. However, there were no immediate reports of casualties at the bases, and Trump has appeared to signal restraint.
"All is well! Missiles launched from Iran at two military bases located in Iraq. Assessment of casualties & damages taking place now. So far, so good! We have the most powerful and well equipped military anywhere in the world, by far! I will be making a statement tomorrow morning."
— Trump
on Twitter
The message from Tehran in the wake of the strikes has been that more will follow — but only if the U.S. retaliates.
Iran's Supreme Leader Ayatollah Ali Khamenei said in a national televised address on Wednesday that Iranian forces had "slapped" the U.S. "on the face" by attacking the bases, according to a translation provided by Al Jazeera.
"Military action like this is not sufficient," he said. "What is important is ending the corrupting presence of America in the region."
What they're saying:
Pentagon statement: "At approximately 5:30 p.m. (EST) on January 7, Iran launched more than a dozen ballistic missiles against U.S. military and coalition forces in Iraq. It is clear that these missiles were launched from Iran and targeted at least two Iraqi military bases hosting U.S. military and coalition personnel at Al-Assad and Irbil. We are working on initial battle damage assessments."

The Pentagon added that it had taken "all appropriate measures to safeguard our personnel and partners" in recent days and placed the bases on high alert.

Islamic Revolutionary Guard Corps: "The brave soldiers of IRGC's aerospace unit have launched a successful attack with tens of ballistic missiles on Al Assad military base in the name of martyr Gen. Qasem Soleimani. ... We warn all allied countries of the U.S. that if attacks are launched from bases in their countries on Iran, they will be a target of military retaliation."

A photo released by the IRGC appeared to show Khamenei personally overseeing the attacks.
Context: Khamenei said in the wake of Soleimani's killing that Iran should retaliate directly and not through its proxies.
But it's an extremely dangerous step for Iran, particularly after Trump drew a bright red line around any attacks that harm Americans or U.S. interests.
However, there's now a potential off-ramp for de-escalation given Iran can claim to have defended its honor and Trump can point to the limited damage.
Even if the Iranian military stops here, though, further attacks are possible from Iranian proxies or in the cyber realm.
Michael Singh, managing director of the Washington Institute for Near East Policy, told Axios that even if there were no U.S. casualties, "this will be viewed in Washington as a serious escalation by Iran."
"Had there been U.S. casualties, there likely would be serious consideration of strikes against Iran proper, for example against the missile launch sites," he said.
"If in fact there are no U.S. casualties, that offers the president more flexibility in responding, though I'm skeptical he would choose not to respond at all given the seriousness of the Iranian attack," Singh added.
Behind the scenes: Speaker Nancy Pelosi was meeting with members Tuesday evening when she was handed a note with news of the attack, Rep. Debbie Dingell told reporters. Pelosi told the room to pray.
The reaction: The Federal Aviation Administration issued an emergency restriction for airspace around the Persian Gulf.
Flashback: Trump visited Al Asad airbase in December 2018 and said that the U.S. would keep a presence in Iraq in part to "watch over Iran."
Editor's note: This article has been updated with new details throughout.
Go deeper