Where it stands: Turkey's offensive into Syria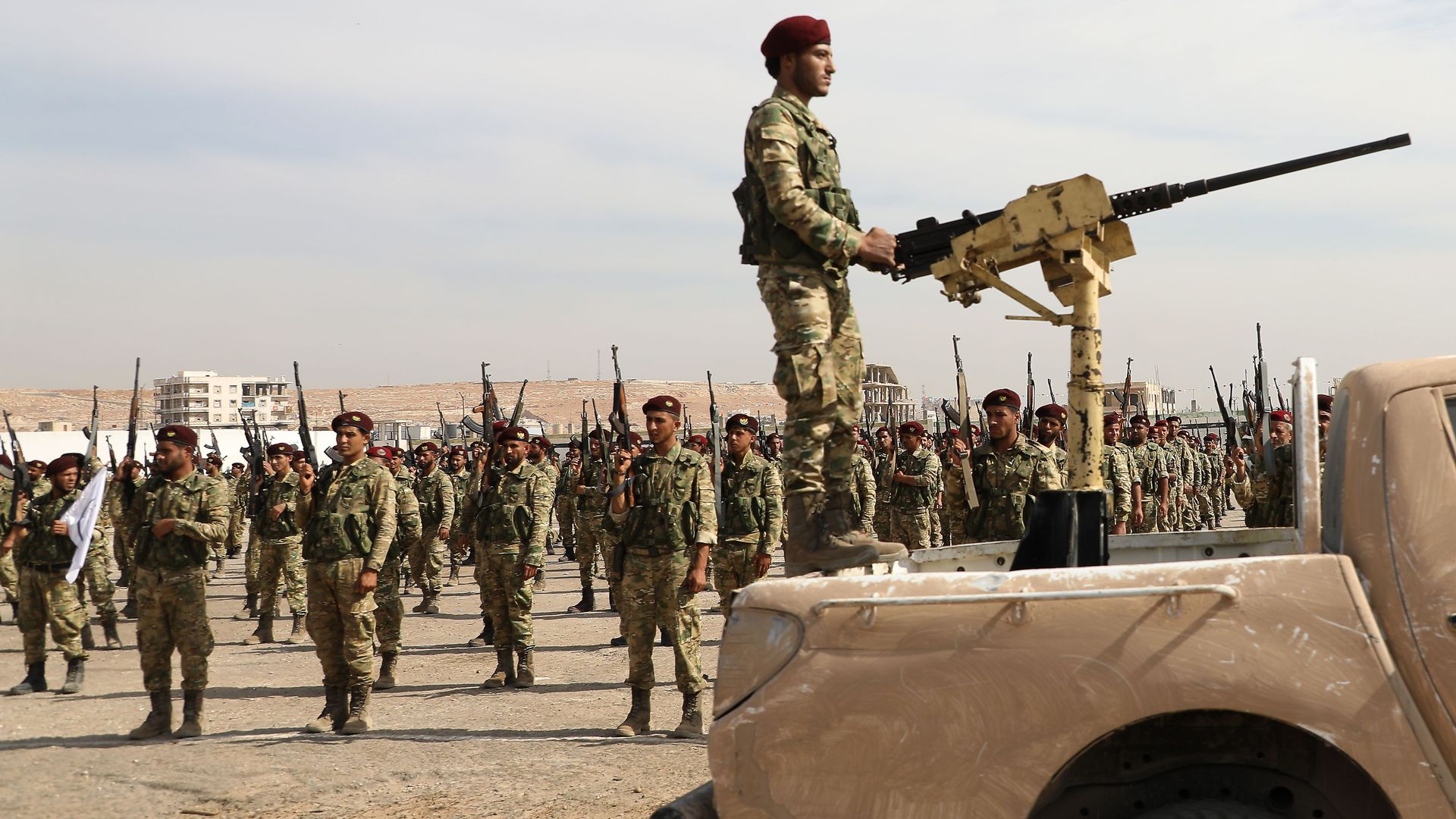 Kurdish fighters in northern Syria said they prevented a second jailbreak attempt on Friday at a detention camp for ISIS family members, the New York Times reports, just 3 days after Turkish President Recep Tayyip Erdogan announced a military offensive in the region.
The latest: The Turkish military captured the center of the Syrian town Ras al-Ayn on Saturday — its "most significant gain" since the start of the offensive, AP reports. 28 Syrian civilians have been killed as of Saturday, per counts from a war monitor cited by AFP and the Syrian Observatory for Human Rights. The U.N. estimates 100,000 Syrian residents have evacuated to the south.
5 ISIS militants have escaped from a Kurdish-run prison camp, and 3 camps for ISIS members are in the vicinity of Turkey's ongoing airstrikes as of Friday, per the Times.
The primarily Kurdish Syrian Democratic Forces (SDF), which allied with the U.S. in 2015 in the fight against ISIS, said that ISIS sleeper cells took advantage of the Turkish offensive with a car bomb explosion on Friday.
The SDF reported 3 ISIS suicide bombings on their military positions on Tuesday.
Turkey's ground forces crossed the border into northeastern Syria on Wednesday, hours after attacks by Turkish jets and artillery, per AP.
What they're saying: Secretary of Defense Mark Esper condemned Turkey's incursion on Friday and said the U.S. is "repositioning additional forces in the region to assist with force protection as necessary" and that "U.S. troops remain" with Kurdish forces.
On Wednesday, Erdogan claimed the incursion will "neutralize terror threats against Turkey and lead to the establishment of a safe zone, facilitating the return of Syrian refugees to their homes. ... We will preserve Syria's territorial integrity and liberate local communities from terrorists."
In response to President Trump's decision to pull U.S. forces from the region prior to Turkey's attack — which has angered his most ardent Republican allies in Congress, Sen. Lindsey Graham (R-S.C.) told Axios' Jonathan Swan: "I think he's putting the nation at risk, and I think he's putting his presidency at risk."
Details: A senior Trump administration official told reporters on Monday that Trump was withdrawing 50 to 100 special forces troops operating near the Turkey-Syria border, but not pulling out of Syria entirely. The NYT reports that "roughly 100 to 150 troops" were ordered to relocate in preparation for an incursion.
About two dozen U.S. special forces left Syrian military outposts on Monday morning at the country's northern border with Turkey, NYT's Eric Schmidt said on the Daily.
Go deeper:
Go deeper