Microsoft debuts latest Surfaces, previews dual-screen models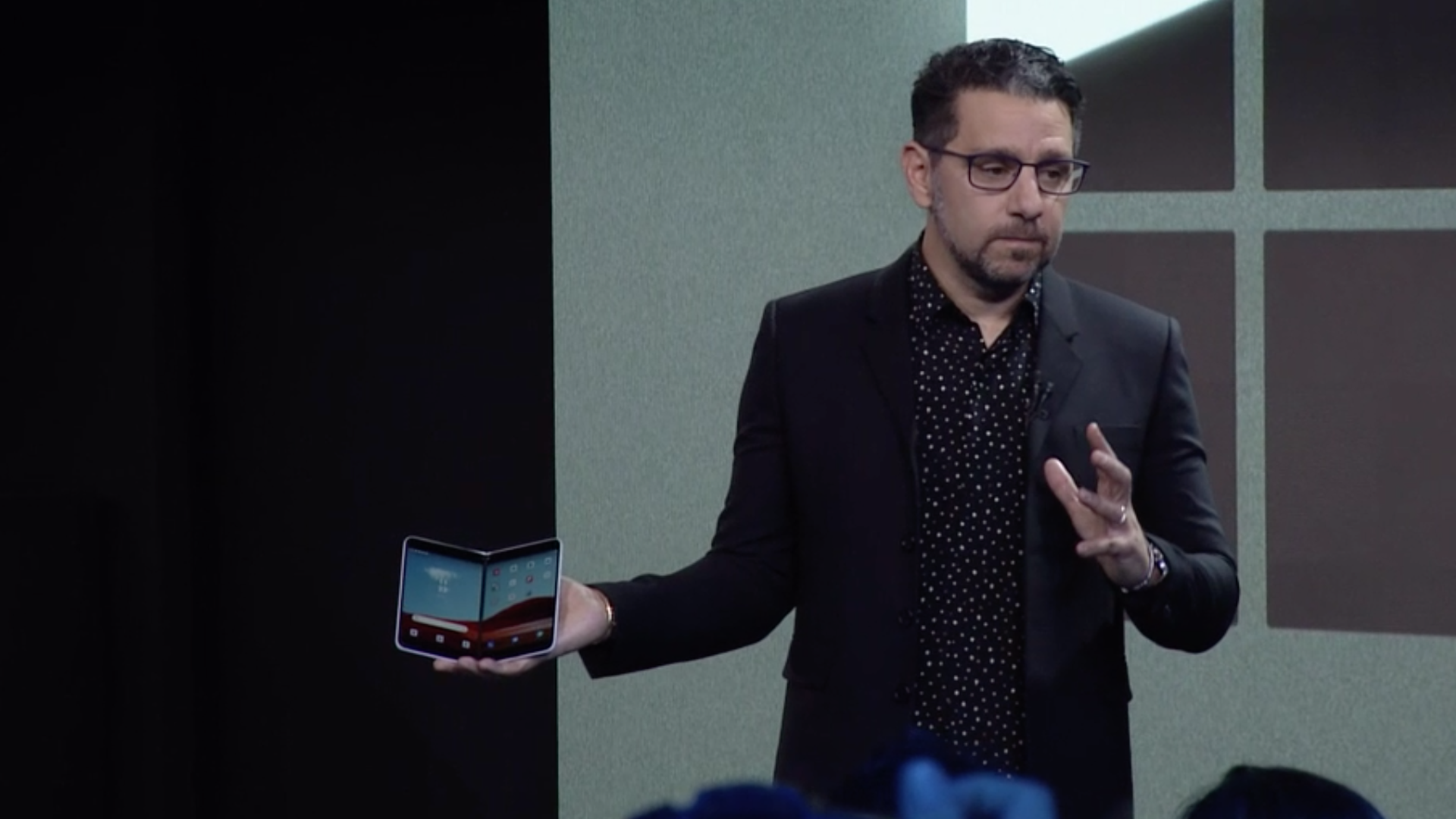 Microsoft updated its Surface laptops and 2-in-1 tablet/laptop hybrid devices on Wednesday, while also previewing two foldable dual-screen devices due out next year. The larger runs a version of Windows 10 while the smaller combines a phone and PC and runs. a customized version of Android that supports Google's apps.
Why it matters: The Surface line serves two purposes: to present Windows in its best light for consumers and spur PC makers to keep being innovative with their own designs.
The Surface Laptop 3 features a new machined aluminum chassis, larger trackpad, and a choice of the latest chips from both Intel and AMD. It's also designed to be more easily serviced and upgraded than other laptops, including an easily removable hard drive. It comes in a 13-inch model starting at $999 and a 15-inch model that starts at $1199. Both models will be available on Oct. 22.
Surface Pro 7 is an update to the company's high-end 2-in-1 laptop/tablet hybrid, adding improved performance and USB-C ports. It starts at $749 and is available for preorder.
The Surface Pro X is a new addition to the lineup, featuring wireless LTE connectivity, a removable hard drive and a custom Microsoft chipset that includes a Snapdragon mobile processor from Qualcomm along with other hardware acceleration. It will be available in early November.
Microsoft is joining Amazon, Google, Apple and Samsung with its own line of wireless earbuds that can pair with a Surface computer as well as smartphones. The $249 Surface Earbuds work with any platform, have touch sensors for navigating calls and music. Wearers can also use their voice to edit Office documents, such as adding captions to a PowerPoint presentation. They will be available later this year.
Microsoft also previewed a device that it is working on for next holiday season, the dual-screen Surface Neo.

It can be used in a variety of modes, including tablet and book, or laptop and uses a new version of Windows 10, Windows 10 X, designed for dual screen devices.
A magnetic keyboard can also be attached with the software transforming the remaining screen into a trackpad or "wonder bar" — which appears to be something of a larger-screen take on the "Touch Bar" Apple included on the MacBook Pro.
Neo is powered by an Intel Lakefield chip and each side of Neo is jus 5.4 millimeters thick.

The Surface Duo is an even smaller take on the Neo, offering dual 5.6-inch displays in a device that combines a phone and PC, using what the company described as the best of Microsoft along with Google's flavor of Android, including support for all the Android apps on the market. It's also due out next holiday season.
"The last decade of computing was shaped by consumption," CEO Satya Nadella said, kicking off the event. "We believe the next decade will be about creation and amplifying what we can do as humans."
Go deeper