Where abortion restrictions stand: The states that have passed laws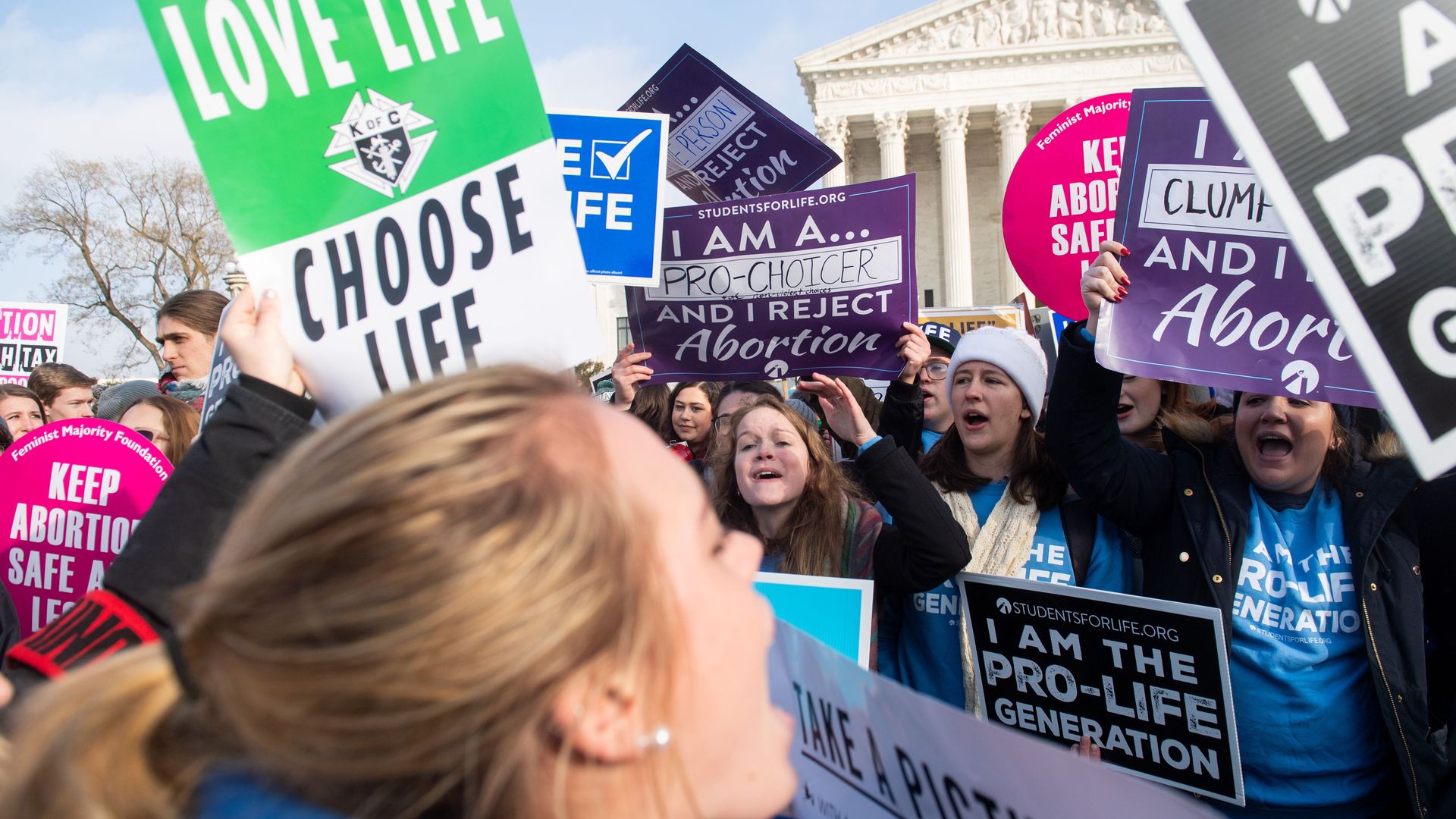 The most restrictive abortion laws in generations are being challenged in courts across America's red states, setting up what could be a precedent-smashing Supreme Court challenge to the abortion status quo.
Driving the news: Mississippi's fetal heartbeat law was struck down on Friday, after the 5th U.S. Circuit Court of Appeals ruled that the 15-week abortion ban was unconstitutional, per AP. The Center for Reproductive Rights, who challenged the ban in court, called the ruling "the first of the recent bans to reach a federal appellate court."
States that have passed abortion restrictions:
States considering abortion restrictions:
States enacting abortion protections:
Illinois' Gov. J.B. Pritzker signed a bill into law on in early June to protect the state's abortion rights if Roe v. Wade were overturned.
New York passed a bill in January that protects the "fundamental right" to abortions.
Virginia expanded in May the range of medical professionals who can perform abortion procedures.
The Kansas Court ruled in late April that the state constitution protects a woman's right to terminate a pregnancy.
The Illinois House passed a bill in May further protecting abortions by removing some of the barriers for abortions and penalties for doctors, positioning Illinois to become a major U.S. abortion destination.
Maine Gov. Janet Mills (D) signed a bill into law in June that makes it easier to get an abortion by allowing medical professionals who are not doctors to perform the procedure.
Rhode Island Gov. Gina Raimondo (D) signed a bill codifying the Roe v. Wade decision and protecting abortion rights in her state.
A federal judge blocked an Indiana law in late June that would have banned second-trimester abortion procedures.
Why it matters: Supreme Court rulings have been cited to allow abortions up to 24 weeks during pregnancy when the fetus is not viable — or when a woman's health or life is at risk.
But conservatives have been advancing more restrictive policies in the past few years, hoping to spark a fresh Supreme Court case now that Justice Brett Kavanaugh replaced Anthony Kennedy.
What they're saying:
"For pro-life folks, these are huge victories," Sue Liebel, state director for anti-abortion group Susan B. Anthony List, told the AP. "And I think they're indicative of the momentum and excitement and the hope that's happening with changes in the Supreme Court and having such a pro-life president."
"The gloves are off" among abortion opponents, NARAL Pro-Choice America's Kristin Ford told Vox."They feel like they have the wind at their backs and they don't have to dance around their true intentions anymore."
The bottom line: We're one major Supreme Court case away from a new era of abortion rights, an unthinkable idea before the election of President Trump.
Go deeper: What happens to abortion access in each state if Roe v. Wade is overturned
Editor's note: This piece is being updated with the latest state-by-state decisions.
Go deeper