What Biden and Beto just told us about the 2020 climate fight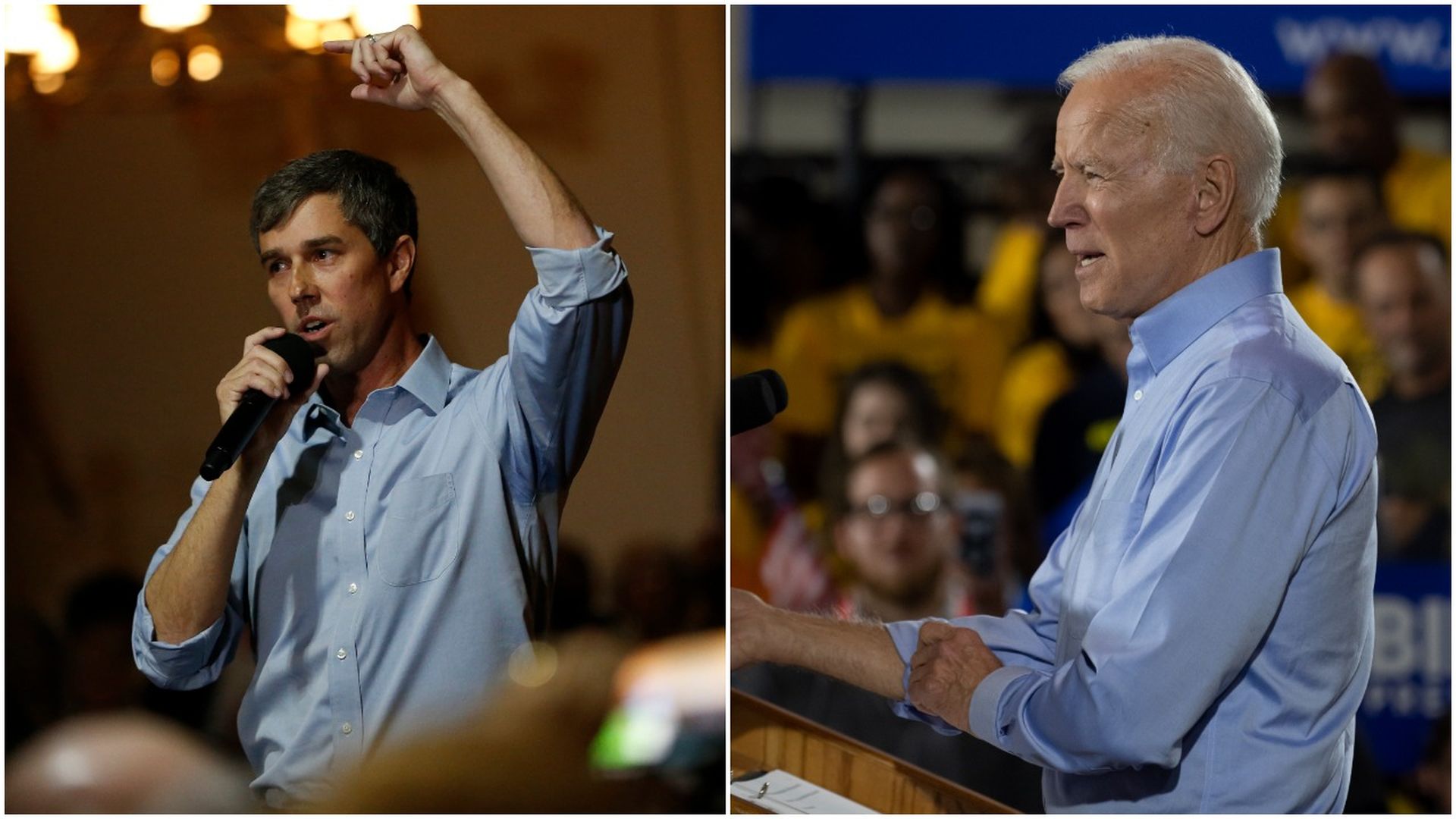 Beto O'Rourke said plenty about climate yesterday, Joe Biden said almost nothing, and it's not too early (or only a little early) to explore what it all says about the packed Democratic 2020 fight.
Driving the news: O'Rourke released an aggressive plan that would set an "enforceable" standard of getting the U.S. to net-zero emissions by 2050 and calls for several trillion of dollars in investments over a decade.
Biden, in his kickoff speech in Pennsylvania, didn't mention climate directly, but gave a brief nod to clean energy and its public health and jobs benefits. But, he just entered the race, so I'll be watching to see how he positions himself.
My thought bubble: Biden may have an incentive to avoid running left on climate because:
He's clearly making a big play for labor's support, and authors of the Green New Deal didn't corral backing from the national AFL-CIO, which has criticized the plan.
A number of major rivals for the nomination including Bernie Sanders are co-sponsoring the resolution, which provides Biden a chance for a contrast.
Biden is "not really trying to out-woke or out-liberal other Democrats anyway," writes FiveThirtyEight's Nate Silver, noting his base is older and more moderate.
Interest in climate change, meanwhile, is more pronounced among younger voters. That could break either way, depending on what strategy he ultimately employs to widen his support.
Biden can be risk averse for now but still point to his record with former President Obama, who remains very popular with Democrats and went much further than any other president on climate.
Where it stands: Biden's campaign did not respond to inquiries about what place climate will have in his campaign or his thoughts on the GND.
His campaign website has almost no policy for now. As we noted when he got in, it says "we must turbocharge our efforts" to address climate change.
Per NYT, he introduced a climate bill back in 1986 and called climate change the "greatest threat to our security" at a rally last year.
What's next? The debates are coming up fast, and I'm wagering we're past the era where climate is mostly absent, so Biden will field the topic then if not sooner.
Now let's turn to O'Rourke, who made climate the topic of his first major policy proposal.
Its ambition and scope suggests that O'Rourke sees moving left on emissions as a way to attract younger and more progressive voters.
It's also a sign that he wants to compete directly for the climate candidate mantle with Sanders as well as Washington Gov. Jay Inslee, who has made climate the centerpiece of his run.
Go deeper: Read today's Generate newsletter for more on O'Rourke's proposal
Go deeper