Adam Schiff to make criminal referral for Erik Prince to DOJ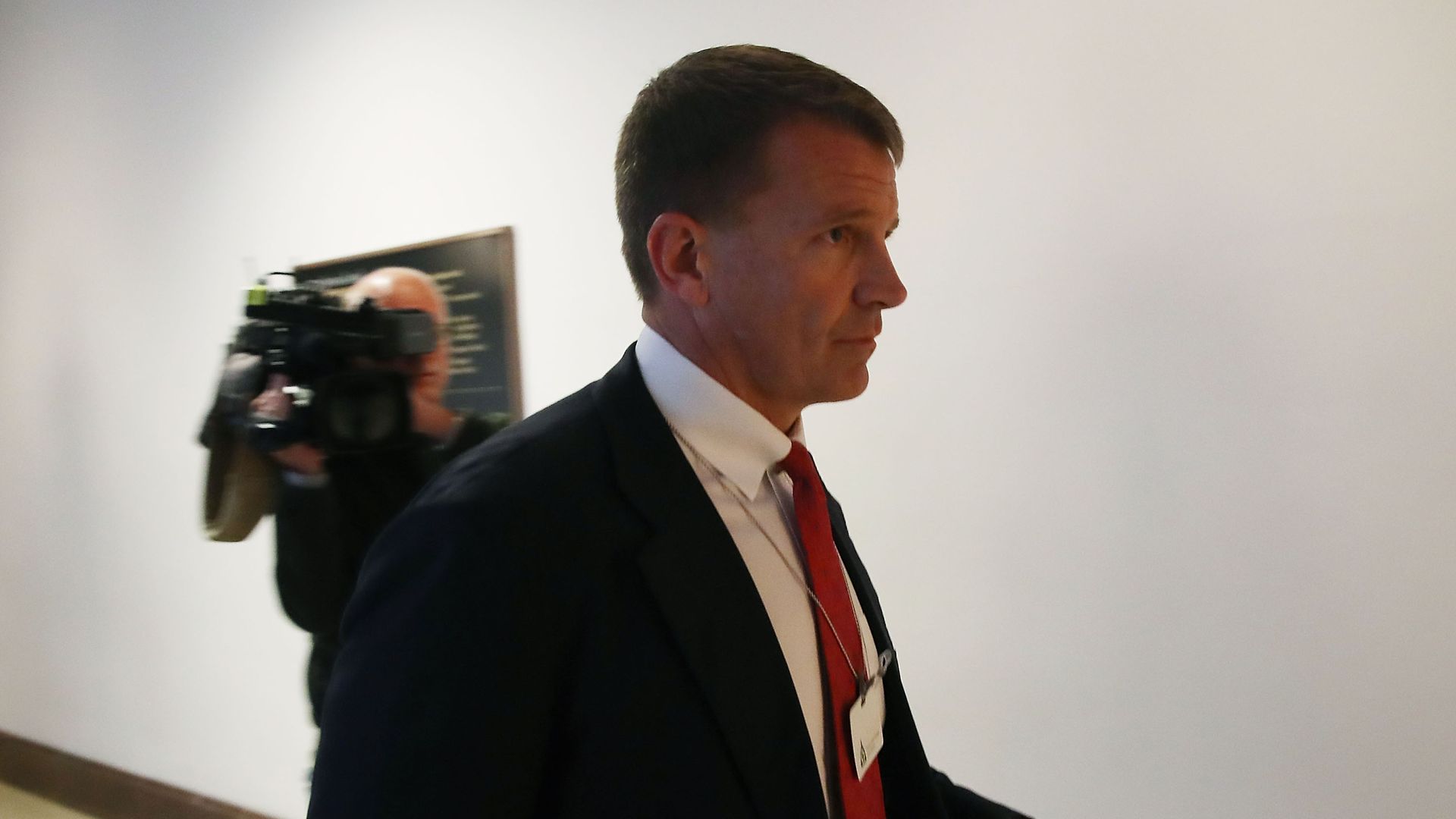 House Intelligence Chairman Adam Schiff (D-Calif.) told the Washington Post on Tuesday that his committee will make a criminal referral for informal Trump campaign adviser Erik Prince to the Justice Department.
The big picture: "The evidence strongly suggests that he misled our committee," Schiff told the Post's Robert Costa. Schiff said that whether or not the Justice Department will choose to prosecute Prince remains unclear, as the evidence that shows Prince misled the committee may have come in his proffer sessions with special counsel Robert Mueller — which may protect him from charges.
Schiff pointed to Prince's infamous meeting in the Seychelles in January 2017 with a Russian official close to Vladimir Putin as one example of possible perjury. Prince told the committee that it was a chance meeting, but the Mueller report revealed communications showing that it was, in fact, planned.
During the 2016 campaign, Prince — who is the founder of private military company Blackwater and the brother of Education Secretary Betsy DeVos — also met with Donald Trump Jr., United Arab Emirates emissary George Nader and Israeli social media manipulation specialist Joel Zamel at Trump Tower. Earlier this month, Schiff said on "Meet the Press" that Prince did not tell the committee about the meeting, despite claiming to Al Jazeera's Mehdi Hasan that he had done so.
Schiff added that the committee may bring former Trump adviser Steve Bannon in for further questioning, as he "refused to answer almost all of our questions."
"When we asked whether he was asserting some privilege, he merely said he was not answering questions because the White House told him not to," Schiff said. "The communications between Mr. Prince and Mr. Bannon has apparently fled their devices," he added.
"When we pressed to hold him in contempt, the GOP members of our committee would not go forward."
A lawyer for Erik Prince told Axios in a statement:
"There is no new evidence here.  Erik Prince's House testimony has been public for months, including at all times that Mr. Prince met with the Special Counsel's Office.  Mr. Prince cooperated completely with the Special Counsel's investigation, as its report demonstrates.  There is nothing new here for the Department of Justice to consider, nor is there any reason to question the Special Counsel's decision to credit Mr. Prince and rely on him in drafting its report."
Go deeper ... Adam Schiff: Erik Prince did not disclose 2016 Trump Tower meeting during testimony
Go deeper