Elections leave Spain's Socialists in power to address economic woes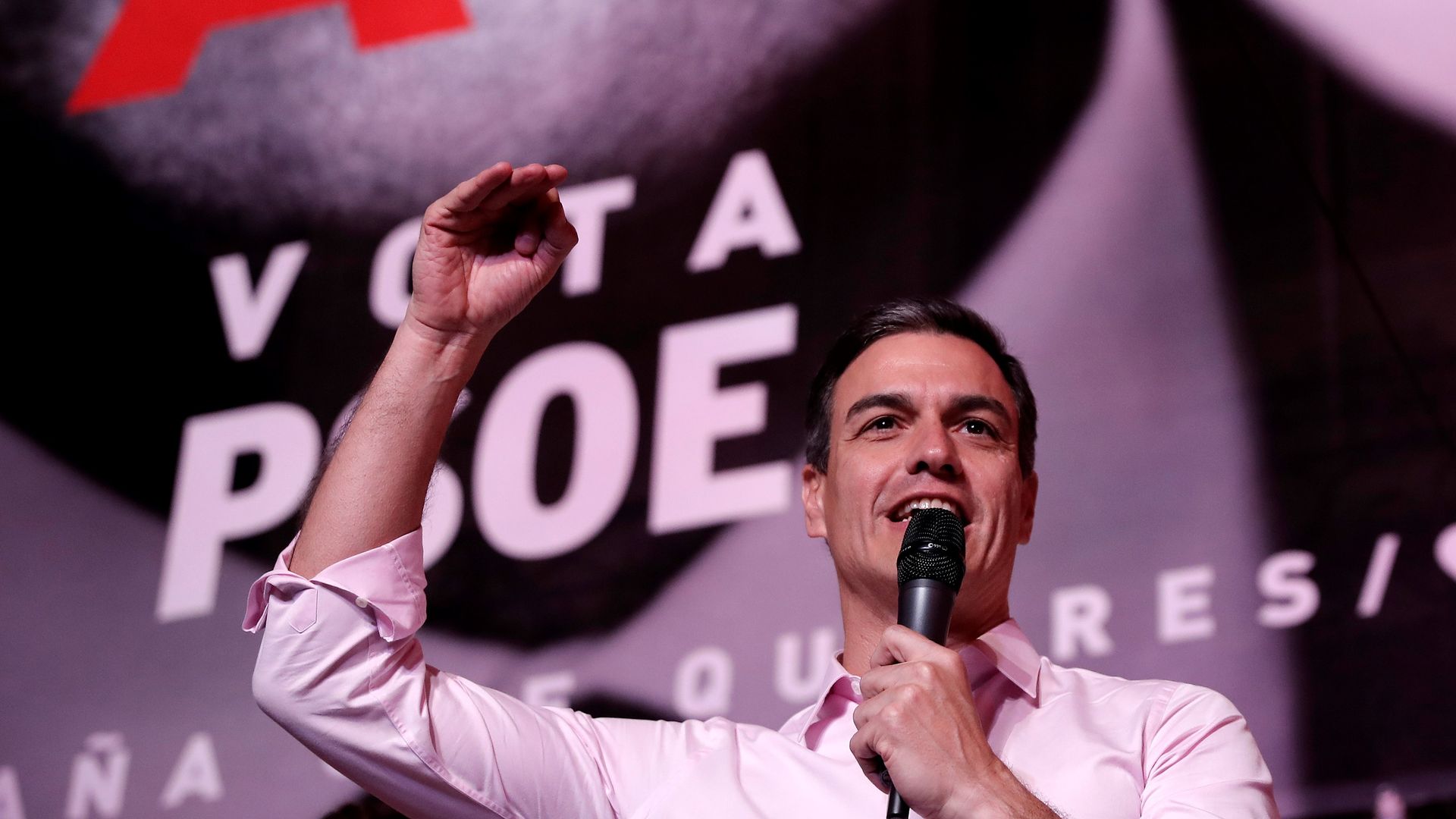 The Socialist party of incumbent Prime Minister Pedro Sánchez emerged with a plurality from Spain's snap election this weekend, while its conservative rivals collapsed.
The big picture: The eruption of nationalist populism, championed by the far-right Vox party, made this a landmark election. Although the Socialists' margin of victory is not enough to avoid long, difficult negotiations to form a government, it does establish majority support for a progressive, pro-European platform.
Context: Spain is, by and large, progressive. It was the third country in Europe to legalize same-sex marriage, in June 2005. Its feminist movement has mobilized broadly and empowered new generations: Madrid and Barcelona are led by female mayors; women hold 11 of 17 current ministerial posts and will make up 48% of the new parliament.
Details: For a country undergoing its third general election in four years, the 75% turnout was high (the highest since the end of Francisco Franco's reign in 1977, in fact).
Vox secured 24 seats in parliament, fewer than some polls had predicted. But over the past four decades, the radical right has only once earned a single seat.
Between the lines: While Catalan independence and anti-feminism dominated media attention during the campaign, the issue that keeps Spanish people up at night is unemployment. Spain's economy is slowly recovering from recession, but 3 million people are unemployed and youth unemployment is over 30%.
What to watch: Sánchez has pledged to tackle inequality and reduce corruption, but he should not take continued support for granted unless he can deliver benefits to the population that feels disenfranchised.
The bottom line: The election results make clear that social democracy is not dead in Europe, and that defending both the interests of workers and cosmopolitan values can still resonate with voters.
Jordi Vaquer is the regional director for Europe at the Open Society Foundations and a co-director of the Open Society Initiative for Europe.
Go deeper