Disney's box office dominance fuels its red-hot stock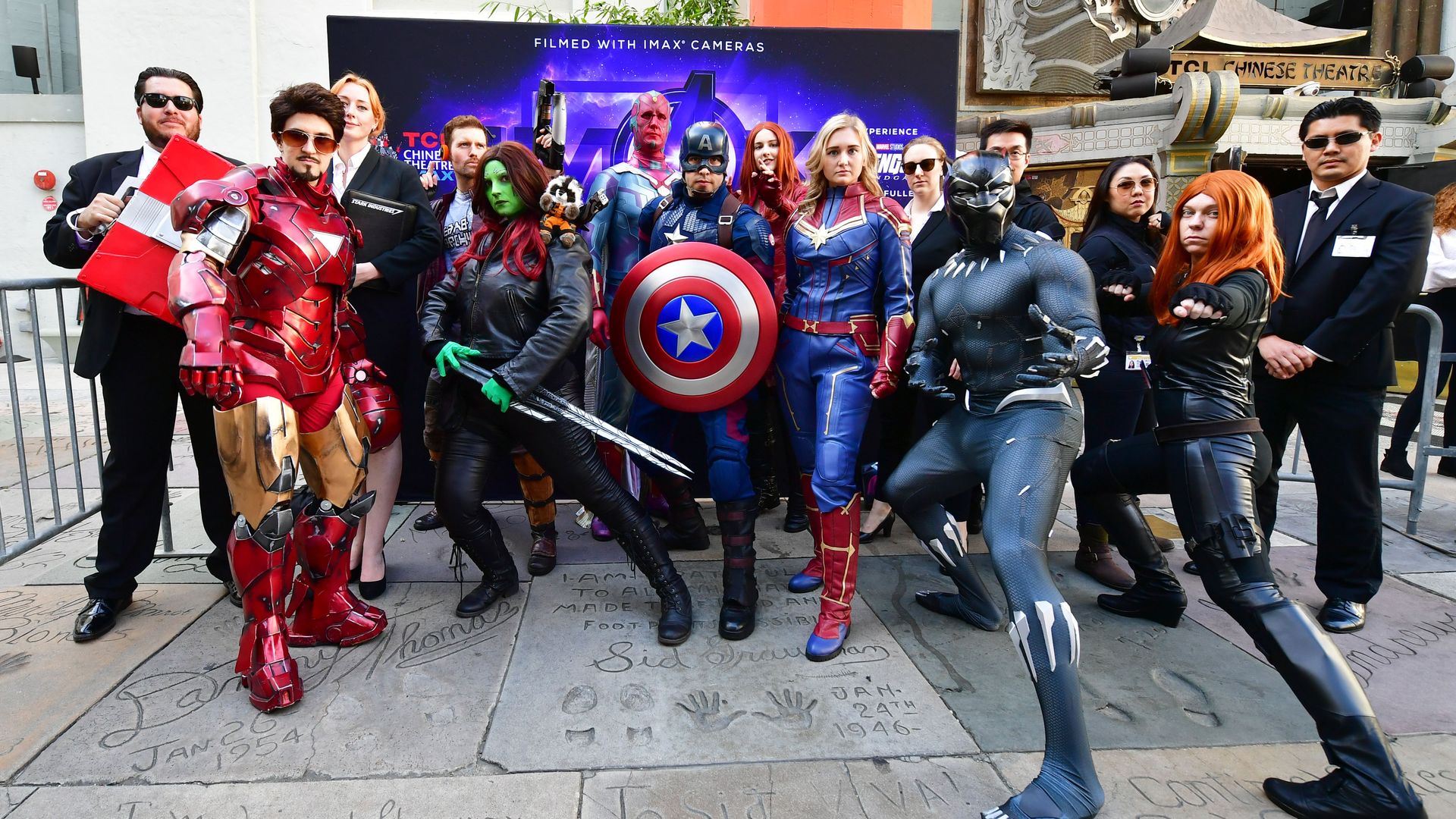 Disney's "Avengers: Endgame" ruled the box office this weekend, torching all-time single-day, weekend and per-screen records on its way to well over $1 billion in global ticket sales. It was just the latest victory for Disney, which has had the No. 1 grossing movie every year since 2012 and been the top grossing studio since 2016.
The big picture: Disney is on pace to take a 29.1% share of box office receipts, the largest percentage on record, according to data from Nash Information Services.
Since 1995, Disney movies have generated $36.9 billion in domestic box office revenue and have accounted for 16.4% of total market share among movie studios.
To put that into perspective, Disney's releases have earned more than the bottom 4 of the world's top 10 movie studios combined during that time.
Disney's films have earned almost $2.5 billion more than No. 2 studio Warner Bros., despite releasing 200 fewer movies. It has out-earned No. 3 studio Sony by more than $9.5 billion while releasing nearly 150 fewer films.
Why it matters to the market: Disney's stock has risen by around 30% so far this year, driven by a 10% gain after unveiling details of its new $6.99 per month Disney+ streaming service.
Investors have so far not soured on Netflix because of Disney's run; however, it's clear they view it as a threat.
Netflix stock has gained close to 40% this year, but has seen pullbacks coinciding with recent big gains from Disney, including the April 11 launch of Disney+ and on April 23 when Bank of America-Merrill Lynch analysts upgraded Disney to their U.S. 1 list of top investments and increased the price target to $168.
Flashback: Shares jumped 2% last year after the release of "Avengers: Infinity War" delivered $630 million at the box office, a little more than half of the take for "Endgame."
What's next? Disney's box office cash grab may just be getting started. This year also will see the release of "Toy Story 4," "Frozen 2," "Aladdin," "The Lion King" and "Star Wars: The Rise of Skywalker" to name just a few.
Go deeper: Disney is killing its competition at the box office
Go deeper