Microsoft is winning the techlash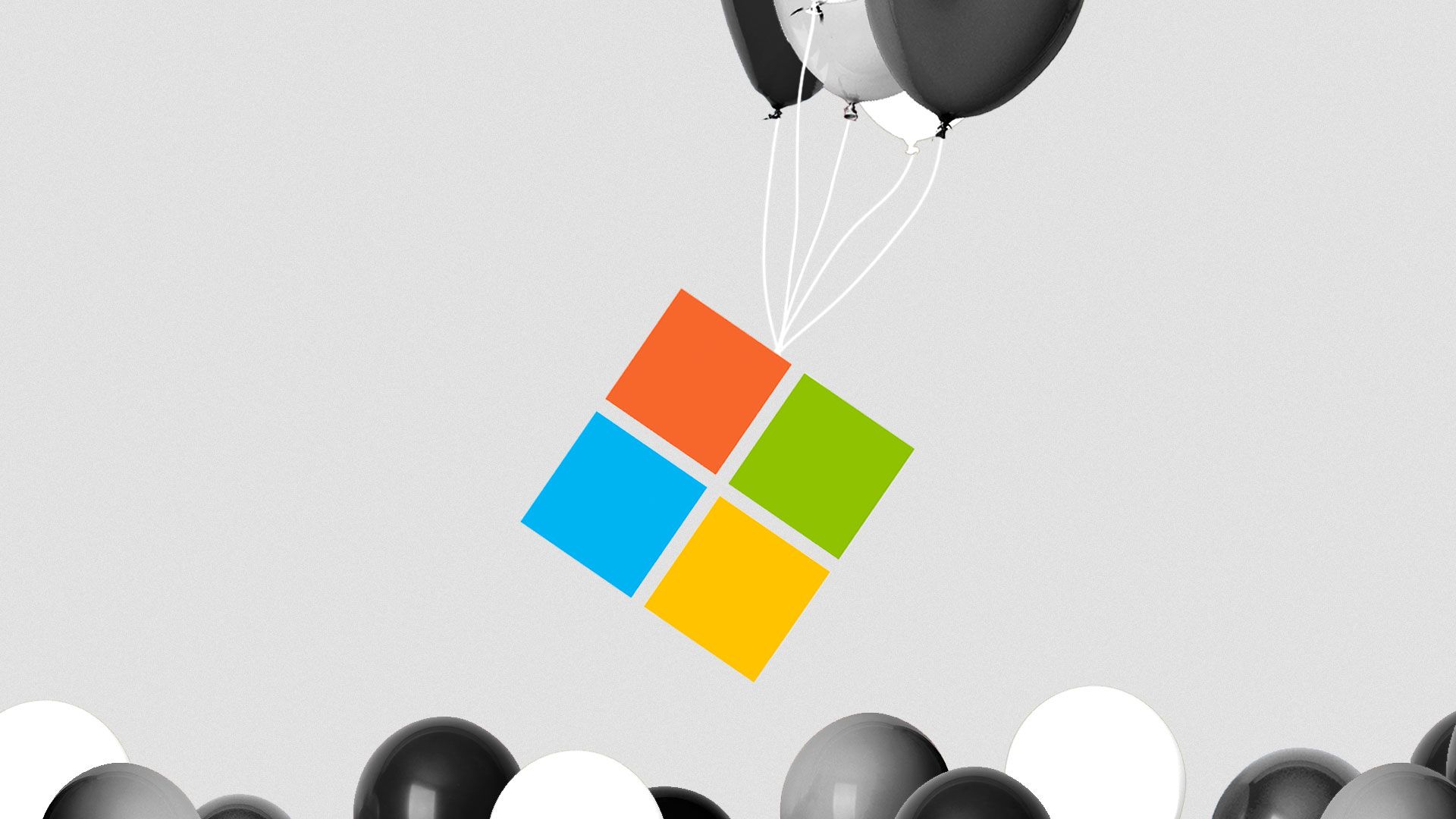 The tech industry is feeling the pain of an unprecedented backlash over its business practices and broad impact on society, but original tech giant Microsoft has managed to stay mostly above the fray.
Why it matters: Microsoft, which trudged through its own antitrust battle with the Justice Department in the '90s, has sidestepped the mistakes made by its younger, brasher Big Tech brethren.
The resource-sucking trial set Microsoft behind competitors like Google on crucial innovations like search. Now, though, the lessons Microsoft learned the hard way are making its life easier.
The Axios-Harris Poll 100 survey found that companies untouched by scandal — including Microsoft — prospered in the eyes of consumers, while those companies most heavily affected by privacy-related scandals faced the steepest erosion in trust.
Between the lines: Microsoft has opted for a steady, methodical approach to thorny issues around consumer data, user-generated content, AI ethics and inequality produced by the industry's massive success. For example:
Microsoft took a systematic course to developing AI principles for product development, including how and when to work on military projects. Meanwhile, Google's case-by-case approach has been mired in controversy.
It has called on Congress to regulate facial recognition, saying the government needs to proactively manage the use of the technology. Microsoft execs supported federal privacy rules before other tech companies got on board.
The company pledged $500 million for affordable housing in Seattle in an acknowledgement of the role tech companies have played in making their hometowns too expensive for many workers. The company also launched an initiative to connect 3 million rural Americans to broadband.
Microsoft isn't doing these things altruistically — there are clear business and competitive reasons for these strategies. But it has jumped on them earlier, allowing it to get ahead of problems and handle them better politically.
Microsoft President and Chief Legal Officer Brad Smith is quick to acknowledge that Microsoft made a lot of mistakes in the '90s, and it continues to make them.
Part of the process of managing society's changing views of the tech industry is being able to make tough decisions, he said earlier this year during a conversation at the company's Redmond, Wash., headquarters.
"Maybe we're able to make some of those decisions around here because we were the first graduate of the school of hard knocks," he said. "We graduated first — not necessarily first in our class, but it was the first class."
The software giant isn't without its own headaches. Most recently, CEO Satya Nadella added resources to the company's HR operation after complaints of sexual harassment went public. Like other tech companies, it's dealt with challenges around workforce diversity. And it has come under fire both for its decision to do business in China and for its willingness to work with the U.S. military.
But it hasn't stumbled into major scandals. Plus, its platform wasn't specifically targeted by foreign actors interfering in recent elections. So its executives haven't been hauled up to testify before Congress.
And unlike many Silicon Valley execs who avoid Washington, Smith makes frequent trips to meet with policymakers.
As reported by The Information, Facebook's Mark Zuckerberg approached Smith for advice on rebuilding trust.
Nadella and Smith, who have both worked at Microsoft for more than 25 years and lived through the antitrust battle, have a unique relationship in that they each drive crucial strategic areas: Nadella is focused primarily on product and business growth while Smith spearheads policy, legal issues and public affairs.
Our thought bubble: Per Axios' Ina Fried, Microsoft is often at the forefront of the technology and the discussion in an area, but slow to capitalize on a trend. It's rarely first with products, and even rarer with a first successful product.
For example, Bill Gates laid out all the technologies that would lead to the iPad years before it was ready (or possible), and yet it was Apple that built the first successful tablet.
The big picture: The company has experienced its own cultural shift since its antitrust battle 20 years ago. Previous CEOs Gates and Steve Ballmer took a more adversarial approach to competitors, such as targeting Google with ad campaigns or trading barbs with Apple.
Nadella, who became CEO 5 years ago, said he doesn't see the point in bashing other business models. It doesn't hurt that Microsoft is one of the world's most valuable companies along with Apple, Amazon and Alphabet.
"I'd better make sure that a lot of the world succeeds, because that's the only way for Microsoft to succeed."
— Microsoft CEO Satya Nadella
Go deeper