States see disappointing tax revenue from legal sports betting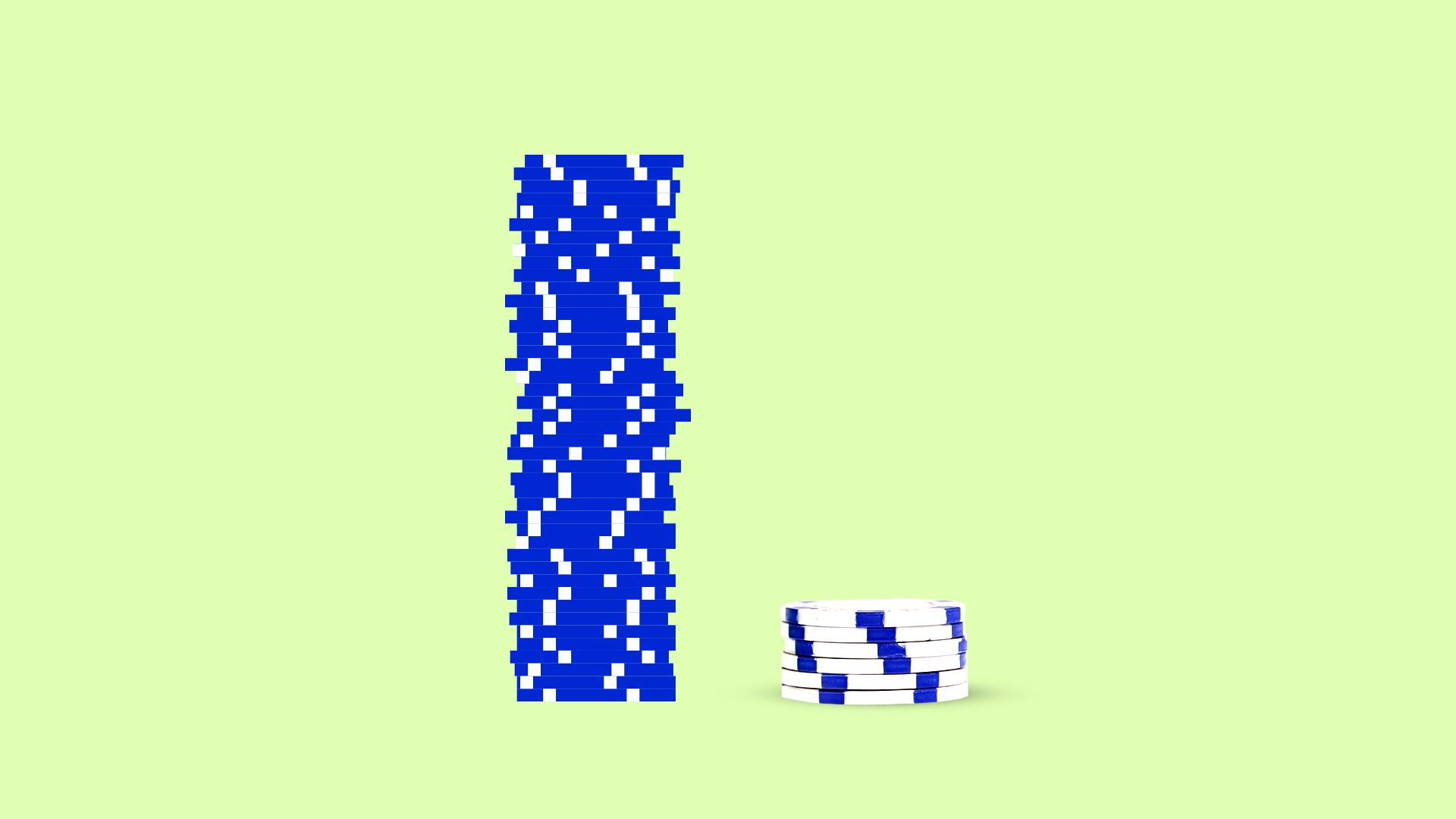 Six states have legalized sports betting since the Supreme Court's monumental decision last May, but New Jersey is the only one exceeding revenue expectations.
Why it matters: These disappointing results are part of a "growing consensus that legal sports betting may not bring the windfall that economic forecasters predicted only a few months ago," the New York Times' Timothy Williams reports.
By the numbers: West Virginia has collected only a quarter of the monthly tax revenue it projected, and Pennsylvania and Mississippi have collected only half.
Rhode Island has done even worse, bringing in $50,000 per month after predicting they'd bring in almost $1 million.
Delaware is meeting projections, but it's thanks in large part to a football-betting operation that's been around since 2009.
Be smart ... The real story here is New Jersey, which has brought in more than $2 billion in the last 10 months thanks to one simple fact: New Jersey allows bettors to place online bets from their smartphones.
Meanwhile, most of these struggling states require bettors to place their bets in casinos, which — surprise, surprise — nobody wants to do. Other states like Pennsylvania have legalized mobile betting but still don't offer it.
Following New Jersey's lead and getting mobile sports betting up and running seems like the obvious answer to these states' revenue problems. Unfortunately, a little something called politics will make that a slow and complicated process, as casinos continue to apply pressure on legislators.
The big picture:
"Right now, I'd say the [casino-only] camp has more momentum simply because many policymakers aren't comfortable with online gambling. Fast-forward a couple years, and I think we'll see a lot of [casino-only] states adding online as they see that online is where the customer — and therefore, the tax revenue — predominantly resides."
— Chris Grove, managing director of sports and emerging verticals at Eilers & Krejcik Gaming
The bottom line: In 2019, people want to bet through an app from the comfort of their couch instead of getting in their car and driving to a run-down casino. Who knew?!
Go deeper: Sports betting is only going to get more mainstream
Go deeper