Scoop: Trump expected to name Herman Cain to Federal Reserve board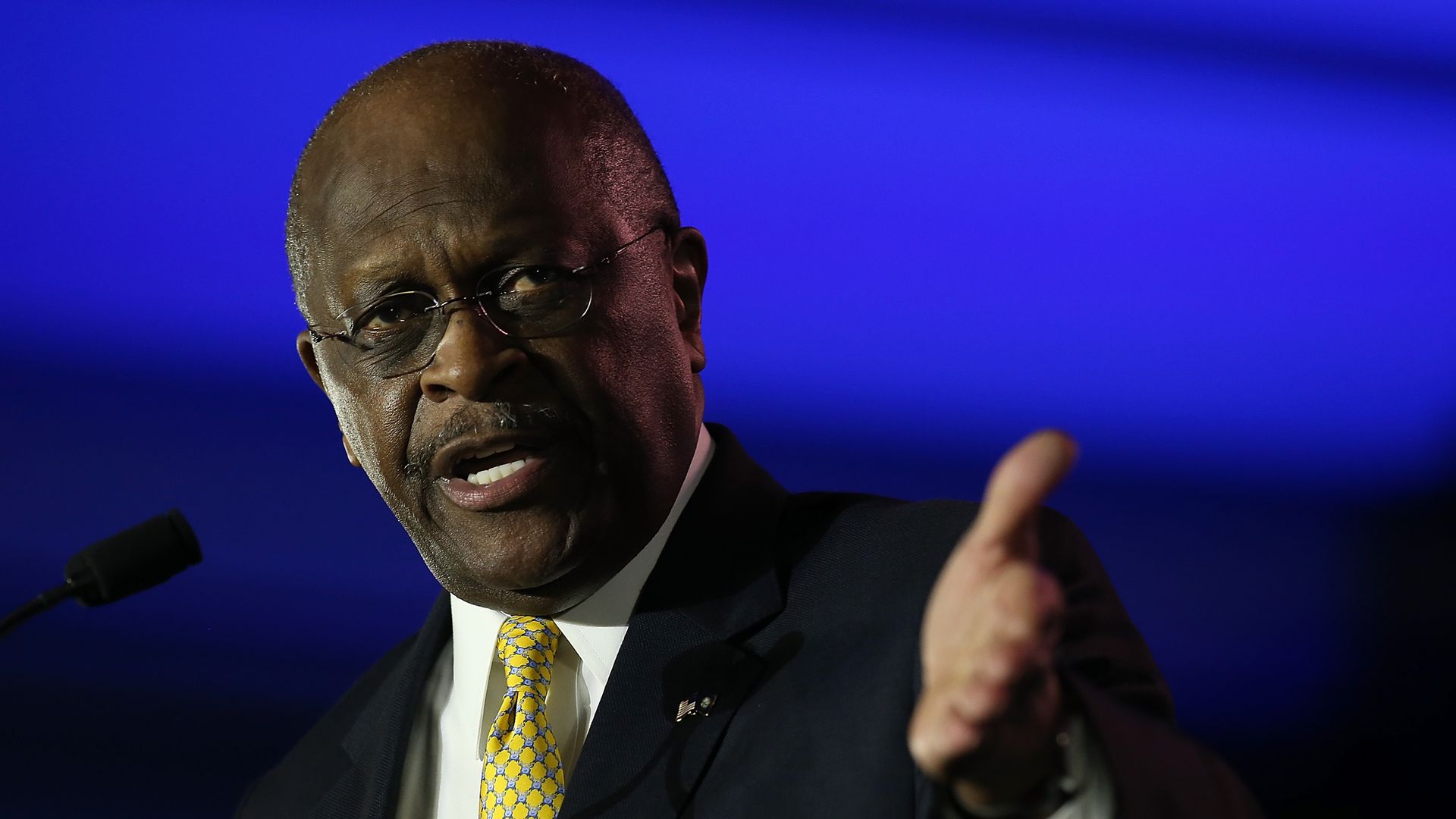 President Trump confirmed on Thursday that he wants Herman Cain on the Federal Reserve board, pending a vetting process. Earlier in the day, Axios reported that he was waiting on vetting before announcing a formal nomination.
Why it matters: It's likely confirmation that Trump is ready to move ahead with the former presidential candidate, whose possible nomination was reported by Bloomberg in January. "He won't formally announce until the vet is completed. ... But he likes Cain and wants to put him on there," a senior official who has discussed the matter with the president told Axios before Trump's public comments.
Between the lines: As with any Trump "decision," administration officials are quick to attach an asterisk. This time, their hesitation is less about Trump changing his mind than about something coming up in Cain's background check that could complicate the situation.
The administration did not conduct a thorough vetting of Trump's most recent Fed pick, Stephen Moore, and they've had to weather stories about back taxes owed by Moore and that he had failed to pay alimony to his ex-wife. Moore told the New York Times earlier this week that "it's full speed ahead" and said that the White House was "100%" behind him.
The backstory: Cain served in multiple positions within the Fed system at the Kansas City Federal Reserve between 1989 and 1996. He served as CEO of Godfather's Pizza and ran for the 2012 GOP president nomination, but dropped out after sexual harassment allegations sank his candidacy.
President Trump regards his selection of Federal Reserve chair Jerome Powell as one of the greatest mistakes of his administration. He has told aides that Powell has no "feel" for the markets and compares him to a golfer who cannot putt.
Trump tells aides that Powell is the biggest threat to the economy due to his 2018 decisions to raise interest rates, and even as Powell halted the rate rises he failed to win back Trump's affection. Trump considers Powell to be "weak" and blames Treasury Secretary Steven Mnuchin for encouraging him to pick him, according to sources who've discussed the matter with the president.
Trump considered replacing Powell with Kevin Warsh for a brief moment last year, as Axios reported earlier this week.
Editor's note: This story has been updated to correct Cain's years of service with the Federal Reserve Bank of Kansas City. He served in various positions between 1989 and 1996, not just 1992 through 1996. This story has also been updated to add Trump's comments confirming he wants to nominate Cain.
Go deeper