Scoop: Trump "saving" Judge Amy Barrett for Ruth Bader Ginsburg seat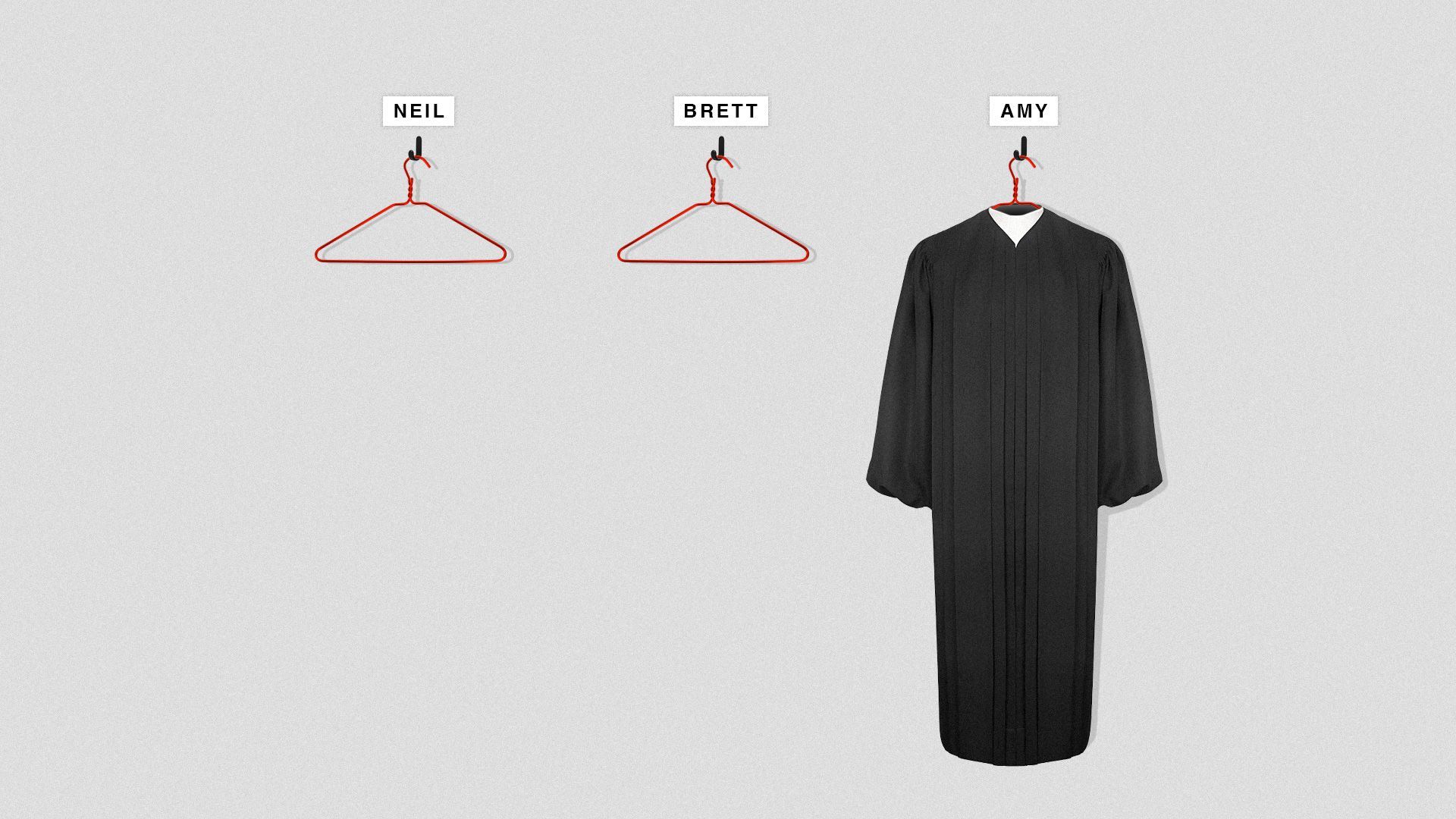 As he was deliberating last year over replacing Supreme Court Justice Anthony Kennedy, President Trump told confidants he had big plans for Judge Amy Coney Barrett.
"I'm saving her for Ginsburg," Trump said of Barrett, according to three sources familiar with the president's private comments. Trump used that exact line with a number of people, including in a private conversation with an adviser two days before announcing Brett Kavanaugh's nomination.
Barrett is a favorite among conservative activists, many of whom wanted her to take Kennedy's spot.
She's young and proudly embraces her Catholic faith.
Her past academic writings suggest an openness to overturning Roe v. Wade.
Her nomination would throw gas on the culture-war fires, which Trump relishes.
But Trump chose to wait.
Some Trump advisers worried Barrett's staunch opposition to abortion rights would lose the votes of Sens. Susan Collins (R-Maine) and Lisa Murkowski (R-Alaska). But there wasn't consensus; some advisers argued they would ultimately "do the right thing" and vote for Barrett.
Trump came to doubt that "the women" (his shorthand for Collins and Murkowski) would support Barrett, according to sources who discussed the situation with Trump at the time.
Some of Trump's aides also felt confident about picking up more Senate seats in the 2018 midterms (which they did), meaning a more conservative pick might stand a better chance later.
Yes, but: There's no guarantee Trump will get another Supreme Court pick. It's very unlikely Ginsburg will retire while he's in office. And though she's 86 and has had 3 bouts with cancer, she's on the bench now and appears healthy.
Barrett isn't a lock even if Trump does get to make another appointment, the people familiar with his thinking said.
Barrett has the inside track "in a very specific sense," said a source who's discussed Barrett with Trump. "She is the most known quantity right now amongst the women on the list. ... And she also has the inside track in the sense that she was kind of battle-tested for having gone through a confirmation already."
Between the lines: Trump changes his mind all the time, and Barrett would need to undergo a fresh round of vetting to review the rulings and public comments she's made since confirmed to the 7th Circuit Court of Appeals in 2017.
"The Supreme Court judicial selection process with the president is a very fluid one," said a source familiar with Trump's thinking on the subject. "He floats in and out of these discussions over a period of time."
Barrett's education didn't appeal to Trump, according to sources familiar with his thinking. She went to law school at Notre Dame, and Trump prefers candidates with Harvard and Yale on their resumes.
Why it matters: Trump has already pulled the court well to the right. If he gets to replace Ginsburg, especially with Barrett, he would cement a young, reliably conservative majority that could last for decades.
Go deeper