Achieving both wage growth and profits is possible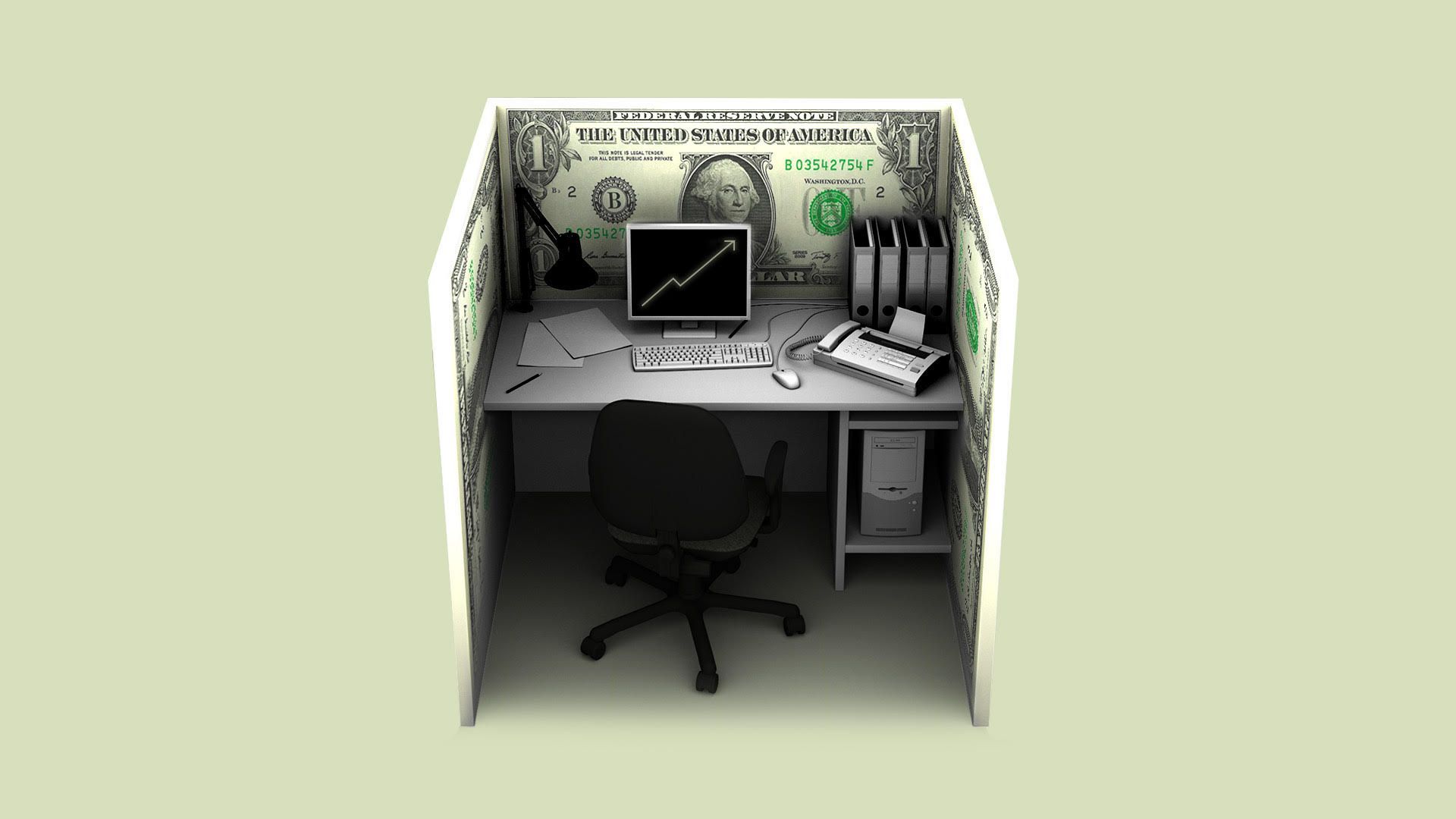 Companies again are complaining about rising wages and the potential impact on corporate profits, but history has shown that higher pay doesn't squeeze S&P 500 companies' profit margins.
What it means: Profit margins have rebounded from recession lows, and are at the highest level in at least a half-century. But wages haven't kept pace.
Wages have been surprisingly sluggish throughout the 9-year recovery and finally started growing above 3% toward the end of last year. But they still haven't reached their pre-crisis levels and aren't anywhere close to catching up to soaring profits.
Labor's share of domestic income has "barely recovered in this expansion from lows last seen when the U.S. was pulling out of the Great Depression," the Wall Street Journal points out. Meantime, business profits have skyrocketed from 12% of GDP in the 1980s to more than 20% now.
What they're saying: Shake Shack blamed lower profit margins this quarter on "significant headwinds around labor costs."
CFO Tara Comonte told analysts last week the company was facing "significant headwinds around labor costs" due in part to "double-digit minimum wage increases" in cities where their restaurants are located.
Back in November, executives at Dollar Tree said they expected "pressure" from states increasing minimum wage.
Chipotle's CFO Jack Hartung told analysts last month the company's "biggest challenge" was going to be labor inflation.
Executives outside of services-oriented industries are talking about the rising wage impact, too.
Steve Filton, CFO at hospital management company Universal Health Services, told investors last week that "rising wage rates" (along with a tight labor market) contributed to the company's inability to produce the operating leverage necessary for higher revenue.
There are 2 factors at play:
The tight labor market is pushing wages slightly higher.
Government-mandated minimum wage hikes are also forcing companies to pay up even more.
This year, 19 states had minimum wage hikes, effective Jan. 1, impacting 5.2 million workers across the country, according to the Economic Policy Institute.
The bottom line: Companies have levers to pull to offset any costs from wage hikes — and they are pulling them.
At Honeywell, for example, CFO Greg Lewis said the industrial was able to offset its margin pressure from labor inflation thanks to higher pricing and stronger productivity.
"When the economy is strong and sales are growing, companies can look for ways to up productivity and pass on the pressure in terms of pricing," Binky Chadha, chief U.S. equity and global strategist at Deutsche Bank, tells Axios.
Go deeper: In a shift, Fed isn't slowing rising wages
Go deeper