Phone numbers are the new Social Security numbers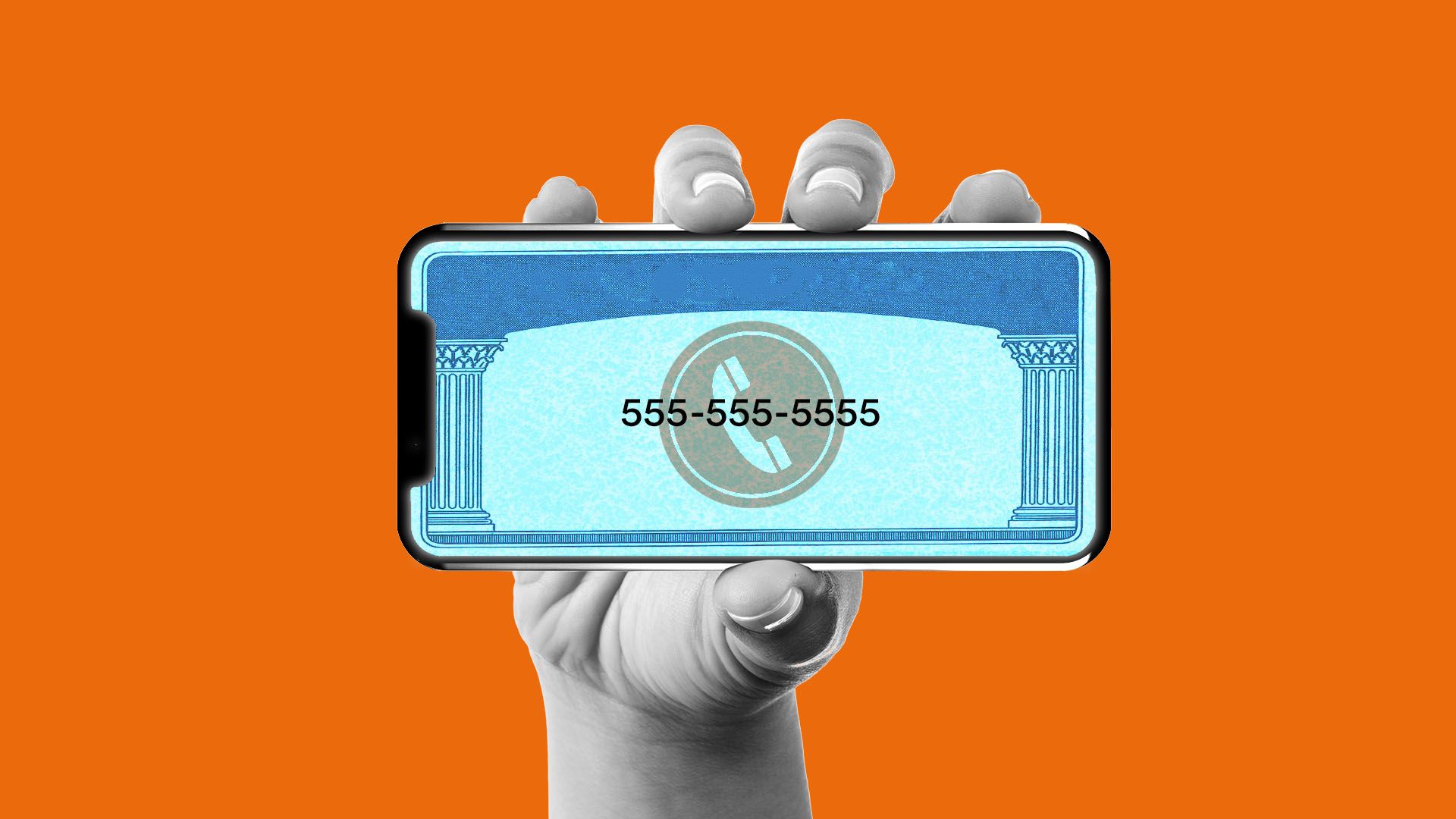 Cellphone numbers have become a primary way for tech companies like Facebook to uniquely identify users and secure accounts, in some ways becoming a proxy for a national ID.
Why it matters: That over-reliance on cellphone numbers ironically makes them a less effective and secure authentication method. And the more valuable the phone number becomes as an identifier, the less willing people will be to share it for communication.
Driving the news: Facebook faced criticism this week for its handling of phone numbers that users provide for the purpose of two-factor authentication (2FA) — in which a person's login is protected by both a password and a device like their smartphone.
Some users found Facebook had enabled people to connect their profiles and phone numbers, transforming 2FA from a way to protect personal security into a personal privacy breach.
Facebook pointed to a privacy control option that allows users to limit, but not entirely eliminate, this sort of identification.
The big picture: American culture and law are hostile to establishing any sort of national ID, leaving businesses and organizations to find substitutes.
Passports don't work for non-citizens, and drivers' licenses are handled by states.
Social Security numbers were created to track workers' contributions to retirement benefits but gradually got drafted for other uses by, among others, the IRS and the health care system.
Many Americans try to avoid broadcasting SSNs online. But now people have to share them with so many institutions and clerks that there's very little that's truly secret about them.
Background: The internet lacks its own identity system. Email addresses were long a popular but imperfect choice.
Each address is unique and, once verified, is useful for receiving information intended only for you.
But email is an insecure system, ridden with spam, and once the addresses became essentially free it became easy for one person to use many accounts or quickly switch to new ones.
What's next: Cellphone numbers are becoming Americans' latest quasi-identity system.
Once Congress mandated that you could take your phone number from one provider to another, the U.S. ended up with a de facto "cellphone number for life" system.
You can switch, of course, but it means changing how your whole social network connects with you.
To be sure: Since so many of us carry a phone at all times and use it as a wallet and a diary, it's natural for it to be treated like a set of keys as well.
Some privacy-conscious apps, like Tinder, give users the option of signing up with a phone number rather than through Facebook.
That practice only makes people angrier when they feel they're victims of a bait-and-switch like the one Facebook is being charged with.
Be smart: The more people use phone numbers to unlock things, the less widely they'll want to share them, which makes them less useful for connecting people.
Go deeper