Clark family: Fight for justice over fatal shooting has just begun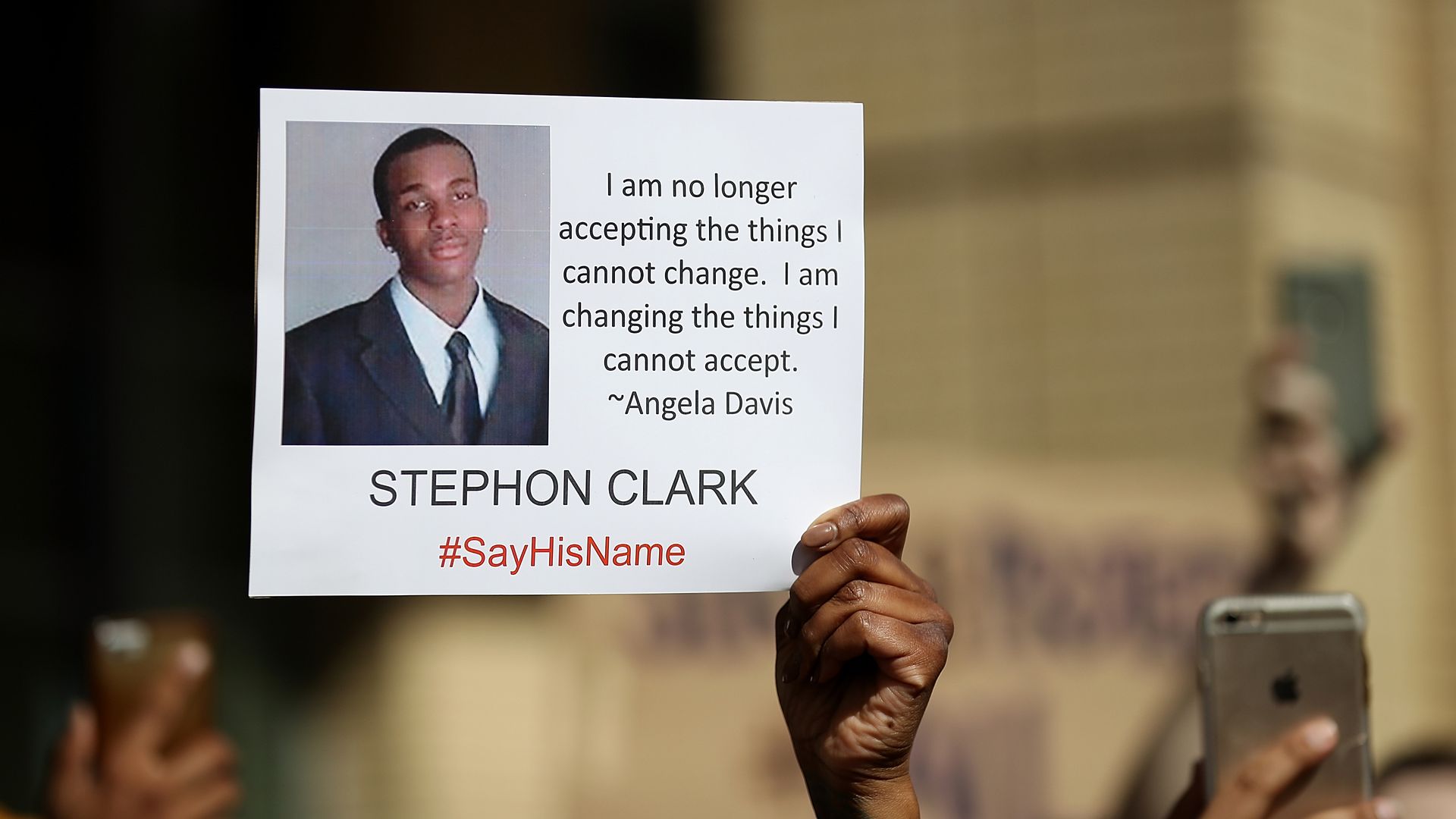 The mother of Stephon Clark, an unarmed black man killed by police in Sacramento, California, said Saturday she was "outraged" the officers would not be charged and vowed to continue fighting for justice.
The big picture: The police officers' shooting of Clark 8 times in Sacramento on March 18, 2018, triggered protests and was highlighted in national campaigns raising concern about the use of force by police. Protesters gathered Saturday outside police headquarters in the state capital after it was announced the officers would face "no criminal liability," CNN reports. The officers said they believed Clark had pointed a gun at them after seeing a flash of light. A phone was found beneath his body.
What they're saying: Sacramento County District Attorney Anne Marie Schubert said in announcing her finding that police had responded to a domestic violence complaint two days earlier from Salena Manni, the mother of Clark's children, and that Clark had drugs in his system the night he was shot. "He was in a state of despair and he was impaired, and that may have affected his judgment," Schubert said. The officers feared for their lives and had "acted lawfully under the circumstances."
Clark's mother, SeQuette Clark, said his previous actions and his actions in the days before his death were "no one's business." "That is not a permit to kill him," she said. "We've been sitting for a year patiently allowing [Schubert] an opportunity to do right, and she has failed us. ... This is just the beginning. The fight for justice has just begun."
Manni said the district attorney's decision was "continuing the shameful legacy of officers killing black men without consequences, and breaking my family's hearts once again."
Watch the full statements by Clark's family and campaigners below:
What's next: Clark's family has filed a wrongful death lawsuit against the City of Sacramento and the officers involved in the case. The California Attorney General's Office is conducting its own investigation of the shooting and the state's Democratic Gov. Gavin Newsom called for "systemic reforms" to the state's criminal justice system following the Sacramento District Attorney's announcement.
Go deeper