Hospitals are making a lot of money on outpatient drugs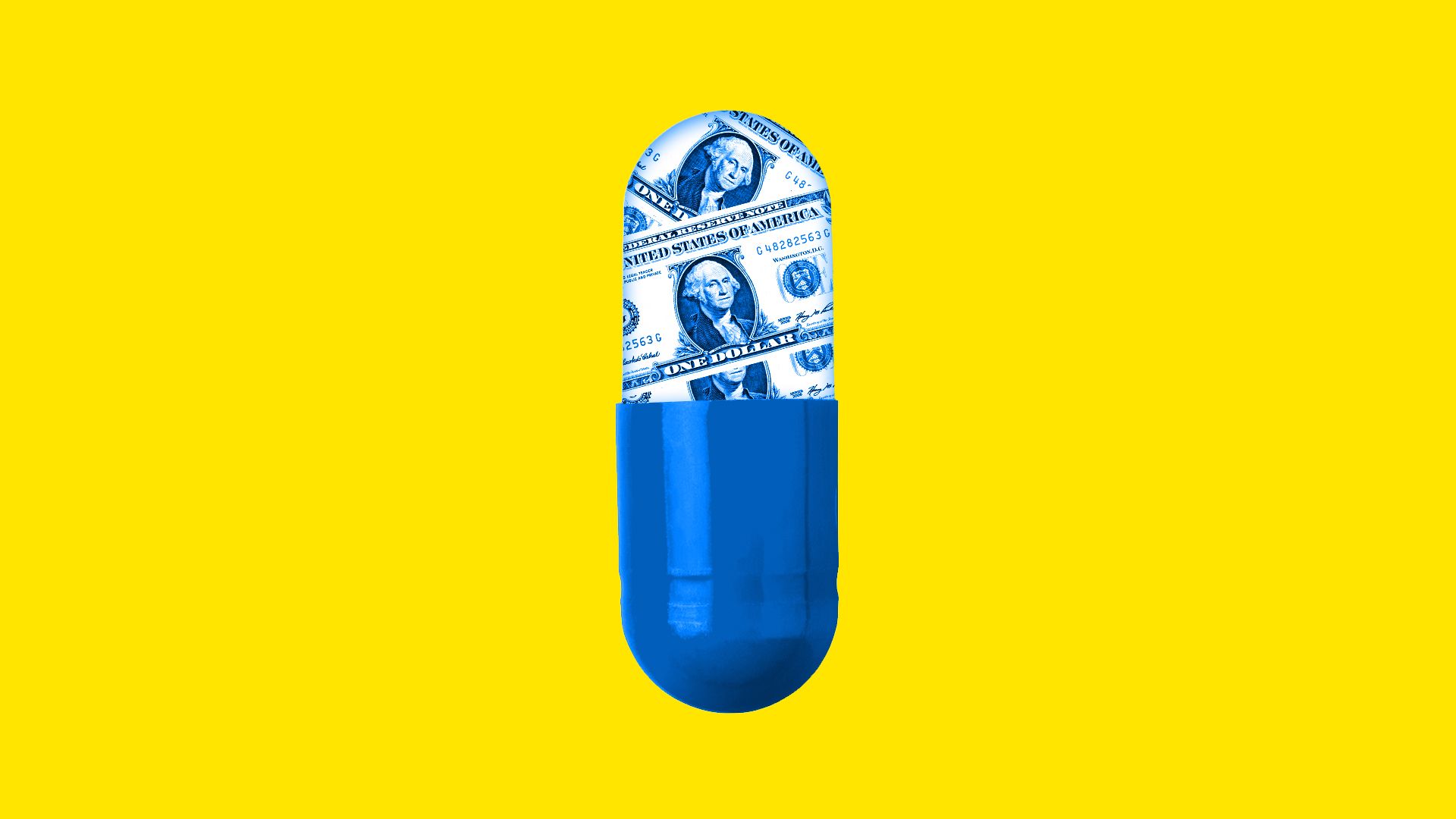 Hospitals are reaping big windfalls from commonly used drugs, marking them up 3-7 times above their average sales prices, according to an analysis by Wall Street firm AllianceBernstein.
Why it matters: The way hospitals charge for drugs — and the consolidation that's helping to fuel this trend — leads to higher insurance premiums across the board.
How it works: Hospitals have acquired a lot of doctors' clinics over the past several years and converted them to outpatient departments. That allows them to set a higher price for the same services and drugs before they head into negotiations with insurers.
On average, private insurers pay hospital-owned clinics about 67% of the amount the clinic initially charges.
The big picture: "There's this large proportion of hospital outpatient billing that is really based on those charges, or a complex calculation of those charges," said Stacie Dusetzina, a health policy professor at Vanderbilt University who studies drug prices and reviewed the AllianceBernstein analysis. "It's surprising and concerning."
By the numbers: Analysts at AllianceBernstein scoured the chargemasters of 34 hospital systems, looking specifically for a handful of outpatient drugs. Hospital list prices are now required by federal law to be posted online.
Academic hospitals, already known for their high costs, had the highest prices and markups for both brand-name and generic drugs.
NewYork-Presbyterian, in an extreme example, charges more than $55,000 for cancer drug Neulasta, which is 12.5 times Medicare's average sale price. Other hospitals charge around $20,000 on average for Neulasta.
Depending on the drug and type of hospital, markups ranged on average from 3-7 times more than Medicare's average sale price. Markups were even higher for generic drugs.
"One pharma CEO noted to us that if prices dropped sharply on oncology drugs, 'every hospital in the country will go broke,'" AllianceBernstein analysts wrote in their report.
The other side: Aaron Wesolowski, a vice president at the American Hospital Association, said in a statement that Medicare and Medicaid payments are low, while "private payers tend to negotiate competitive rates with hospitals that often lead to bundling the cost of drugs."
He also had quibbles over the report's methodology and sample size. Wesolowski did not answer follow-up questions, including what "competitive rates" mean.
The bottom line: Hospital charges are not irrelevant. Publicly available data indicate hospitals make a lot of extra money from expensive drugs, and commercial insurers go along with it.
"I don't think hospitals are doing this as a way to break even," Dusetzina said. "Like every other single entity in the system, they are trying to make money."
Yes, but: This is still just one component of the country's drug pricing maze, where pharmaceutical manufacturers play a central role.
Go deeper