Scoop: Trump mused about "military option" in Venezuela with Graham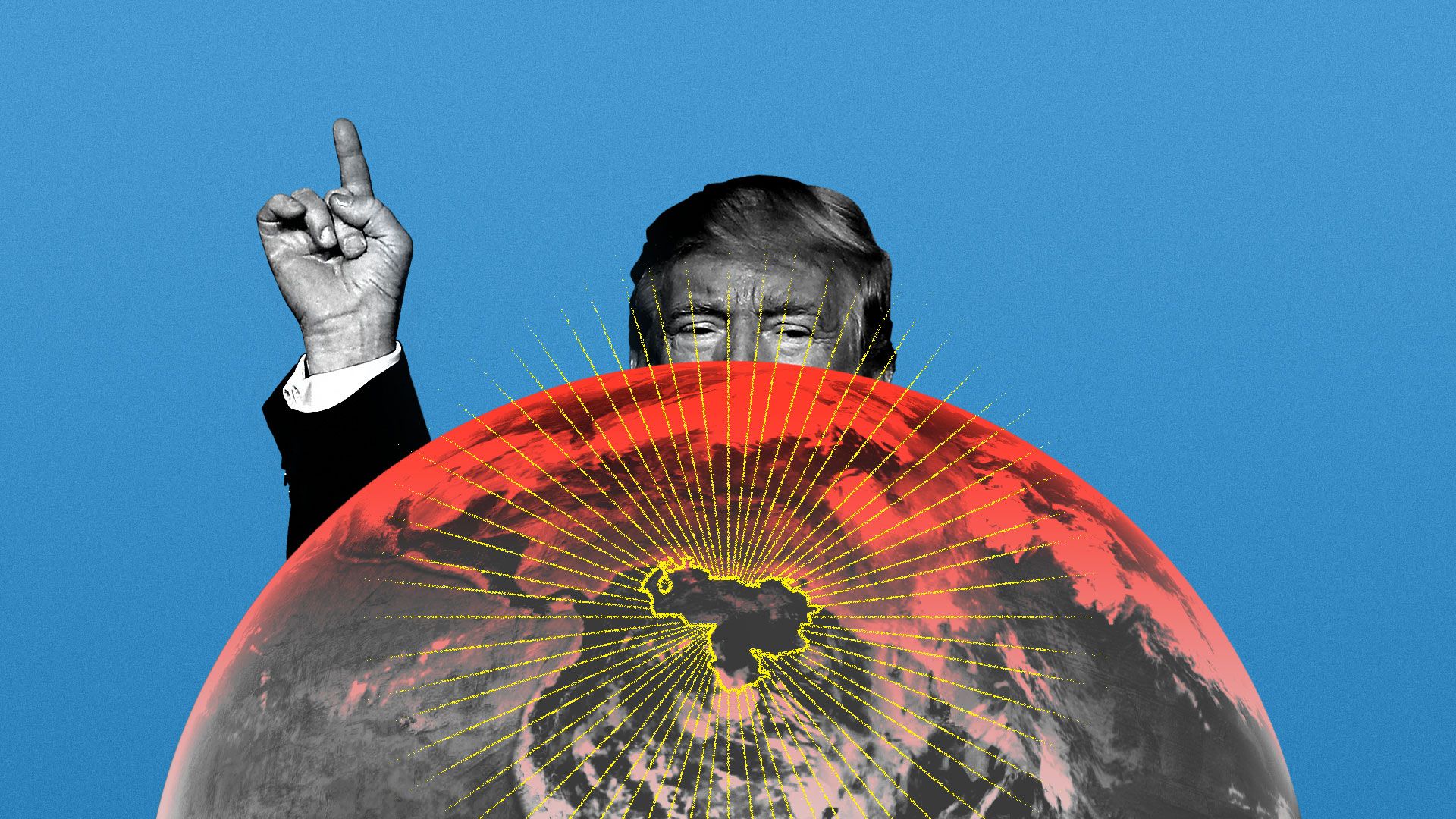 Republican Sen. Lindsey Graham told me that as recently as a couple of weeks ago Trump mused to him about the possibility of using military force in Venezuela, where the U.S. government is currently pushing for regime change using diplomatic and economic pressures.
What happened: Graham, recalling his conversation with Trump, said: "He [Trump] said, 'What do you think about using military force?' and I said, 'Well, you need to go slow on that, that could be problematic.' And he said, 'Well, I'm surprised, you want to invade everybody.'"
Graham laughed. "And I said, 'I don't want to invade everybody, I only want to use the military when our national security interests are threatened.'"
"Trump's really hawkish" on Venezuela, the hawkish Graham added in a phone interview on Sunday afternoon, adding that Trump was even more hawkish than he was on Venezuela.
To be clear: There are no signs that the Trump administration is planning to invade Venezuela, and my conversations with senior administration officials signal that the coming pressures to accelerate regime change are diplomatic and economic. (We expect the Trump administration will target Nicolás Maduro's oil and offshore wealth in the coming weeks and try to divert that wealth to the opposition leader, Juan Guaidó, whom Trump recognized last week as the interim president of Venezuela.)
But that doesn't mean we should ignore Trump's private comments to Graham, because he's pointedly made clear that "all options" remain on the table and this isn't the first time Trump has mentioned military intervention in Venezuela. He's wanted to move aggressively against the Maduro regime since his first year as president. In the summer of 2017 Trump alarmed Venezuela with talk of a "military option." Trump's aides at the time talked him out of the idea.
The big picture: The Trump administration's approach to foreign policy has quietly but fundamentally changed. Gone are those who often fiercely disagreed with Trump's instincts: Jim Mattis, Rex Tillerson, Gary Cohn and, at times, H.R. McMaster. Trump's new senior team — John Bolton, Mike Pompeo and Acting Defense Secretary Patrick Shanahan — backs his instincts on almost every issue. (Though, again, there are no signs they are pushing him towards a military action in Venezuela.)
We saw the new speed in Trump's foreign policy with his swift withdrawal from the Iran deal after Bolton took over as national security adviser, following months of slow-walking from Tillerson, Mattis and McMaster.
And while it's still unclear how quickly Trump will withdraw U.S. troops from Syria — and to what extent a skeletal U.S. presence may remain — neither Bolton nor Pompeo treated the withdrawal as thered-line that Mattis considered it.
Venezuela is another case study of the new speed of Trump's foreign policy. It's hard to say how the previous national security team would've reacted to January's events in Venezuela, but there were more voices of caution when the internal Venezuela debate raged in the first year of Trump's presidency.
During the spring and summer of 2017, according to senior administration officials, the National Security Council worked with the State Department and the Pentagon to develop an "escalatory roadmap" to game out how the White House should react each time Nicolás Maduro committed a new atrocity.
According to a former senior official who was intimately involved, Maduro quickly crossed all the roadmap's red lines: His regime killed protesters, arrested opposition leaders and stripped the parliament of its legislative powers. By the logic of the roadmap — which the president approved — they ought to have imposed an oil embargo against Venezuela, according to the official.
But Gary Cohn, Trump's then-White House economic adviser, and Tillerson argued strongly against this, with Cohn saying it would roil markets, raise gas prices and exacerbate Venezuela's humanitarian crisis. The result: no oil embargo.
The bottom line: Stymied at home, Trump is now moving faster than ever on foreign policy. Few, if any, in the White House believe Trump will accomplish much domestically in this Congress. But on foreign policy and national security — where he is most powerful — there are scant obstacles between what he wants and what he does.
Go deeper:
Go deeper