Activist Democrats question whether Beto O'Rourke is one of them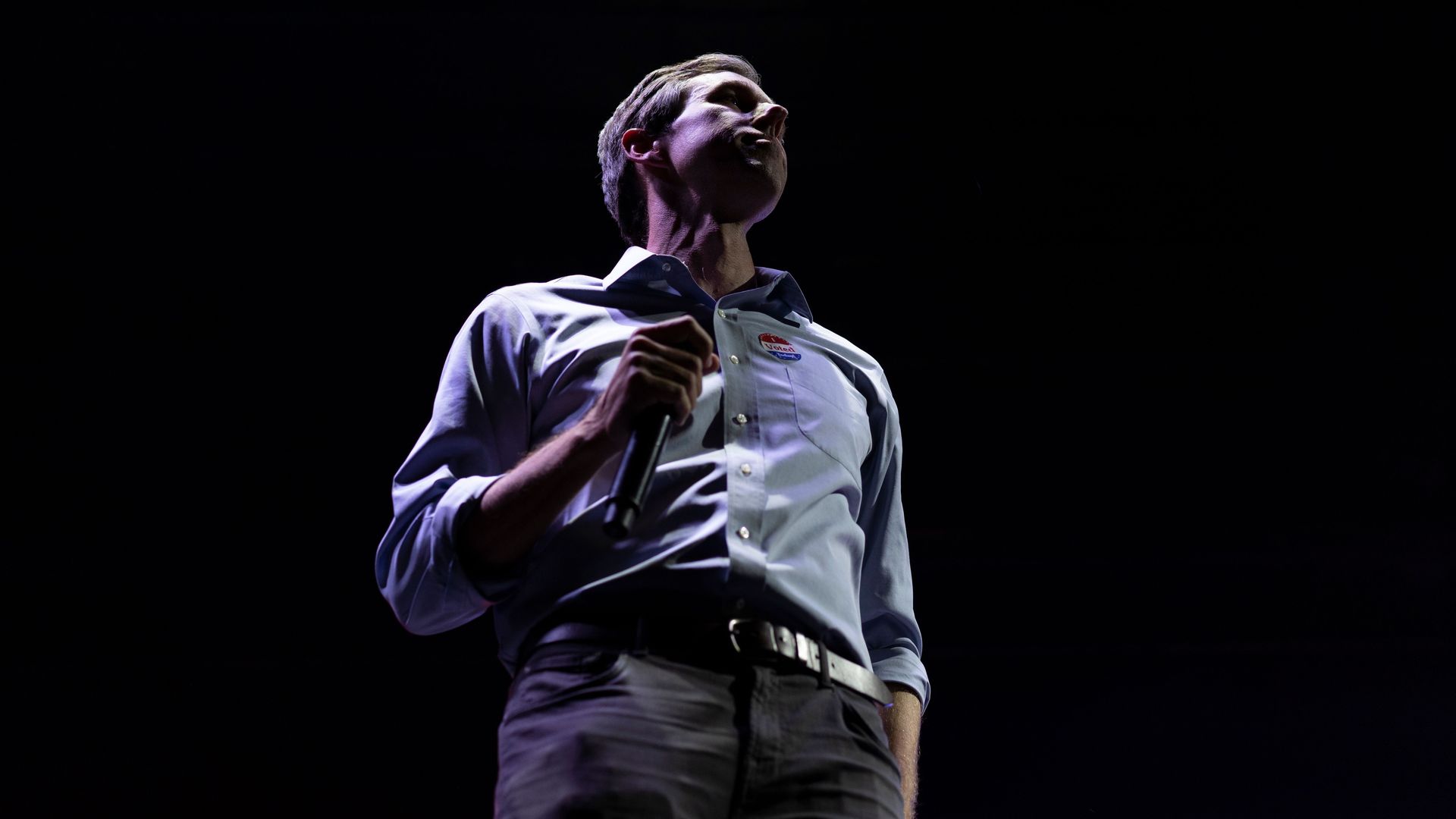 Beto O'Rourke ran a decidedly progressive Senate campaign in 2018, especially for a Democrat running in deep-red Texas. But now activists on the left are questioning his ideology and if he's progressive enough to represent their party in 2020.
Why it matters: The left is where the energy is in today's Democratic Party. Nearly half of Democratic voters describe themselves as liberal, up 17 percentage points from a decade ago, according to Pew Research Center. After Bernie Sanders didn't get the nomination in 2016, expect the activist base that organized behind him to be even more demanding of all 2020 candidates.
"I can't remember anything from Beto's campaign that seems like a big policy idea," said Waleed Shahid, communications director for Justice Democrats, a progressive political action committee, who also worked with Sanders during the 2016 election. "Progressives will hold all these 2020 contenders accountable to the grassroots energy in the Democratic Party and he'll be one of them."
The problem with O'Rourke, various Democratic activists say, is that he didn't support bills they consider to be crucial to the progressive platform and he was a member of the centrist, fiscally conservative New Democrat Coalition.
O'Rourke supports universal health care, but his campaign website doesn't mention Medicare for All and he didn't co-sponsor the House bill for it. (He's explained why on Facebook and said he's "exploring an alternative.")
He supports protecting Social Security, but he didn't sign the House bill for it.
He's not on the bill for debt-free college, which will become a litmus test for 2020 Democrats among progressives.
He supports reforming the current bail system, but not abolishing it completely.
On energy, he wants the U.S. to rejoin the Paris climate accord, but that's not enough for Democratic activists who said they'll be looking for whether or not he endorses Alexandria Ocasio-Cortez's Green New Deal.
"The thing I fear most about Beto is that he's like Emmanuel Macron: super charismatic, runs a great campaign, really good at organizing and really good at speeches," said Shahid, "but then on policy he's going to surround himself with Wall Street bankers because he doesn't have really strong ideas."
O'Rourke's office didn't respond to our request for comment.
Another progressive group leader, who asked to remain anonymous because the group hasn't decided who to endorse yet, said he's heard a constant refrain among activists: "I love Beto, but I also don't know what he'd do as president."
Unlike Sanders or Sen. Elizabeth Warren, who have decades-long voting records in line with many of the things progressives are demanding, O'Rourke has formed his views in the last couple of years and will likely continue to evolve.
"I don't think Beto would give himself an ideological label and I wouldn't do it for him," said Adam Green, co-founder of the Progressive Change Campaign Committee, who said he appreciated Beto's consistent calls for universal health care.
The bottom line: O'Rourke is not the only Democrat whose policy platform will be scrutinized by the grassroots activists who will push the party even further to the left in 2020 than they did in 2016. "These progressive ideas that Bernie ran on in 2016 are at the center of the Democratic Party right now," said Shahid. "This is what it means to lead the party on a national level and you have to endorse these ideas."
Go deeper:
Go deeper