Updated Dec 16, 2018 -

World
A new era of hostility in the U.S.-China fight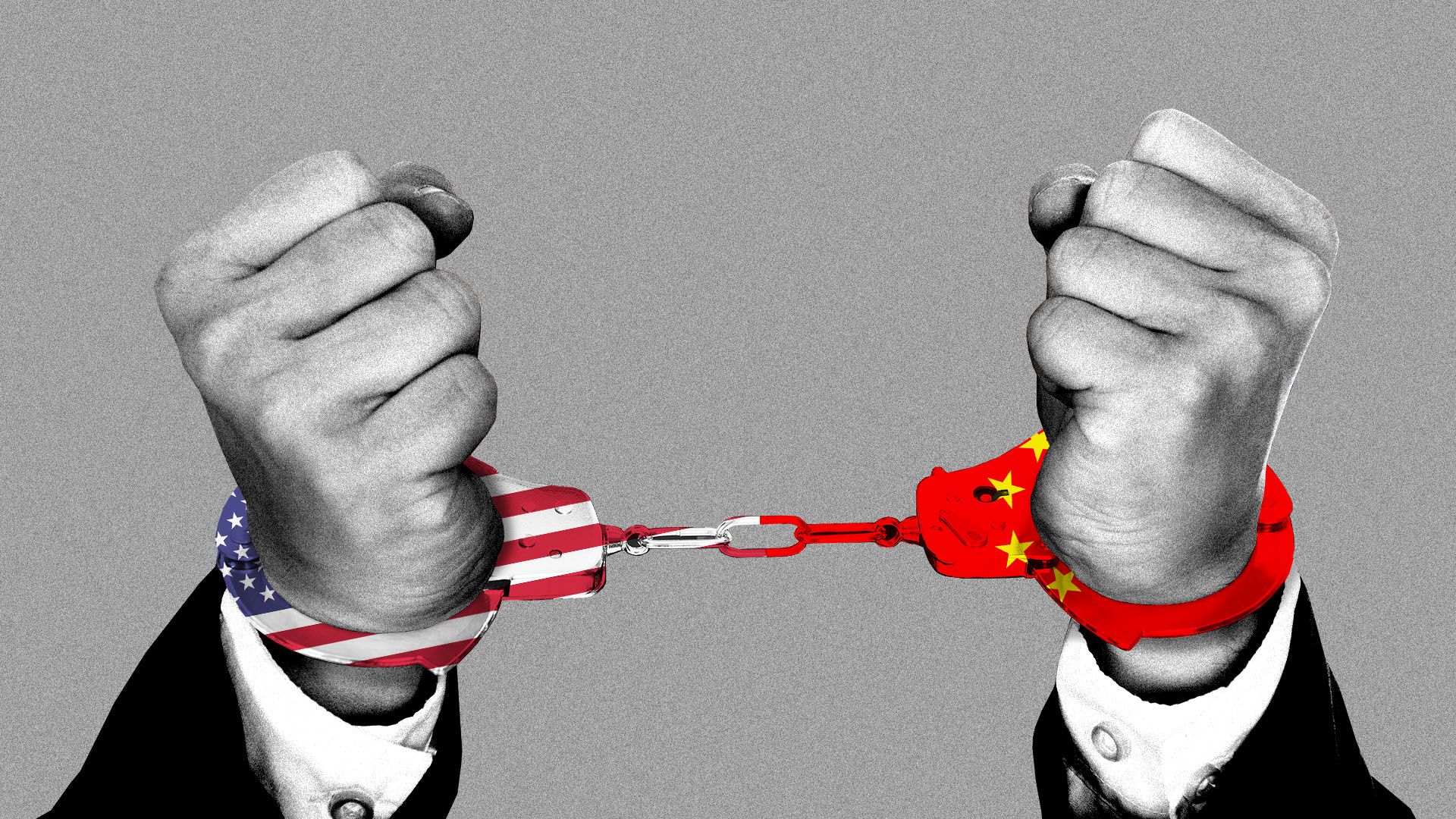 The escalation of the U.S.-China trade war into tit-for-tat arrests suggests a new stage of hostility in their rivalry for technological and economic dominance in the coming decades.
Why it matters: Everyone is a potential target in this brinkmanship as nerves fray, the global order erodes, and the old rules of international engagement are thrown out.
The backstory: In recent days, China has detained two Canadian citizens — Michael Kovrig and Michael Spavor — for "engaging in activities that endanger China's national security," a Chinese foreign ministry spokesman said.
In interviews with Axios, U.S. experts interpreted the detentions as direct retaliation for an arguably provocative new American approach toward China.
In October, Belgian police arrested Yanjun Xu, a Chinese intelligence officer accused of economic espionage in the U.S., on the request of American authorities. He has already been extradited to the U.S.
On Dec. 1, Canadian authorities arrested Meng Wanzhou, CFO of Chinese phone giant Huawei, and daughter of the company's founder. Meng allegedly violated U.S. banking fraud laws and sanctions against Iran. The U.S. is seeking her extradition.
"By making a prominent example of Canada, Beijing is sending a message globally," Dennis Wilder, the National Security Council's senior director for East Asia under George W. Bush, tells Axios.
"Foreign businesses and other entities operating in China need to recognize that there are no more 'grey areas' in the Xi Jinping era when it comes to conforming to the letter of Chinese law. You might get away with it in the near term, but then you will be a convenient target when tensions with your home country escalate."
— Chris Johnson, Center for International and Strategic Studies
It's rare for the U.S. to seek and achieve the arrest of a senior official — commercial, military or political — from any other major country. While it's not surprising for a country to nominally file charges against the elite of a rival nation, it's highly unusual for detention and extradition to actually happen, largely because — as has occurred in this situation — it is hard to know where tit-for-tat would stop.
"It is a clear escalation of the economic competition between China and the United States and its allies. Tariffs are one thing, putting each other's citizens in jail is another," says Michael Beckley, a professor at Tufts University.
The big picture: As we've reported before, the U.S. and China are racing to "reborder" the world for a new Cold War — in effect redividing the world into spheres of influence. The new brinkmanship could accelerate that dynamic.
Meanwhile, firms and governments on both sides are on high alert.
Cisco urged some employees to postpone all nonessential travel to China for fear that they may be targets of a counterstrike, NYT reports.
The government of British Columbia in Canada is rescheduling a trade trip to China for the same reason.
Zhang Ruimin, CEO of the Chinese appliance maker Haier, told Bloomberg Meng's arrest "has created a shadow in everyone's hearts."
The risks are high on both sides, and there is also potential for spillover.
For the U.S., there is the threat to billions of dollars in U.S. business in China.
For China, "there was already an emerging Western coalition committed to getting tough with China economically," Beckley says. "The detentions will solidify this coalition and put whatever remaining support China had in Western business communities in jeopardy."
"This is tit-for-tat but it is also 'kill the chicken to scare the monkeys' — the monkeys meaning other smaller powers who the U.S. might ask to get involved in similar legal extraditions," says Wilder, the former NSC official.
Go deeper