The fallout from France's fuel tax cave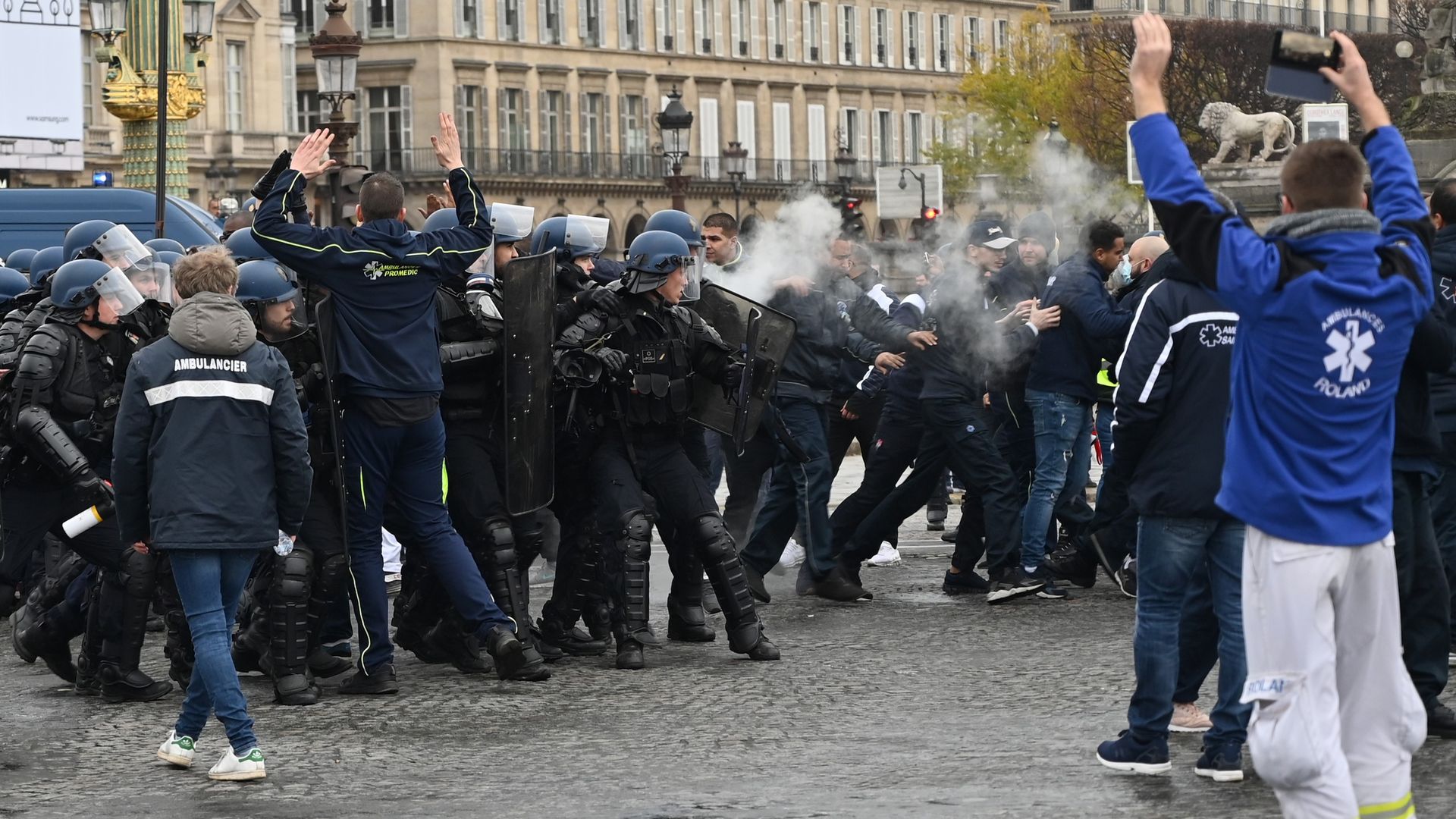 One of the biggest stories in the energy world right now is the fallout after French President Emmanuel Macron caved on new motor fuel taxes, suspending their implementation for six months after rioters flooded Paris.
Why it matters: I'm not an expert in French politics and won't pretend to understand all the dynamics at play here. But, the tumult at least partially signals the challenge of carbon pricing and raising fuel costs as a way to combat global warming, even as pricing regimes expand to more places.
Driving the news: There's a race underway to define what just happened — and some misinformation is flying around already.
Yesterday afternoon, as Axios' Khorri Atkinson noted, President Trump inaccurately tweeted that Macron's decision signals his agreement that the Paris climate deal is "fatally flawed."
But, but, but: While Trump is wrong about Macron's posture, it's true that the French mess can't be untethered from climate policy.
"Leaders in the United States, Canada, Australia and elsewhere have found their carbon pricing efforts running into fierce opposition," the Washington Post pointed out last night.
Where it stands: Conservatives have seized on the French action as activists on the right celebrate Macron's retreat.
Just before Macron backed off, Americans for Tax Reform circulated this piece from the Wall Street Journal's conservative editorial page.
It calls the French protests part of a wider global pushback against carbon pricing — including the election-day failure of a proposed CO2 tax in Washington state.
The big picture: A recent OECD report I covered here gets to the challenge of carbon pricing as a policy tool, with a summary starkly concluding:
"[T]oday's carbon prices — while slowly rising — are still too low to have a significant impact on curbing climate change."
Macron's fuel tax retreat arrives as advocates of carbon taxes in the U.S. are trying to chip away at the overwhelming political resistance to the idea among GOP lawmakers.
This includes the Climate Leadership Council (CLC), a group aligned with several Republican elder statesmen.
What they're saying: "The events in Paris reinforce the importance of rebating carbon fee revenue directly to the public, which is not only the most equitable option, but also the most popular," CLC's Greg Bertelsen tells Axios.
Noah Kaufman, an economist with Columbia University's Center on Global Energy Policy, summed up the recent news this way:
"[I]t's another setback for any policy that increases energy costs, which unfortunately includes just about every serious climate policy," he said in an email exchange last night."The nice thing about carbon pricing is that the revenues can be used to offset these increases in energy costs. But France wasn't planning to use the revenue for that purpose."
Meanwhile, some experts and advocates are also cautioning against drawing wider conclusions about what happened overseas.
This Twitter thread from the Niskanen Center's Jerry Taylor, for instance, points out the big difference in fuel prices between France and the U.S. And we've got more on that just below, too.
Go deeper:
Go deeper