Bill Gates' new crusade: Sounding the climate-change alarm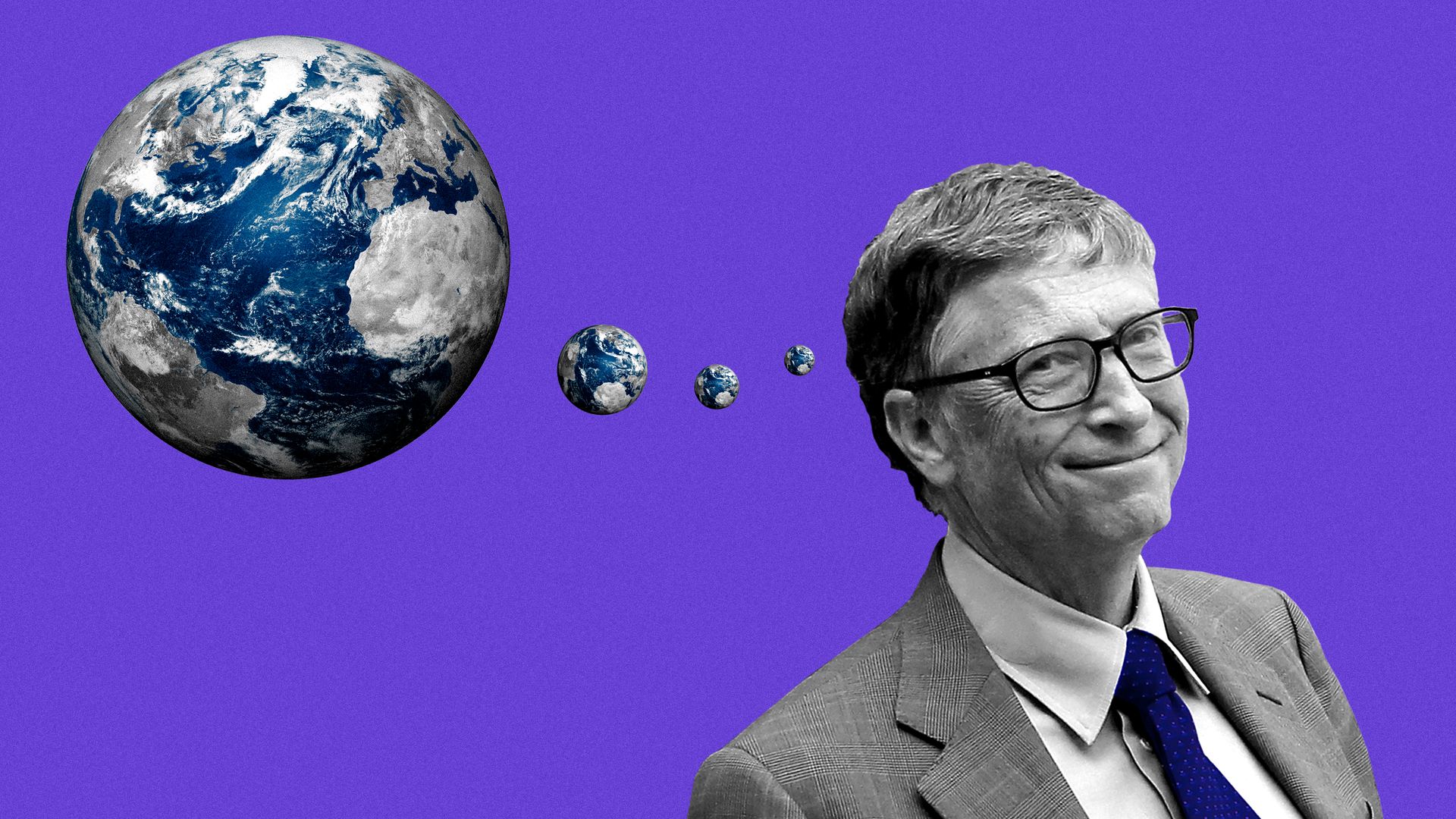 Meet Bill Gates. You know him most as the co-founder of Microsoft and one of the richest people on the planet.
Why he matters: I know him as an advocate for climate change and clean energy. Gates has long worked on these issues, but here's what's new for the tech visionary: He's increasingly worried not enough people understand the dimensions of the problem and that it's going to prevent progress. This escalation was on display in an interview with "Axios on HBO."
The intrigue: Talking recently at his private offices overlooking the water in Kirkland, Washington, near Seattle, Gates went wonky more than he went visionary. He didn't criticize President Trump's positions dismissing climate change, even though he's spent a significant amount of energy trying to change his mind.
Instead, Gates is sounding the alarm about discord over how to solve the problem. He said people who are laser focused on solving climate change with renewable energy only — chiefly wind and solar — are just as bad as those blocking action (i.e., Trump).
Some grassroots environmental groups, led by 350.org, have found support for a renewables-only strategy in Rep.-elect Alexandria Ocasio-Cortez (D.-N.Y.), a rising progressive star who is pushing for such a policy with Democrats now controlling the House.
"That general impression that 'Oh, it's just about solar and wind,' that I think is as dangerous to us as the fact that in one country, the U.S., there's a faction that associates with 'Hey, let's not make any trade-offs to go in and solve this problem.' "
— Bill Gates
Gates and his team devised a pie chart — which he brought up repeatedly throughout the interview — showing the causes of the world's greenhouse gas emissions. Wind and solar are used for electricity, which makes up a quarter of the world's emissions.
Other pieces:
Transportation: 14%
Manufacturing: 21%
Buildings: 6%
Agriculture: 24%
Other sources: 10%
Gates is imploring people to realize that addressing climate change means changing the fundamental way our lives are run, which ultimately means the entire global economy.
"You know, for example, if synthetic meat works, that actually is a pretty big deal. But that's at an early stage. If electric cars become mainstream products, which they are not today, that's also a little piece of the problem. But you need to make steel in new ways, you need to make fertilizer in new ways."
— Bill Gates
Gates has a long history investing in clean-energy technologies, and he's ramping up this work in recent months.
He is leading a coalition of billionaires, including Jeff Bezos and George Soros, investing in a range of technologies, including batteries and new ways to get water.
In October, that group inked a similar investment fund with the European Commission.
Also in October, Gates announced a new initiative on adapting to climate change, which is a big focus of the Bill & Melinda Gates Foundation.
Gates also has investments in TerraPower, which is seeking to build an advanced nuclear reactor, and a company called Carbon Engineering, which makes a technology that captures carbon dioxide emissions straight from the sky.
Critics don't like that idea. They say investing in technologies like that could lessen the urgency of cutting emissions — because it creates a way to take them out of the atmosphere later.
But Gates flatly rejected that criticism: "Maybe to encourage people to stop eating too much we should stop doing heart surgery, because it's really letting people develop heart problems."
Gates said he was optimistic that humanity can tackle climate change, but he didn't exactly show it. Toward the end of our interview, which went double the scheduled time, he observed how some issues gain traction while others don't.
"On some issues, like should women be treated better, whatever isn't being done in the administration, the counter reaction is strong enough that I feel good that movement is stronger today, and I think it'll get stronger in the future."
He then concluded:
"On climate change, it's hard because we'll get interested and then let's say the U.S. economy isn't as strong. You know, people's willingness to talk about something that's 40 years away is a lot higher when a lot of things are going well."
We can at least count on Gates, whose net worth is just shy of $100 billion, to care about this issue even if the economy tanks for the rest of us.
Go deeper