5. Changing of the guard adds uncertainty to U.S-Mexico relationship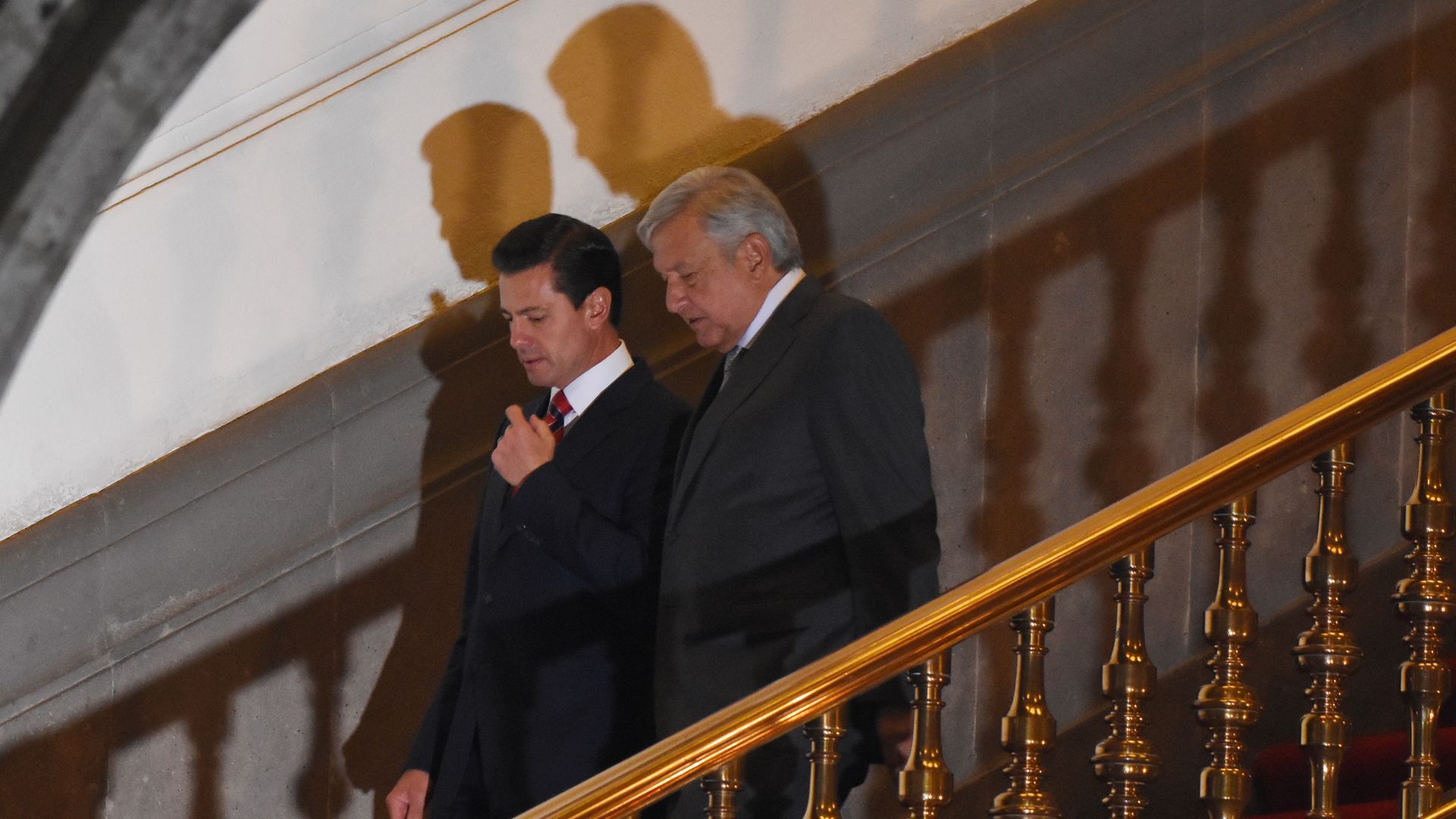 On Dec. 1, Mexico's leftist president-elect, Andres Manuel López Obrador, will be inaugurated in Mexico City. It's likely to be just hours after Mexico's outgoing president, Enrique Peña Nieto, joins with President Trump and Canadian prime minister Justin Trudeau to sign the NAFTA replacement deal in Buenos Aires.
Why it matters: Trump has insulted, threatened and scapegoated Mexico since the day he announced his presidential campaign. The signing ceremony will underscore Peña Nieto's decision to, as Mexico's ambassador to the U.S. Gerónimo Gutiérrez puts it, "remove political rhetoric from negotiations." But López Obrador's arrival signals a new, unpredictable era for the crucial relationship.
Catch up quick ...
Mexico City was the first foreign capital Trump visited as a presidential candidate, in August 2016. Peña Nieto paid a big political price for welcoming Trump, and for declining to go punch for punch with him in the two years since.
He has portrayed the trade deal as vindication of his approach. After a term plagued by crime and corruption, though, Peña Nieto limps out of office as one of the least popular presidents in recent Mexican history
López Obrador won his convincing victory in July's election on promises to fight corruption and inequality. A charismatic populist, he has played the role of both revolutionary and pragmatist, and it's not always clear which version Mexico elected.
Case in point: López Obrador has both reassured investors by backing the trade negotiations, and terrified them by pledging to halt construction on what would have been the world's biggest airport. Likewise, he has written a book — Oye Trump — criticizing the U.S. president, but also invited him to his inauguration. (Vice President Pence will go instead).
Where things stand ...
Gutierrez, Mexico's ambassador, says he expects a deal to end U.S. steel and aluminum tariffs on Mexico, and Mexico's counter-tariffs targeting agriculture, by next week's signing or shortly thereafter. That would leave the slate clear for López Obrador, at least on trade.
But speaking at the Brookings Institution on Tuesday, Gutiérrez said that despite the breakthrough on trade, the U.S. and Mexico are "not quite there" in terms of forging a new, better relationship.
The primary obstacle is immigration, he says, and the relationship will remain at a "critical moment" until a solution is found.
Trump and López Obrador discussed the issue in a call last month that both said was productive and friendly. Their approaches differ widely, though: Lopez Obrador wants big investments to address the root causes of immigration, while Trump has done just the opposite.
The big picture: Gutiérrez was joined on stage by Tony Wayne, a former U.S. ambassador to Mexico now at the Wilson Center. Wayne said the U.S.-Mexico relationship "touches more Americans' daily lives than any other." The direction it takes now will depend on López Obrador, and on Trump.
Go deeper